November 2005 BLOG
BLOG Archives: START | Sept 2006 | Aug 2006 | July 2006 | June 2006 | May 2006 | Apr 2006 | Mar 2006 | Feb 2006 | Jan 2006 | Dec 2005 | Nov 2005 | Oct 2005 | Sept 2005 | Aug 2005 | July 2005 | June 2005 | May 2005 | Apr 2005
November 22, 2005 BLOG
NEWS, FEATURES, PRODUCTS, and RELOADING TIPS. BLOG ARCHIVE.


EDITORIAL: Canted Reticles
Time to Fix this Problem
This week your editor had a chance to "compare notes" with a number of successful shooters. The question of scopes came up, and to my surprise, each one of us owned a $700+ scope from a major domestic manufacturer that had a canted reticle. The amount of cant ranged from an estimated one to three degrees, three degrees being that manufacturer's tolerance on scopes it ships. We all agreed that this was unacceptable in a high-dollar scope. (Note: here we are talking about an INTERNAL scope assembly problem that results in reticles being off-axis relative to the turrets. Don't confuse this with the canting which occurs if you don't level your rifle--that you can remedy by mounting a simple bubble level. A canted reticle is a production defect requiring factory repair.) Three degrees may not sound like much--after all it is less than 1% of a 360-degree circle. Nonetheless, as the diagrams show, three degrees of cant is VERY noticeable in a scope. In fact, most people will be bothered by a reticle that is just one degree off-axis. Now, all manufacturers can have a production flaw now and then. Yet we've never heard a complaint about canted reticles in Nightforce scopes. So, it IS possible to get it right. Our point here is that it is time for the major scope-makers to address this problem and improve their quality control. That will happen sooner if consumers pay greater attention to reticle alignment during the purchasing process. If you have a scope with a canted reticle, send it back to the maker and ask for the problem to be fixed. If enough shooters do that, we expect the scope-makers will take notice and improve their products.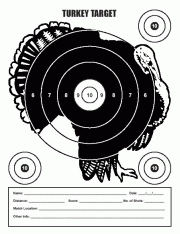 HOLIDAY SHOOTING--Download our Free Turkey Target:
Our friend DesertFrog created this great Turkey Target for our AccurateShooter.com users. It's just the thing for a bit of holiday fun at the range. Click image to download target as a .pdf file. For more free targets, go to our Target Page, recently updated with a full selection of Benchrest Targets.
CALIBER COMPARISON--6BR vs. .223 and .308: Many visitors to the site ask us, "I've got a .223 and .308. What will a 6BR give me that I'm not getting already?" Well first you will probably get consistently smaller groups than your current .223 or .308 rifle. Even with a Rem 700 or Savage action, a 6BR with a premium barrel and a high-quality chambering job should deliver 5-shot groups in the high twos to mid-threes, provided you do your job. Compared to a .223, the 6BR offers a much better selection of high-BC projectiles, and will deliver considerably more power on the target. Compared to the .308 shooting 168gr MatchKings, a 6BR shooting 105-107gr bullets offers better ballistics all the way out to 1000 yards. Plus the 6BR is just easier to shoot than a .308. Recoil is less than half of the .308 cartridge. Both the .308 and 6BR chamberings offer good barrel life, but the 6BR uses 50% less powder, saving you money. Here's how the 6BR stacks up vs. a number of popular calibers:
CARTRIDGE NEWS--David Tubb on the 6.5x47: The announcement of the 6.5x47 Lapua cartridge has created considerable interest. But we just don't know what the cartridge can do with a 6.5mm projectile until Lapua releases test data. 11-time Camp Perry Champion David Tubb offered this perspective: "For the last three years there has been a 6.5mmXC available in the T2K from Mcmillan. I thoroughly tested it about three years ago. There is no question that the 6.5 will have improved barrel life over the 6mm but with no other gains. It generates more recoil and the bullet will drift more. Yes it will make a good 600-yard cartridge but it is basically no better than a 6BR with a 107gr bullet. The 6.5 needs a case with the capacity of a 260 Rem in order to come around. The problem with that length of the 260 case is that when you load a 140gr weight bullet to magazine length then you have pushed the base of the bullet into/past the neck shoulder junction and your accuracy will suffer. -- DTubb."
SITE NEWS--Book Review Section Added: With the assistance of the editors of Precision Shooting magazine, we've added a handy guide to the best print titles for marksmanship, rifle accurizing, and advanced reloading. From Accurizing the Factory Rifle by M.L. McPherson to Steve Hanson's Varmint Hunter's Odyssey, our book review section includes "classic" works that belong in every serious shooter's library. We also invite readers to submit reviews of their favorite titles, so that we may expand our Book Review Page with popular new publications.
OPTICS--Get Free Rings with U.S. Optics Scopes: Glen Seekins was recently named a new stocking dealer for the U.S. Optics line of scopes. To celebrate, Seekins will be offering a free set of his Ultra scope rings with the first 10 U.S. Optics scopes he sells. Glen tells us: "The rings will be custom-tailored to fit your new toy and set up just they way you like them. The first five confirmed purchasers will also have the option of having their personal drop chart machined in place on top of the scope ring. If this interests you or if I can help with anything else please let me know." The scope in the photo is the new U.S. Optics 3.2-17x44 SN-3 T-Pal side-focus with EREK milliradian knob. Employing a 34mm main tube, this scope offers a full 18 mills of vertical adjustment, a low-profile eyepiece and an illuminated reticle. With a reputation for rock-solid reliability, U.S. Optics scopes offer outstanding optical clarity and resolution. MSRP on this limited-supply unit is $2805, but Glen is offering the scope for just $2000.00 (including rings for the first 10 buyers). For more info, contact Glen Seekins, Seekins Precision, (208) 743-5538.
VARMINTERS' REPORT--Lapua 20 Tactical Brass has Arrived: Writing in the Fall 2005 issue of the Dakota News, Todd Kindler of the Woodchuck Den reports that the first test samples of Lapua-brand Tactical 20 Brass have arrived. Brass uniformity was outstanding--much better than you can get with .223 brass formed into Tac20 cases. Weighed Lapua samples were all within 0.6 grains. By comparison, IMI .223 brass (formed into Tac20 cases) varied by as much as 3.2 grains. Neck-wall uniformity was equally impressive. Kindler's Lapua brass showed a max variance of just .0008" in neck-wall thickness, while IMI and Winchester brass varied by .002" and .0018" respectively. The new Tactical 20 brass is available exclusively from Dakota Arms at present. Dakota hopes to be shipping Tac20 cases by mid-December. Call Dakota at (605) 347-4686, for pricing and availability. For Tac20 load data, see our 20 Caliber Cartridge Guide.
BARGAIN BIN--Major Blem Bullet Sale at Lock, Stock & Barrel: One of our site sponsors, Lock, Stock & Barrel, bought out a large supply of slightly blemished bullets from major manufacturers. These are now offered at deeply discounted prices. Here's a list of the inventory as of November 22, 2005. Act quickly as supplies are limited.
BLOG Items:
Can you share a smart reloading tip, or news of a great bargain on gear? Can you give us a report from a major match? Then contribute to our 6mmBR Blog. Just email your comment or news item to Mailbox@6mmBR.com. Please keep photos under 200kb in size.
November 15, 2005 BLOG
NEWS, FEATURES, PRODUCTS, and RELOADING TIPS. BLOG ARCHIVE.


CARTRIDGES--Mid-Range Cartridge Comparison: Our exclusive report about the new 6.5x47 Lapua case has caused quite a stir in the shooting community. Sized similarly to David Tubb's 6XC, this round should work very well for 600-yard Benchrest, Across the Course, Silhouette, and long-range varminting. People have asked how the new Lapua brass, with 46.9 grains of H20 capacity, compares in size with the 6XC or RUAG's 6x47 Swiss Match Brass. As you can see from the photo, the 6.5x47 is a bit shorter than the 6XC, while the shoulder starts a little higher than on the Swiss Match case. We expect Lapua adopted a slightly longer body than the Swiss Match to increase case capacity, and maybe to enhance feeding from magazines. Jason Baney measured these cases and got the following comparative numbers:
Headspace measured with 0.375" Comparator in Stoney Point Tool
6BR = 1.135"
6.5x47 Lap = 1.460"
6x47SM = 1.422"
6XC = 1.510"
243 WIN = 1.650"
RELOADING TIP--Neck Tension vs. Time: We've learned that time (between neck-sizing operation and bullet seating) can have dramatic effects on neck tension. Controlling neck tension on your cases is a very, very important element of precision reloading. When neck tension is very uniform across all your brass, you'll see dramatic improvements in ES and SD, and your groups will shrink. Typically you'll also see fewer fliers. Right now, most reloaders attempt to control neck tension by using different sized neck bushings. This does, indeed, affect how hard the neck grips your bullets. However, James Phillips recently discovered that another critical factor is at work. He loaded two sets of 22 Dasher brass. Each had been sized with the SAME bushing, however the first group was sized two weeks before loading, whereas the second group was neck-sized just the day before. James noticed immediately that the bullet seating effort was not the same for both sets of cases--not even close. Using a K&M Arbor press equipped with the optional Bullet-Seating Force Gauge, James determined that over twice as much force was required to seat the bullets which had been neck-sized two weeks before. The dial read-out of seating force for the "older" cases was in the 60s, while the seating force for the recently-neck-sized cases was in the 20s. (These numbers correspond to pounds of force applied to the bullet). Conclusion? In the two weeks that had elapsed since neck-sizing, the necks continued to spring back (get tighter) and stiffen. Lesson learned: for match rounds, size ALL your cases at the same time. If you want to reduce neck tension, load immediately after sizing.
LOAD DEVELOPMENT--Beware Jacket Incompatibility: 2005 NBRSA 1000-yard Champion and U.S. Palma Team member Jerry Tierney recently alerted us to a condition that can affect accuracy during load testing. Jerry was doing bullet testing with his .308 Palma rifle, comparing Lapua and Sierra 155gr projectiles. After switching bullet brands he was seeing very poor accuracy and unexplained flyers for 8-10 rounds. Powder and primer were unchanged so Jerry suspected some issue with the bullets. His theory was that the trace copper from the Sierra jackets didn't "agree" with the Lapuas. Sure enough, when he cleaned thoroughly with a copper solvent between tests of different brands of bullets, the accuracy settled in within 2-3 rounds. (Jerry has also observed this "jacket incompatibility" phenomenon when changing from Sierras to Bergers in other calibers). Conclusion: During load development, run your process with one brand of bullets at a time. Then, clean the bore thoroughly before you start testing another brand. (Note, however, when two different bullet-makers both employ the same jackets, such as J4s, this problem shouldn't arise).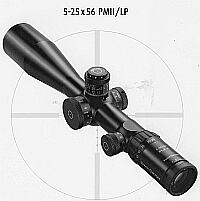 OPTICS--Schmidt & Bender 5-25x56 has arrived and new Zeiss 72mm: Alex Roy of EuroOptic.com let us know that his first batch of Schmidt & Bender 5-25x56 scopes has arrived. He's already setting up some for customers' rifles. He says the glass is spectacular and the 34mm maintube "sure is beefy". He expects to receive more 5-25x56 S&Bs within a few weeks, so you can place your order for a Christmas delivery. Email Alex for a confidential price quote. MSRP is about $2850.
Alex also has the new 6-24x72mm Zeiss. Designed for outstanding twilight and low-light performance, this would be a great scope for night hunting. Theodor M. Pettersen of Norway just sent us a picture of his 6.5-06 Ruger m77, with the 6-24x72 in place. Yep, that's one HUGE front objective. Sadly, the Zeiss 72 is very, very expensive--a Froogle price search showed these are going for $3300 and up. Again, contact Alex for a confidential price quote.
RCBS ChargeMaster Combo on Sale: When we tested the RCBS, Lyman, and PACT digital powder dispensers, the RCBS ChargeMaster was our "Editor's Choice". It offered the fastest performance, along with good memory features and ease of cleaning. Natchez Shooters' Supply currently has the unit on sale for just $239.95 (item RC98923), $40 off its regular price. In general, owner feedback on this unit has been very positive, but you will want to follow our ChargeMaster Tips for getting the best precision and accuracy from the unit. In tests with a Denver Instrument Lab Scale as a control, the unit delivered over 90% of charges within plus or minus 0.1 grain, with nothing over 0.4 grains off. With some powders, nothing was over 0.2 grains off. You can usually catch any overcharges by lifting the powder cup and placing it back on the scale. This takes just a few seconds per charge.
BRASS--Sources for RWS Brass: After reading our "Big Boomers" article about 1000-yard Heavy Guns, many site users asked where they can find RWS brass in 6.5x68 and 8x68. Two good sources we've located are Natchez Shooters' Supply and Huntington. Natchez has RWS 6.5x68 brass in stock, item RW2144689, priced $25.02 for 20 pieces. The RWS 8x68 S brass, item RW2145030, is currently out-of-stock but Natchez is expecting more soon, priced at $24.70 for 20 pieces. Huntington's online store carries most of the RWS line, including the 8x68 RWS, item 5030, priced at $27.35 for 20 cases. Call (530) 534-1210 for current Huntington's availability.
NEW PRODUCTS from Sinclair Int'l: Sinclair recently unveiled some cool new tools for your reloading bench. The new Case Neck Thickness Kit ($59.50, item 09-9215) provides a stable, convenient platform for sorting brass by neck-wall thickness. When neck-turning, you should always check your brass to ensure that you are not over- or under-turning. Even if you don't turn necks, this tool allows you to sort your brass for consistency. The kit uses a standard .001" dial indicator (sold separately) and RCBS flash hole deburring tool stops as case pilots. The stand is available by itself for $23.50, item 09-980.
Sinclair's new Fore-End Benchrest Adaptor ($31.00, item 04-1700) is a great new accessory for those who want to get maximum accuracy from their hunting or tactical rifle when shooting from the bench with a front rest. Simply screw the unit into the hole for your stock's front sling stud. The metal upper section adjusts for width, while a cork lining protects the stock finish. The 3" wide bottom plate is made of solid UHMW polymer, which glides easily with very low friction. This material was selected to provide consistent and smooth recoil in your rifle rest.
Meplat trimmers have been around for a while, but Sinclair offers an ergonomically better solution, with its bracket-mounted Meplat Trimmer ($49.94, item 05-49XX). Meplat trimming allows you to uniform the very tip of each and every bullet. This definitely reduces variances in bullet-to-bullet BC (though you'll reduce the BC about 2% when trimming
.005" off the tip). Many top long-range shooters, such as Dave Tooley and David Tubb, believe that meplat trimming reduces vertical dispersion at long range, and can produce rounder, tighter groups. Even small differences in BC can have a large influence on vertical drop and windage over long distances. Sinclair tells us: "The Sinclair Meplat Trimmer is a crank-style design with a tool steel cutter, aluminum frame, and a Delrin™ housing. The bullet is inserted into a throated, bullet-diameter hole in the cutter housing. This caliber-specific hole holds the bullet squarely and securely. When building our prototypes, we found Delrin™ to be kinder to the bullet jacket regardless of how heavy-handed a user was. Stainless steel and other materials tend to engrave the softer bullet jacket material. The tool has a large cutting inspection port, a large chip clearance hole, and a stand that can be c-clamped or bolted to the workbench. We had several hundred people use our meplat trimmer at Camp Perry this year and heard nothing but positive feedback. We recommend sorting your bullets with a comparator prior to trimming. There can be differences in base to ogive length of more than .010" among bullets [in the same lot]."

If you shoot a variety of calibers, you can initially buy the tool in one caliber, then purchase additional caliber housings as you needed. Housings are available in the following calibers: .22, 6mm, 6.5mm, 7mm, .30, and .338.
MINI REVIEW--A Better Concentricity Gauge: We've now played with quite a few concentricity gauges. They all have their strengths and weaknesses, but some just didn't perform well at all with very short cases like the 6BR and 6PPC. One of our regular readers suggested we check out the H&H Concentricity Gauge, made by Bill Herron. So far we are very impressed. A 6BR case doesn't tip or rock, causing the needle to jump. We were able to get good, repeatable readings off a seated bullet, which wasn't easy at all with some of the other units. Our friend agreed with our positive assess-ment of the H&H, saying: "I have four concentricity gauges. Among these tools, the H&H, made by Bill Herron, is the least expensive and the easiest to use of those designed for loaded round measurement and straightening. It is also built like a brick. The Sinclair is by far the best for looking at the case alone due to the bearing balls and their adjustability." The H&H uses an indicator block to eliminate off-center indicator readings. It will accept .22 PPC through .375 length cases. A reversible spindle acts as a pilot for checking neck thickness. Bill Herron says the unit can also be used for bullet alignment, but we didn't try out that capability. For more information, check out the website or call Bill in Oregon at (541) 327-1411.
BLOG Items Wanted: Can you share a smart reloading tip, or news of a great bargain on gear? Can you give us a report from a major match? Then contribute to our 6mmBR Blog. Just email your comment or news item to Mailbox@6mmBR.com. Please keep photos under 200kb in size.
November 8, 2005 BLOG
NEWS, FEATURES, PRODUCTS, and RELOADING TIPS. BLOG ARCHIVE.


HOT NEWS--6.5x47 Lapua Samples Arrive Today:
A couple dozen sample 6.5x47 cases arrived today via airfreight from Finland. Christmas came early. Powder capacity is 46.9-47.0 grains H20 and the cases have LARGE Primer Pockets. We've only had the samples for a few hours as this is written. The brass looks great--very consistent with extremely well-finished primer pockets and flash holes. We did not have a tubing mic handy, but the neckwall thickness looks very uniform.
We weighed 15 cases. Right out of the box, untrimmed, the 6.5x47 brass proved extremely consistent weight-wise. Weight Extreme Spread was 0.5 grains, with an SD of 1.708 grains. Recorded weights were: 159.3, 159.5, 159.0, 159.4, 159.4, 159.1, 159.3, 159.1, 159.2, 159.1, 159.0, 159.5, 159.4, 159.2. Run-out, measured at the shoulder, was under .001" (one-thousandth). On most of the cases, the needle did not move past the half-way point between thousandths markers. Very impressive.
NEW 6.5x47 Lapua Measurements from Prototype Samples
COAL
Weight
Powder Cap
Shoulder diam.
Web* diam.
Rim diam.
Neck Loaded diam.
1.836"
159.3 gr
46.9gr H20
0.451"
0.468"
.4695"
.291"
* Web measured right at top of extractor groove, where it meets the case body



Other 6.5x47 Lapua Characteristics and Measurements:


1. The primer pockets are LARGE, as is the flash-hole.

2. At 1.836" OAL, the case is a bit shorter than a 6XC. The 6.5x47 is .280" longer than a 6mm BR Norma case.

3. The H20 Capacity (with primer in place), is 46.9 grains, based on our actual measurements, filled to over-flow.

4. The shoulder (.451-.452") is slightly narrower than a 6BR case--our Lapua factory-loaded 6BR ammo is just over .457" at the shoulder.

5. The neck is SHORTER than on a 6BR case, measuring about .275" compared to .322" for a 6BR. The neck is still long enough to get a long, VLD-style bullet up out of the doughnut area.
We were hoping for small primer pockets, because we think small pockets handle high pressures better. But Lapua designed this cartridge for 300m work with 6.5mm bullets. Big pockets may work best with the 6.5s. So we'll never know what this case "might have been" in 6mm with small primer pockets or even just small flash holes. We were also surprised that the necks are shorter than on a 6BR. With no downside to longer necks (you can always trim them), why not keep them as long as possible? Overall though, the 6.5x47 is impressive. In 6.5mm or necked down to 6mm or .22, this case has huge potential for varminters, Highpower shooters, plus 600- and 1000-yard benchresters.
CAVEAT: The CIP certification process for the 6.5x47 Lapua case has not been concluded yet. Conceivably, minor dimensional changes may be made before volume production starts. Case measurements were done with a basic set of calipers--a better set of tools might produce slightly different numbers. Also, the scale used to weigh the cases is only rated to +/- 0.1 grain. We did weigh each of the 15 cases twice, however.
WEB LINKS--Cool Site for Blaser Shooters: Fans of the versatile Blaser straight-pull action should check out BlaserPro.com. Captain Dave, who runs the site, reports: "In the last year since my Blaser R93 6BR switch-barrel was featured as Gun of the Week, a lot has happened on the Blaser front. After a lot of work, the new Blaser fan web site is up and running, BlaserPro.com is dedicated to Blaser enthusiast and fans. Besides relevant articles and links we also have the only Blaser-dedicated forum on the web. Stop on by and check us out. The introduction of the new R93 Varmint has brought us a more suitable rifle for shooting off the bags than the R93 Safari Offroad or R93 Match platforms. This new varminter version of the R93 has a flat forearm with an accessory rail, and adjustable cheek-piece. Good-looking wood and black Teflon finish on the metal round out this new rifle from Blaser."
</center>


GEAR TECH--Home-Built Hydraulic Front Rest: AJ300MAG has crafted a very handsome front rest that adjusts windage via hydraulics. AJ tells us: "After the discussion on Benchrest Central the idea looks promising. I'm a knob-tweeker when I shoot benchrest. I can also see it used while shooting "F" Class. This is a prototype [windage unit] I built for the rest, which was also my creation. You can see the slave cylinder on the upper left, made of brass with a stainless steel piston, 1/2" bore and stroke. The master cylinder slips over the leg on my rest, made of aluminum with a brass piston (7/8" bore). I haven't shot it in a match as of yet. But it does work well with the shooting I've done so far. The base pieces are stainless steel. The upper is all aluminum. The windage top in the picture is for factory rifles with narrow forearms. I've also got a separate top with a wider bag, strictly for my benchrest rifle. This winter I'll take both tops apart and have the pieces anodized. The slave cylinder bracket can be swapped between both tops by removing 2 screws. The front leveling screws are carbide-tipped to dig into concrete bench tops." Nice work AJ!
RELOADING--Baney Perfects Ultrasonic Case Cleaning: Our 1000-yard Editor Jason Baney has been slaving away in his "laboratory", working with a new UltraSonic cleaning machine. His goal was to produce cases that are clean and shiney both INSIDE and out--without tumbling.
Jason tested a number of cleaning solutions and has come up with a 3-stage process using very inexpensive components. Jason places his cases and liquid solution in Pyrex beakers that sit inside the parts tray of the UltraSonic machine. This way the solution is always contained and clean-up is a snap. The ultrasonic sound waves penetrate right through the wall of the beakers to work on the brass inside. When you're done, just drain the beakers. Stay tuned for a full write-up by Jason with lots of photos. In the upcoming article, Jason explains the pros and cons of various solutions, and reveals some special techniques he devised. For now, check-out these before and after pictures. This system really works! It even cleans the primer pockets, and parts of the interior you can't possibly reach with a brush.
CHARITY EVENT--Friends of NRA: On November 19th, The Compton (CA) Hunting and Fishing Club hosts their annual Friends of the NRA Fundraiser/Dinner. This year they are giving away, by drawing, an outstanding precision shooting package valued at over $1000: JJ Industries Bag Squeezer Rest and Loading Platform, Harrell's Powder Measure, Sinclair Arbor Press, and an Edgewood Rear Bag (actual bag is brown leather). This is a good way to contribute to a very worthy cause AND get a chance at some great gear. You don't have to be present to win--just get a ticket before the drawing. Tickets are on sale now, $20.00 each, 3 for $50.00, and 7 for $100.00. A limited number of tickets will be sold, so don't wait. 100% of all proceeds go to the Friends of the NRA. Click Here for more details, or contact event chairman Randy Tidwell at chfc4nra@aol.com or (562) 682-6997.
BLOG Items Wanted: Can you share a smart reloading tip, or news of a great bargain on gear? Can you give us a report from a major match? Then contribute to our 6mmBR Blog. Just email your comment or news item to Mailbox@6mmBR.com. Please keep photos under 200kb in size.
November 2, 2005 -- NEWS, FEATURES, and PRODUCTS.


SITE NEWS--New Look, New Portal: Regular visitors to 6mmBR.com will notice a change in the masthead photo on top of this page. On the right it says "AccurateShooter.com". "What's that?", you might ask. Don't worry, we aren't changing the content mix or the navigation--that will remain just like before. No need to change your bookmarks. We've added AccurateShooter.com as a new gateway to the site because many folks have suggested that "you guys should do something to show that the site's not just limited to the 6BR cartridge and its derivatives." AccurateShooter.com, as a site title, serves that end. You can start using that address or continue to access 6mmBR.com just as before--whatever you prefer. As we expand our coverage of larger and smaller calibers, we think people may start referring to the site as "AccurateShooter.com"--which won't be a bad thing, since accuracy, in whatever rifle you shoot, is our number one mission here.


SECRET PROJECT at Stan's "Skunkworks": Earlier this summer we started assembling components for a state-of-the-art sub-caliber rifle. With help from McMillan Fiberglass Stocks, Shilen Barrels, Dave Kiff (PT&G), Green Mountain Barrels, and Hall Mfg., we are hoping to "raise the bar" on micro-caliber accuracy. The top-secret project gun is being put together by master smith Stan Ware, of <a href="http://www.sgrcustomrifles.com/" target="_blank">SGR Custom Rifles. We have already learned a few things that may, potentially, give us a significant accuracy edge over anything the shooting world has seen in a similar chambering.
We'll test multiple barrels in a variety of twist rates, both with tuner and without. Right now Stan and Dave are prototyping a very special reamer. Initial test results should be available in a few weeks with barrel number one. Stay tuned. If things go as planned, you're going to want one of these rifles.
Here is Stan's set-up for cutting barrel threads. Stan controls every aspect of the machining to an extremely high level of precision, using indicators calibrated down to .0001". The upper photo shows the Hall action being pillar-bedded into a graphite McMillan Edge stock.
GUN CLEANING--A Slicker Way to Use Wipe-Out Foam: 1000-yard Editor Jason Baney is a big fan of Wipe-Out, from SharpShoot-R Precision Products. The stuff just flat-out works, and we've found that ones zero is very consistent after application. With the Accelerator liquid, dwell time can be cut nearly in half. Jason has come up with a sure-fire method of applying Wipe-Out with no muss, no fuss. He uses plastic tubing closely sized to chamber dimensions. This way the foam exits at the muzzle and you won't get any chemicals on your stock or in your action bedding. Click Here for Jason's full report with larger photos.


RIMFIRE NEWS--CZ-USA offers Set-trigger in New 453 Model: Great news for rimfire shooters--you can now order a CZ rifle with an excellent single-set trigger right from the factory. CZ's model 452 has long been considered a value leader among factory rimfire rifles. It offers superb reliability and excellent accuracy for around $370 average retail. However, one of the first thing many owners do is fiddle with the trigger set-up to reduce pull weight. With the release of the set trigger-equipped model 453, available both in "American" version and the "Varmint" model shown below, CZ shooters can enjoy a really outstanding trigger in an economical firearm. The set trigger system allows a "normal" pull adjustable to about two pounds. Click the set trigger forward before firing, and you are rewarded with a half-pound pull. Expect the 453 to retail for about $100 more the 452; MSRP for the CZ 453 American and Varmint is $530.00 in .22LR and .17HM2.

ENCORE UPDATE--A New Accurizing System from Holland: Our feature on the EDM-machined T/C Encore was very popular with readers. Many folks were amazed at the 0.2 MOA accuracy of Richard VanH's rifle, which was smithed by Mike Sirois using EDM hole-drilling for the chamber and EDM wire-cutting for the lug. It turns out that, on the other side of the Atlantic, another talented smith is applying high technology to the Encore platform. Johan Aarts, of Holland's LAMAR Technisch Bureau, sent us this report last week, after reading our "EDM Encore" feature:
"LAMAR Holland builds custom stuff for precision shooters, including rests. We also do custom design, barreling and so on. I recently fitted a 23" 6mm BR barrel for a TC Encore. I made a hinge-block of 1.2842 tool-steel, renowned for its strength and toughness after hardening. The hinge-block contour was made using EDM, which is very often used in mould-making and precision toolmaking. The reason was that the form of the block was quite complex, so milling and grinding would be too expensive. Another reason was that EDM is so incredibly precise--the contour of the hinge-block is directly toleranced within 0.0001". In that hinge-block, which contains barrel lockup and extractor components, I tapped threads for a .984" diameter Lothar Walther 1:8" match-grade barrel, which is screwed in conventionally. I constructed a hinge-block because I did not want to weld or solder a hinge-plate to the barrel. Doing this will affect the homogenous structure of the material, which shows up when the barrel heats up. When my barrel heats up, nothing happens, because the barrel is a straight tube threaded in the hinge-block. We are printing [sub quarter-inch] five-shot groups right now." In a few weeks, Johan plans to test the rifle at the 1000-yard range in Bisley, England.


MATCH RESULTS--CISM World Championships: The 40th World Military Shooting Championship was held in Thun, Switzerland October 9-16, 2005. This year's match had 77 teams and 317 competitors from all over the world. Most of the centerfire rifle competitors shoot 6BR. SFC Jason Parker, U.S. Army, took first place in the 300m Standard Rifle Three Position Precision Fire Match, and he shot with a team that took the bronze in 300m Rapid Fire (Three Position). For more information, check out The First Shot, the CMP's online newsletter.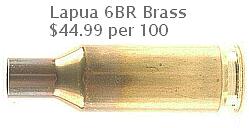 BRASS SALE--Lapua 6BR Brass on sale at MidwayUSA: "Got Brass?" Well, the excellent Lapua 6mm BR brass has been hard to come by, along with Lapua 6.5-284 brass. Right now MidwayUSA has both calibers of Lapua brass in stock and on sale through the end of November. The 6BR brass (product # 323515) is just $44.99/100, marked down from $53.49, while Lapua 6.5-284 brass (product # 478014) is $58.99/100, discounted $10/box from $68.99. We suggest you get your orders in early. It may be a while before another large shipment arrives from Finland.
BLOG Items Wanted: Can you share a smart reloading tip, or news of a great bargain on gear? Can you give us a report from a major match? Then contribute to our 6mmBR Blog. Just email your comment or news item to Mailbox@6mmBR.com. Please keep photos under 200kb in size.
Copyright © 2005-2006, AccurateShooter.com | 6mmBR.com, All Rights Reserved.
No reproduction without advanced permission in writing.