January 2006 BLOG
BLOG Archives: START | Sept 2006 | Aug 2006 | July 2006 | June 2006 | May 2006 | Apr 2006 | Mar 2006 | Feb 2006 | Jan 2006 | Dec 2005 | Nov 2005 | Oct 2005 | Sept 2005 | Aug 2005 | July 2005 | June 2005 | May 2005 | Apr 2005
January 25, 2006 BLOG
NEWS, FEATURES, PRODUCTS, and RELOADING TIPS. BLOG ARCHIVE.
PROJECT REPORT--6BR Barrel Cut-Down Velocity Results: At this website's invitation, respected Benchrester Jackie Schmidt has been conducting tests with a 6BR barrel fitted up to his Rail Gun. One of the first tests was to see how barrel length affects velocity. Jackie started with a 33" barrel--the full length of the blank after chambering and fitting. He cut the Krieger barrel back in 1" increments down to 28" length. Tests were done with Sierra 107gr MatchKings, Fed 205m primers, and a stout load of Vihtavuori N140. (Jackie selected the fastest burning powder among our test brands to ensure a full burn in the barrel length). 15-shot strings were fired over an Oehler model 35 chronograph with proof channel.
RESULTS: At 33" the barrel's average velocity was only 40 fps faster than at 28". On average, velocity was about 8 fps higher for each inch past 28". (However, the 29" Average was actually lower than the 28" because we had one real slow shot at 2932 fps in the string). Comparing the 29" Max Vel with the 28" Max Vel we saw that same 8 fps difference. And comparing Average Velocities at 28" and 30", the difference was exactly 16 fps (again, 8 fps per inch). Bottom line--figure on gaining just 8 fps per inch past 28" length. That's not a big gain. Jackie feels that's not enough to justify the weight/flex associated with something longer than 30". Furthermore, the best ES was at 28" (ES of 24, SD of 7), while the worst ES was at 31" (ES of 61, SD of 16).
| | | | | | | |
| --- | --- | --- | --- | --- | --- | --- |
| Barrel length | 28" | 29" | 30" | 31" | 32" | 33" |
| MAX fps | 2966 | 2974 | 2982 | 3005 | 3001 | 3011 |
| MIN fps | 2942 | 2932 | 2950 | 2944 | 2960 | 2974 |
| Average fps | 2952 | 2948 | 2968 | 2973 | 2982 | 2992 |
| Average Vel vs. 28" | Same | - 4 | +16 | +21 | +30 | +40 |
SITE NEWS--New Event Calendar is Live: After much searching we've found a database-driven Event Calendar tool. This will display all the year's events at a glance, and events are searchable by date, type of event and keyword. To view it, click the link in the left column marked "Event Calendar". With our new Calendar, you can view events by the year, by the month, or by a date range. You can search for a term such as "SuperShoot" or "F-Class". Or, with one click you can bring up one or more of five event categories. For example, you can search just for Short-Range BR matches or just iron-sight matches. This new module adds to our expense, but three recent donations (thanks John D., John P., NorCalMikie) have covered the cost for the next year. We will be adding many more events as soon as the 2006 schedules are finalized. Readers are encouraged to submit major National and regional events to mailbox@6mmBR.com . Be sure to include contact info for the event organizers so we can confirm all dates.
COMPETITION--Brady Named 600-Yard Shooter of Year:
A series of impressive performances, during which he set four new 600-yard World Records, earned Terry Brady the coveted IBS Shooter of the Year award for 2005. Terry earned 44.5 points for the season, followed by Richard Schatz at 33.5, and Joel Kendrick at 32.5. All three shooters, and their rifles, are featured in our Gun of the Week pages. Along with a spectacular .861" 5-shot record group at 600 yards, Terry set a new Heavy Gun Group Agg mark (1.9803"). Terry also now owns the Two-Gun (LG/HG) Score record (403-14X at 2.973") and Two-Gun Group record (2.086"). Not bad shootin' for a self-declared "simply country boy". Terry shoots Berger 105gr VLDs in a standard 6BR case, using a Borden action and 4-groove Krieger barrel. Click HERE to read all about Terry's rifle and his reloading tricks. We congratulate Terry, Richard, Joel and all the top shooters for their fine performances in 2005. Terry and others really raised the bar this year in terms of "ultimate" accuracy. Now that a sub-inch group has been achieved, the next great 600-yard challenge will be a 1.5" Aggregate.
RANGE REPORT--BIB 95s Shine at 200 Yards: Reader Milan provided this report on his initial trial with Randy Robinett's BIB 95gr 6mm match bullets: "I just received new BIB 6BR 95grn. bullets. Today I did first test shooting. After talking to Randy I made my first test load using VARGET 31.3 grn. and jammed bullets to 0.015" in 28" barrel. I set up my shooting bench to 200 yards and shoot the first 5 shoots group using Randy's bullets. The group seemed to be awfully small looking through my scope. After measuring I found out that the group measured only 0.175" and after that I did not need anymore testing. My chronograph read velocity 3000 f/s and ES 6. With a big smile on my face I was leaving the shooting ranch. When I arrived home, the first thing I did was I called Randy and thanked him one more time for making my day.--Milan". Isn't it nice when you can wrap up your load testing in 30 minutes? The 6BR + good powder + great bullets = Tiny Groups.
TECH TALK--How to Detect Excessive Pressure in Your Cases: Reader ScottyS provided this comparison photo of cases, showing the tell-tale signs of over-pressure. Scotty tells us: "These samples were from a lot of Federal soft-point hunting ammunition that were fired in a custom .308 with a chamber on the tight side (although still allowing a .308 Winchester GO gauge). Among the pressure symptoms were heavy recoil, sticky bolt lift, and the left case had to be manually removed from the boltface. This demonstrates why: 1) you should never assume that all lots of factory ammo are the same (and safe); and 2) you should ALWAYS wear eye protection. This also shows how high pressure can spike once you approach maximum load levels." Scotty noted that there was a big pressure difference between the left case and the right case, although both were fired sequentially, and both were from the same lot of ammo. So take heed--always take precautions when testing new ammo, even if it is factory-loaded.
OPTICS SALE--Sightron Special at LockStock.com: Lock, Stock and Barrel has a great deal running through February 15, 2006. If you purchase any of three Sightron spotting scope models (20-50x65mm, 20-50x80mm, 20-60x63mm), you will receive a 3-9x42mm Sightron riflescope ($200 Value) for FREE. The new Sightron spotting scopes are shockproof, waterproof, and feature multi-coated optics and rubber armor for durability in the field. The scopes also come with a nylon carrying case/fanny pack and are covered by Sightron's Lifetime Replacement Warranty. For optimum clarity and resolution, the 80mm version would be our first choice among Sightron's offerings. This is quite a promotion from a very reliable vendor.
OPTICS--New Sponsor Offers Great Prices on Premium Scopes: We are pleased to announce our latest site sponsor, Bear Basin Outfitters, based in Northern California. Bear Basin carries a full product line from NightForce, Leupold, Zeiss, Schmidt & Bender, Nikon, Bushnell, Kahles, Burris, and more. Check the web site for very competitive pricing. Bear Basin noted that they've been very impressed with the Bushnell Elite 1500 Rangefinder, and they will stock the new Leupold Ballistics-Calculating Rangefinders as soon as they are available.
SITE NEWS--AccurateShooter.com Map Adds Range Info: In the last edition of our BLOG we previewed the new AccurateShooter.com Member Map. Over 150 members have joined the fun and plotted their positions. This week we've added a powerful new feature. When you click on the Member Map you'll see blue icons for ranges, and red icons for people. The map defaults to 50 markers, but if you click on the big, full-page version you can specify that ALL markers display. You can also search for a range (such as Camp Perry) using the 'member list'. So far we've added a couple dozen important ranges to the map and we add more every day. If you click on a range icon you can zoom in to find the roads that access the range. (Leave the range profile open as you zoom in--that keeps the map centered.) Using Google Earth technology, you can also switch to a "Hybrid View" that combines road mapping with aerial views of the terrain. Want a birds-eye view of your next competition venue? Just click on the Member Map and zoom in.
RELOADING--RCBS ChargeMaster Combo on Sale at Midsouth: Well, if you didn't get an RCBS Chargemaster Combo for Christmas, now is the time to do some smart shopping. The combined scale/dispenser system is on sale for the next few weeks at Midsouth Shooters Supply. The Price is $259.95. Our tests showed that the ChargeMaster, when calibrated properly, throws to within plus or minus one-tenth of a grain nearly every time, and it is the fastest digital dispenser on the market. The ChargeMaster is a major time-saver. More precise than manual powder measures (even benchrest models), it can hold dozens of pre-set loads for different bullets or calibers.
BLOG Items Wanted: Can you share a smart reloading tip, or news of a great bargain on gear? Can you give us a report from a major match? Then contribute to our 6mmBR Blog. Just email your comment or news item to Mailbox@6mmBR.com. Please keep photos under 200kb in size.
January 12, 2006 BLOG
NEWS, FEATURES, PRODUCTS, and RELOADING TIPS. BLOG ARCHIVE.
COMPETITION--New NRA F-Class Rules: The NRA recently released updated F-Class Rules, with some important changes slated for 2006. The rules for F-Class will be provisional this year and should be adopted next year. Most notably, the 10-Ring and X-Ring diameters will be reduced for all distances: "F-Class Target Centers are to be used with MR-63, MR-65, MR-1 and LR targets for
all F-Class shooting. When pasted onto the above mentioned targets the scoring will be conducted as follows: the new X-rings are valued 10-X. The old X-ring becomes the new 10-Ring, the old 10-Ring becomes the new 9-ring, etc." In the last two years, equipment and shooter skills have improved dramatically, increasing the possibility of perfect scores that would require "shoot-outs" to determine winners. The smaller targets, which have been tried at 600 yards, will put increased emphasis on pure accuracy and make it much harder to shoot "clean" with all-Xs. We'll have to see whether this results in more Open Class shooters trying Benchrest-type cartridges at 600 yards. Jeff Cochran, 2005 F-Class (Open) Champion is currently experimenting with a shortened .243 to offer enhanced performance at 600 yards. He plans to stick with his 6.5-284 at 1000 yards, however. Click HERE for a Forum discussion on the new rules.
SITE NEWS--Member Map Feature Added--Join the Gang: This is cool! With our new Member Map, you can see where other site visitors are located. You can place yourself on the map and include a short message and a photo. It's pretty easy to log in, all you need is a name (can be real name or your Message Board nickname) and an email address. Click a red icon to find a fellow shooter near you (or on the other side of the globe). By left-clicking with your mouse and dragging, you can move to any position on earth. Using the plus/minus controls you can ZOOM in to within a few miles radius, with roads displayed. In the future we can use our Member Map to locate shooting ranges and match venues. One caveat--you do need Java installed in your browser. Also, some folks with older MS operating systems have had problems using Internet Explorer. But with FireFox browser, or a recent Windows OS update, the mapping software works smoothly. Give it a try and join the club. Once you're logged in, you can send private messages to other mapped members. Click map image to go directly to the sign-up page.
HOT DEAL--$30 off MidwayUSA Scopes 'Til January 20: Reader Mark H. let us know about this special promotion from Midway. When shopping at MidwayUSA.com, type "SCOPE299" in the PROMOTION CODE Box and you'll get an extra $30 off any scope over $299.99. MidwayUSA says: "This offer will absolutely expire at 11:59 PM on January 20--no exceptions. From now until January 20, buy any IN-Stock, regular or sale priced, scope or red dot sight priced $299.99 or over and save an additional $30.00! This includes all brands of in-stock merchandise! To receive your $30 off, enter the promotion code SCOPE299 in the box entitled "Promotion Code" on the shopping cart page. You will see the discount on the confirmation page before placing your order. Promotion code is valid for orders placed on MidwayUSA.com. Special offer ends January 20, 2006."
OPTICS--Premier Reticles No Longer Boosts Leupold Scopes: You may have heard the rumors by now. We contacted Premier Reticles today, and John Bracken confirmed that Premier will no longer boost Leupold scopes. This is not a temporary policy change--it's a final decision John notes.
Premier's founder and President, Richard (Dick) Thomas, passed away in December, 2005 and Premier has received a great increase in military orders. Together, these factors have put a strain on Premier's manpower. Additionally, obtaining parts from Leupold has been difficult. Bracken also noted that, as of January 10, 2006, Premier will no longer produce or install reticle styles 1, 2, 3, 4, 5, 6, 7, 9, USMC Mil-Dots and modified Mil-Dots. Premier will continue to produce and install GEN 2, GEN 2XR and Multiple Dot (RC600) Reticles.
RELOADING--Sinclair's New Benchrest Press: Sinclair Int'l has introduced a number of interesting new products in recent weeks, but the new Sinclair Benchrest Press really caught our attention. It seems ideally suited for small cases such as the 6BR and 6 PPC. Many shooters run these cartridges at pretty high pressures (63,000+ psi); for them it's wise to full-length size the cases after each firing, using a custom-fitted FL sizing die. A rock-solid press with precise geometry, such as the new Sinclair unit, helps to maintain uniform case concentricity and low neck run-out during FL sizing. A precision-made press (with properly aligned threads) also helps reduce run-out during bullet seating. The new Sinclair press has many nice design features not found on lesser presses. First, the press is open in the front, so you can see what you're working on and easily add or remove cases from the shell-holder. Second, primers conveniently drop right through the middle of the large 1" diameter ram. They can't catch in a spring channel and potentially jam the ram. Made of solid billet, the linkages are free of protruding clips and fixtures so there's nothing to snag or collect debris. The new BR Press, Sinclair item 09-850, retails for $279.00
PRODUCT NEWS--Remington Offers New Trigger in 2006: Remington will debut a new trigger system in its factory rifles this year. According to the February, 2006 issue of Predator Xtreme magazine, Remington's new trigger system blocks the sear AND the trigger while the safety is engaged. Remington claims the new trigger will have lower pull weight from the factory, better "out of the box" feel, and improved corrosion resistance. We invite any readers who purchase a 2006 Remington with the new trigger to post a report in the Shooters' Forum or email us at Mailbox@6mmBR.com, with your findings.
OPTICS--Burris Releases Innovative LaserScope:

The new laser rangefinding scope from Burris Optics looks like a winner. Laser rangefinders have become increasingly popular with hunters, tactical shooters, and varminters. Leica sells a superb set of binoculars with a built-in laser rangefinder. Seeing that, we wondered, "how long until we see mass-market hunting scopes with built-in rangefinders?" That question was answered with the announcement of the new Burris LaserScope. This unit combines a 4-12x42 hunting optic with a modern, sophisticated laser rangefinder at an affordable price. The LaserScope employs Burris' popular Ballistic Plex reticle--a good choice for general field use. A patented mounting system allows an ultra-low profile installation. Overall, the unit seems well thought-out, with an attractive and compact design, not much bigger than a conventional scope. We do think the 4-12x LaserScope is a little short on magnification for long-range varminting. However, for a deer hunter, it is a dream come true. You can range your prey without taking your eyes off the target. You can carry one less item of kit, and the money you save (by not having to purchase a separate rangefinder) can buy more powder and bullets (or a spare barrel). We congratulate Burris on bringing an exciting new product to market.
TOOL TIME--Montour C.R. Meplat Trimmer: By uniforming meplats, shooters can reduce variances in the Ballistic Coefficients of a set of bullets. Many top shooters, such as David Tubb, feel that meplat trimming can also reduce group size. Danny Reever recently tested the new Meplat Trimmer from Montour County Rifles. Danny reports it is well-crafted, easy to use, and it offers some advantages over other meplat trimmers on the market. Starting with a lot of bullets that varied in length up to .008", Danny was able to bring them all within .003" using the Montour Trimmer. CLICK HERE for Danny's full report.
COMING SOON--Interviews with Top Shooters and Smiths: In the next few weeks we will publish feature articles with Jeff Cochran and George Gardner. Jeff won the 2005 F-Class Nationals and is one of the top F-Class shooters in North America. He will provide a step-by-step guide to shooting an F-Class match. Gunsmith George Gardner owns and operates G.A. Precision. His tactical and hunting rifles are in high demand. We will feature George's personal "hammer", a straight .243 Win optimized for 115gr DTAC bullets. George's rifle drives the .585 BC DTACs at 3180 fps. At those speeds, the .243's ballistics beat a 6.5-284 handily and leave a .308 in the dust.
| | | | | | |
| --- | --- | --- | --- | --- | --- |
| Cartridge | Bullet Grains | BC | Velocity | Drop @ 1000 | Wind Drift (10mph) @1000 |
| .243 Win | DTAC 115 | 0.585 | 3180 fps | 257.3" | 56.74" |
| 6.5-284 | 142 SMK | 0.595 | 2980 fps | 294.9" | 61.5" |
| .308 Win | 175 SMK | 0.505 | 2730 fps | 392.8" | 87.2" |
GUN RESOURCES--CCI and Midway Explain Shooting Lingo: Confused about the meaning of a term such as "meplat", "magnaflux" or "obturate"? Need to know the OAL of an unusual Wildcat such as the .218 Donaldson Wasp? Well CCI and Midway offer a handy set of answers on the web. CCI's Shooters' Glossary is a very complete collection of gun-related and reloading terms. Midway's recently-launched GunTEC Dictionary contains short descriptions of hundreds of cartridges, plus definitions of thousands of shooting-related words and phrases. How many of you knew that "Maggie's Drawers" is "a colloquial term used for the red flag once used by pit workers to signal a missed shot at high-power rifle competitions"? Consulting the dictionary, we learned that "Magnus Force" was not a Tom Selleck TV show. Rather, "Magnus Force is the movement of a bullet in the direction it is rotating (and downward) due to the lower air pressure surrounding it. The low pressure pocket is caused by the effect of the bullet's fast rotation on the surrounding air." The GunTEC dictionary even includes short "bios" of notable firearms inventors and marksmen, including J.M. Browning, Fredrich von Martini, and Peter Paul Mauser. The GunTEC dictionary is really quite entertaining. A serious shooting buff could spend hours learning new facts (and a ton of obscure trivia.)
BLOG Items Wanted: Can you share a smart reloading tip, or news of a great bargain on gear? Can you give us a report from a major match? Then contribute to our 6mmBR Blog. Just email your comment or news item to Mailbox@6mmBR.com. Please keep photos under 200kb in size.
January 1, 2006 BLOG
NEWS, FEATURES, PRODUCTS,
and RELOADING TIPS. BLOG ARCHIVE.
NEWSFLASH: New 2005 IBS Long-Distance (600 & 1000 yards) records are Posted HERE. Terry Brady's phenomenal 0.861" 5-shot group, shot with a 6BR, is the new 600-yard HG record. David Stripling captured the 600-yard LG record with a 1.071" 5-shot group, shot with a 6BR with a 40° shoulder. Also, just this past weekend, Trudi Fay of Arizona set a new NRA (iron sights) 200-yard record of 200-15x, shot with a 6BR prone rifle smithed by her husband Clark Fay, a Phoenix-area gunsmith. We'll have a report on Trudi's match win very soon.
BEST of the AccurateShooter.com BLOG 2005
At the request of many readers, below we reprise some of the BLOG's most interesting and popular TECH TIPS from the past year, with a couple new items for good measure. Many of these clever applications were devised by AccurateShooter.com readers.
CASE TRIMMING--Set Length with Calipers:
Do you have a Wilson trimmer but can't afford the $84.00 to add the handy Micrometer upgrade (Sinclair Int'l item 05-4500)? Well Boyd Allen has come up with a clever use of a standard set of calipers that lets you set the cut length precisely within .001". Just open the jaws of your caliper and put one jaw on the outboard end of the ring (with set screw) that holds the threaded length-adjusting rod. Set the other caliper jaw on the flat face at the end of the threaded rod that contacts the case rim. If you have a sample case set to the correct cut length, use that to set the position of the threaded rod. Then use your calipers to measure that length. This way you can repeat the cut length each time, or adjust the trimmed case precisely in .001" increments. If you change from one cartridge to another, just use your calipers to re-set the desired cut length. Alternatively, ReedG notes you can use the inside caliper jaws and measure directly from the end of the threaded rod to the cutter face. That's a bit trickier, but it measures actual trim length.
CASE CLEANING--The Ultrasonic Alternative: This week, Jason Baney, our 1000-yard Editor, provides an in-depth, illustrated report on cartridge cleaning using ultrasonic technology. Immersing brass in a slightly acidic cleaning solution, Jason literally buzzed the carbon out of old dirty cases, producing brass that looks like new, inside and out. Check out the photos. You may be amazed. Jason tested a variety of cleaning solutions, coming up with a cheap, effective vinegar-based "cleaning cocktail" that costs less than $2 per gallon. Ultrasonic machines come in various sizes and capacities. Jason picked up his 42 Khz unit for just $75 on eBay. The brass is held in Pyrex beakers containing the cleaning solution. High-frequency soundwaves penetrate the beakers, effortlessly cleaning all surfaces of the brass, even the primer pockets. Since no solution is held in the machine's tank, clean-up is a snap. And one reader suggested "if you fabricate a plexiglass top (with cutouts) to hold the beakers off the bottom of the tank you will find the cleaning action even more efficient." Click Here to read all about Jason's discoveries.
RELOADING GEAR--Full-Length Semi-Custom Die From Forster: Great news--Forster will hone the neck of a Forster 6mm BR FL sizing die (item #018121) to your specs for just $10! Using a Full-Length sizing die is a good idea when running stout charges in the 6BR case. However, most factory 6mm BR FL dies work the neck too much, reducing it down to .263" or so. What you want, for a .271-.272" necked chamber, is about a .267-.2675" neck diameter before you seat the bullet. That gives you about .002" tension on a neck that measures .269" diam. with a bullet in place. With moly bullets, .003" tension is recommended. With our no-turn 6BR brass we use a Redding FL sizing die with the neck reamed to provide about .002" tension. This provides perfect one-pass sizing, very good concentricity, and NO Doughnuts. Now you can do the same thing with a 6BR Forster Benchrest die, part #018121. If you purchase the Die, send it in to Forster and they will ream the neck to the dimension you specify for just $10 plus $4.50 shipping. Forster says to allow for about .002" springback on the brass, meaning you want a .265" die to get a .267" neck (before bullet seating). We've observed springback to be less with Lapua brass, so you may prefer to specify a .266" die for a .267" neck. Send your die (with a note listing the neck diameter you want) to: Forster Products, Attn. Customer Service, 310 E. Lanark Avenue, Lanark, Illinois 61046.
RELOADING TIP--Neck Tension vs. Time: We've learned that time (between neck-sizing operation and bullet seating) can have dramatic effects on neck tension. Controlling neck tension on your cases is a very, very important element of precision reloading. When neck tension is very uniform across all your brass, you'll see dramatic improvements in ES and SD, and your groups will shrink. Typically you'll also see fewer fliers. Right now, most reloaders attempt to control neck tension by using different sized neck bushings. This does, indeed, affect how hard the neck grips your bullets. However, James Phillips recently discovered that another critical factor is at work. He loaded two sets of 22 Dasher brass. Each had been sized with the SAME bushing, however the first group was sized two weeks before loading, whereas the second group was neck-sized just the day before. James noticed immediately that the bullet seating effort was not the same for both sets of cases--not even close. Using a K&M Arbor press equipped with the optional Bullet-Seating Force Gauge, James determined that over twice as much force was required to seat the bullets which had been neck-sized two weeks before. The dial read-out of seating force for the "older" cases was in the 60s, while the seating force for the recently-neck-sized cases was in the 20s. (These numbers correspond to pounds of force applied to the bullet). Conclusion? In the two weeks that had elapsed since neck-sizing, the necks continued to spring back (get tighter) and stiffen. Lesson learned: for match rounds, size ALL your cases at the same time. If you want to reduce neck tension, load immediately after sizing.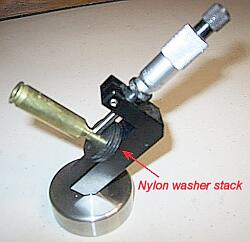 RELOADING TIPS--Handy-Dandy Extras for the Bench: Here are a set of useful, inexpensive gadgets that can make the reloading process easier.
Magnifying Glass--We use a flat 2" square pocket 4x-8x magnifier. This folds up on itself. Very handy, we use it to inspect bullets and brass.
Clear 35mm Film Cannister--use this to transfer the thrown powder charge to the little cup on the scale--helps with small-neck cases and you don't get any kernal splash. Works pretty well as a trickler too.
Compressed Air in a Can--Get these at office supply stores. Use it with the tube attached to blow crud out of cases after cleaning the neck with a brush, and blast loose debris out of primer pockets.
Colored Sharpie Marking Pens--Mark your bullets ahead of the bearing surface, and the color transfers to the target. This prevents crossfires in competition, and lets you shoot different loads with the same setup and POA.
Bounce Dryer Sheets--Eliminates "static cling" on your plastic reloading parts like powder throwers, powder funnels, and reloading press guides. Thanks to Doc76251 for this tip.
Shotgun Mop--stick this in the chamber when using Wipe-Out foaming bore cleaner. For long chambers screw on one section of cleaning rod to aid extraction.
Plastic Washers for Neck Mic--If you use a Sinclair Neck-wall Micrometer Gauge with integral stand, you can use thin plastic washers to adjust the height of the case on the mandrel. This makes it much easier to measure the same point on the case neck every time. Thanks to FireHawk for this tip (and photo).
Brass Rod about 4" Long--If a bullet gets stuck in the rifling when using a Stoney Point tool, just drop the rod down through the muzzle and it will bump the bullet loose. This is much easier than using a full-length wood dowel.
GUN TECH--The CP Convertible MuzzleBrake:
CP Muzzlebrakes offers an exciting new product. We love the recoil reduction we get from muzzle brakes, but we don't like the added noise and blast. And it's bad manners to blow dust and dirt at your neighbors on the firing line. Chris Spera of CP (Cowpuncher) has the answer to that--a brake that can be "turned off" with a simple twist of the brake housing. When the ports on the sleeve are aligned with the ports on inner section tube it works like any other muzzle brake. When the outer sleeve is turned 36 deg it blocks the ports on the tube effectively shutting off the brake and the noise/blast it produces. Each brake is custom-fitted to the rifle, and Chris builds both straight and tapered versions. Jody Calhoun of SavageShooters.com tested one of the brakes, and gave it high marks: "The effect it had on recoil was very noticeable. [My 30-06] performed very much like a medium load .308. Needless to say, I was impressed. I also liked the way it has the detent ball that allows you to go from "ON" to "OFF" in a split second without even looking. The brake stayed in position until I moved it. Operation is smooth with no slack between parts. It does have that typical muzzle brake flash and noise. Fortunately, its ports are angled in a much better fashion than most other brakes, making it less offensive[.]"
RELOADING--Easy Method for Bullet-Coating: Reader Mike Etzel has come up with a simple, cost-effective way to apply moly or danzac coatings to your bullets. And you won't need any expensive gear other than your regular vibratory tumbler and some small plastic containers. Mike explains: "For a number of years I have been using a very convenient way of coating my projectiles with DANZAC in a tumbler. Instead of using a separate tumbler filled with DANZAC and stainless steel balls for coating applications, use small resealable plastic cake or pudding cups filled with stainless balls and DANZAC. Each cup will accommodate between 20 to 70 projectiles depending on caliber once the polishing balls and DANZAC are added. When I need to polish some cases, I insert the sealable plastic container(s) into the polishing material in the tumbler, add cases to the media, and in the process clean cases and coat the projectiles simultaneously in one tumbler. This saves on time and and resources and does two operations in one session."
TOOL KIT--Versatile Shoulder & Seating "Stub" Gauge: Rich DeSimone, holder of the IBS 1000-yard 5-shot record (an amazing 1.564"), showed us a handy little tool he uses for setting shoulder "bump" and seating depth. The gauge is made from a section of barrel lopped off when the muzzle is crowned. The chambering reamer is run in about 1/4 of the way, enough to capture the neck and shoulder area of the case. Rich then uses his full-length die to "bump" a master case with the ideal amount of headspace for easy feeding and extraction. He takes that case and sets it in this Stub Gauge, and measures from the front of the gauge to the rim. He can then quickly compare any fired case to a his "master" case with optimal headspace. Since the gauge measures off the shoulder datum, this tells him how much to bump his fired brass.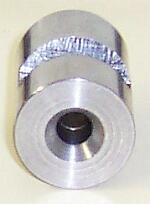 In addition, the Stub Gauge can be used to set bullet seating-depth. Rich has a channel cut transversely on one side of the gauge, exposing the throat area. Since the interior of the gauge is identical to the chamber in his gun, this lets him see where a seated bullet engages the rifling. He can tinker with bullet seating length until he gets just the right amount of land contact on the bullet, confirmed visually. Then he measures the case OAL and sets his seating dies accordingly. This is much handier than using a Stoney Point Tool to measure distance to the lands. As your barrel's throat wears, you may seat your bullets out further to "chase the lands", but the gauge provides a constant land engagement point, in the barrel's "as new" condition. By measuring the difference between the land contact point on the gauge and the actual contact point on your barrel, you can determine throat "migration".
GREAT GEAR--Holland Chamferer Mount: Fellow Ojai Shooter Mark LaFevers has come up with a slick adjustable fixture that delivers a precise, repeatable case-mouth chamfer every time. The Holland Chamfering Tool inserts through the top, indexing vertically off a shoulder. The tool mount can be raised or lowered with the adjusting bolts on all four corners. Simply slide a trimmed-to-length case in the middle, give the Holland Tool a few spins, and you get a perfect, identical chamfer every time. Now that's ingenuity! Mark isn't planning to produce these commercially, but if somebody offered him enough incentive he might just build you one.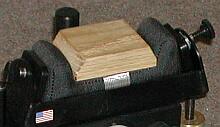 GEAR GUIDE--Stabilizer Block for Front Rest Bags: Here's a simple solution for "Front Bag Droop". Cut a small block the width of your fore-end and place that in the front bag between matches. This will keep the front bag nice and square, without bunching up in the center. That will help your rifle track straight and true. Rick Beginski uses wood (see photo), while John Southwick uses a small block of metal. The metal block might work a little better, but the wood version is easier to make with simple tools.
LOAD DEVELOPMENT--Use Shell-Holder to Monitor Case Expansion: During load development, it's important to check cases for signs of over-pressure. While you need to pay attention of a variety of factors, such as primer flattening and stiffer bolt lift, one sure sign of over-pressure is excessive case swelling at the web. A quick and easy way to monitor this is to bring a shell-holder (for your rim size) with you to the range. If a fired case won't slide into the shell-holder easily, the diameter of the extractor groove has grown excessively and you know your load is too hot.
PRACTICE TIP--Virtual Benchrest Simulation: Want to hone your shooting skills, but can't get to the range? Try the Virtual Shooter benchrest simulation from Benchrest-Russia.com. It challenges you to deal with changing wind velocities and angles in real time. Use your mouse to move the cross-hairs. After a shot you'll see the sight picture move up with "recoil". Just use the mouse again to recenter the reticle. A timer is running like in a real match, and you get a set of sighters before shooting for record. Watch that wind direction!. Link: Virtual Benchrest.
LAPUA DATA SHEETS: Lapua has made available its latest data sheets including 6mm loaded ammo, 6BR Brass, and 6mm Scenar bullets. CLICK HERE to download a .zip archive with data sheets in .pdf format.
BLOG Items Wanted: Can you share a smart reloading tip, or news of a great bargain on gear? Can you give us a report from a major match? Then contribute to our 6mmBR Blog. Just email your comment or news item to Mailbox@6mmBR.com. Please keep photos under 200kb in size.
Copyright © 2006 AccurateShooter.com | 6mmBR.com.
No reproduction without advanced permission in writing.