6mmBR.com's Exclusive Report
2005 SHOT SHOW REPORT-- NEW PRODUCTS



NEW .22-caliber 90gr VLD Match-King. Sierra announced the latest addition to its MatchKing family--a 90gr VLD-style bullet for long-range target applications. It boasts an impressive .504 BC (compared to .420 for the current 80gr .224 SMK), and should be available in mid-April 2005, according to Sierra Vice-President, Adam Braverman. We expect you'll need a 1:7" twist to stabilize the new bullet, which should prove ideal in 22BR and 22 Dasher platforms.


NEW Norma Powder and Bullet; Loaded Ammo Update. Norma had a big presence at the show, with many representatives traveling in from Sweden. We asked about the availability of factory-loaded Norma-brand 6mm BR Diamondline ammo. No promises were made, but Norma is setting up a new distribution network in the USA and we were told they might be able to import a few cases of loaded ammo within a few months. Norma also announced a new powder, Norma URP, which has proven very successful in Europe, particularly among 6.5x55 match shooters. It is a high-energy single-base powder, with a burn rate similar to H4350, and a tad slower than Norma 203B (currently used in Norma Loaded 6mm BR ammo). That should make it ideal for the 6XC, and a good choice for 6 Improved shooters looking for a "cooler" powder than Varget. We asked how it compared to the Vihtavuori powders. We were told it has a burn rate between VV N150 and N160, but probably will yield a bit more velocity than either.



The other item of interest to 6mm shooters is Norma's new #2066050 100gr flat-based Oryx bonded-core bullet. It has a flattened tip, with lead exposed at the very end. However, with its long body, the new Oryx should still have a higher BC than most flat-based 6mm bullets. This gives hunters looking for a heavy bullet a new option in addition to the Sierra 100gr Pro-Hunter soft-point. We expect the bullets would run close to 2950 fps from a 6BR with a 28" barrel. It should prove a hard-hitting projectile from a 6 Dasher.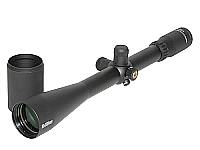 Burris' Impressive 8-32x Black Diamond. We had a good look at the latest Burris 8-32x Black Diamond with a mil-dot reticle. The scope is fairly compact for its magnification range and has a very clean and modern-looking appearance. The first thing we noticed is that the image is noticeably brighter at 32x than a Leupold Competition at 35x. The Black Diamond has a nice, rubber-rimmed screw-in Diopter eyepiece that is faster to adjust than the Leupold. However, the side-focus control is very small, and was perhaps too easy to spin. It will be easy to over-correct with the current side-focus knob. We'd like to see a larger side-focus knob with more built-in drag, or perhaps click-stops. We felt the mil-dot reticle was much too thick for competition use. At long ranges the somewhat thick cross-hairs would obscure much of the target. Burris had its new twin-clamp (4-screw) Signature Zee rings on display and they looked excellent. However, it was unclear when a medium high version will be available in 30mm. Burris also unveiled its new triple-clamp (6-screw) tactical rings. They're beefy but they lack the plastic self-aligning inserts which make the Signature rings so desireable.



NEW RCBS Comp Dies. RCBS showcased its new "Gold-Medal" Competition Dies The Gold Medal line-up includes full-length bushing neck-sizing dies that can bump the shoulder. This is a good idea because most full-length sizing dies reduce neck diameter more than needed, while single-purpose neck-sizing dies won't move the shoulder. A shoulder-bump neck-sizing die does everything you need with one die. Hornady pioneered this concept with its "Competition" neck-sizing shoulder-bump die, but Hornady doesn't offer a 6BR Competition die set yet. The new RCBS 6BR Gold Medal die set is part #16105, while the individual 6BR full-length bushing neck-sizing die is part #16134. You can use Wilson, Redding, or RCBS bushings. We noted that the RCBS bushings are one-way only, with a distinct chamfer on one side. We asked Redding about shoulder-bumping using the Type S bushing neck-sizing dies. Redding said its Type S neck-sizing dies should NOT be used for shoulder-bumping. They suggest using a body die or the newer Type S FL sizing die for that task.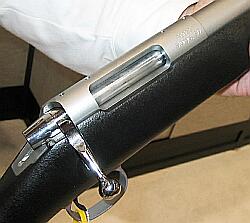 NEW Dakota Predator Rifle. Dakota Arms, parent of Nesika Bay Precision, brought their new "Predator" single-shot varmint rifle to the show. This is one well-executed package. It features an excellent Robertson Composites' stock mated with a handsome, smooth-working action, and a new proprietary trigger that adjusts down to about a pound. The 1.3" diameter receiver (which looks like a down-sized Nesika without the high polish) is designed with more generous bolt tolerances than a typical BR action, for improved field reliability. At present the action is available only in complete rifles, which will be priced about $2200. Chamberings will include 6mm BR Norma, 6PPC, .223 Rem (and the .20 and .17 tactical versions of this case), .222 Rem, .221 Fireball, .204 Ruger, and .17 Rem. Dakota can also build a 22BR or 6 Dasher or 6 BRX if the customer provides a suitable reamer. Slated to start shipping in "late spring" 2005, the new "Predator" promises to deliver "custom" performance from a factory rifle. We asked whether Dakota plans to sell the bare actions or an action/trigger set. We were told "not for now, but if the demand is there, we might do it down the road." Let's hope so. More practical than any tight benchrest action, this new action would be a great, compact alternative to a blue-printed Rem 700.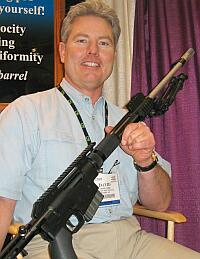 Tubb's New Long-Range Rifle. We met with David Tubb and looked over his new "Special Tactical LR" (SpecTAC LR) rifle--a modified Tubb 2000 optimized for very long range. It features a smaller handguard tube, plus an integrated muzzle brake. This will be mated to a new, specially-designed Schmidt & Bender scope with built-in drop and spin-drift compensation for the 6XC cartridge using DTAC 115gr bullets. A 3/4" locking nut allows the shooter to set the muzzle brake's exhaust angle so that barrel deflection can be tuned to stay centered. David tells us "The scope's spin-drift compensating reticle will be unlike anything on the market. The farther one shoots, the more a projectile tracks off of a close-range wind zero. With the 6XC and 115gr DTAC, at 1000 yards, spin drift deflects the bullet more than a minute of angle. At 1600 yards, spin drift is more than three and a half feet! Since the 6XC/115 combo is supersonic well past 1600 yards, we plan to have built-in ballistic hold points out to that distance." Remarkably, David plans to market scope/rifle/loaded ammo as a "10x10x1000" package--i.e. the scoped rifle with DTAC loaded ammo should deliver 10-shot groups with 10" or less vertical at 1000 yards. This SpecTAC LR will be ultra-high end. The scope alone is projected to cost $2400 or more. But we doubt any other factory-built rifle can match the accuracy goal David has set for the new gun. David's DTAC group also displayed its new loaded 6XC ammo. David said the loaded ammo should be available "very soon". Both moly and non-moly versions will be offered. For info go to DavidTubb.com.


NEW Scope Inserts and End-Covers from Leupold
At the 2005 Shot Show, Leupold introduced its new "Alumina" line of scope accessories: threaded, screw-in lens covers, screw-in color enhancers, and a flip-up cover that folds all the way flat. The flip-up lens covers look very slick and are less bulky than the Butler Creeks. But at $30 per lens cover ($60 for both front and rear), they are pricey. For decades, savvy camera users have installed a clear UV filter or slightly tinted "warming filter" to protect their valuable lenses and improve color rendition. Now rifle-scope users can do the same.

Alumina enhancers are available in clear (UV filter), yellow (for hazy days), orange (with blue-wavelength filter to improve perceived image sharpness) and bronze (for maximum contrast). There is also a "RainCote" water-shedding lens protector. A 3-filter kit with screw-in end caps is about $100. A 3-filter kit with screw-in end caps is about $100. Leupold tells us that the Alumina lenses will fit most 2004 and later Leupold scopes. For $60 Leupold will modify older Leupold scopes to take the filters. However, no Alumina lenses or scope covers fit the Leupold fixed-power competition scopes, new or otherwise, and 2006 is the earliest Leupold would offer them.

Copyright © 2005, 6mmBR.com, All Rights Reserved. No reproduction of any content without advanced permission in writing.