David's Drop-Port 6BR Viper
A True Bug-holer that Shoots in the Ones
Other Guns of the Week >
This week we return to our 6BR roots with an article on David Bergen's slick new 24" Drop-Port Viper. David, who hails from Belgium, has been developing this project over the past few months, and now it looks like the gun is a true tack-driver, with the ability to group in the Ones, even with the heavy boat-tail bullets. Viper action designer Jerry Stiller provides technical insights into the design features of the Viper action, and Jerry explains how Stiller's Precision Firearms uses the latest technology and computerized machinery to produce fast, smooth-running actions and very accurate rifles.


By David Bergen

It was a long journey looking for the perfect custom action to build my new rifle. I searched the internet and visited various forums. I even re-read all my old Precision Shooting magazines to find what I was looking for. One evening I conferred by telephone with Mr. Jerry Stiller of Stiller's Precision Firearms in Texas. He patiently answered all my questions. That moment I decided that I wanted a Viper Drop-Port action.

Component Selection
At the heart of this gun is a Viper action. This medium-sized action can handle cartridges from a small BR up to a 6.5-284. (Stiller's slightly smaller Cobra action is for PPC and BRs only.) The Viper is milled from aluminum. This keeps weight down while still allowing Vipers to have a large bedding surface like a Stolle Panda.
Stiller's Precision proudly sponsors AccurateShooter.com. Click image to learn more.



At first I was a bit sceptical about the aluminum's toughness, but Mr. Stiller informed me that the action is the perfect marriage between steel and aluminum. The bolt is hard-chromed and the action body is hard-anodized. This gives it two surfaces that resist wear and make an already-slick action even slicker. Stainless steel is used for all the heavy-stress points including barrel threads, locking lugs, and the rear camming surface. The bolt is made of steel with a very light, small-diameter firing pin to prevent primer piercing with heavy loads. Everything is held very concentric to the bore axis. The Viper is a very smooth action mainly because the design and the precise machining of the camming surfaces. Combined with optimal bolt-lift timing, this gives a smooth action. Stiller also keeps the tolerances very tight on these actions, though they are as fast-handling as any you can buy. The trigger is of course a Jewell BR model.

The rifle is chambered in 6mm BR Norma, my favorite cartridge. I have two HV-contour Shilen match barrels, both with 1 in 8" twists and finished lengths of 24 inches. The chamber has a .266" neck so neck-turning is necessary. Freebore is .060" but combined with a 1.5° throat angle this lets me seat a wide range of bullets from 58 grains up to 107 grains. After initial testing, I wanted to reduce recoil as much as possible so I added a Harrell's muzzle brake to one of the barrels, and it shoots great with the brake. (More about that later.) I like the brake very much. At just $30, it's an outstanding value.

The stock is a McMillan Edge with moulded-in gray and black marble swirl. I specified 60% black and dark and light gray both at 20%. I went with the Edge stock because I was always pleased with McMillan products and because it had a very low center of gravity. I wanted the barrels very low in the stock because I think it makes the gun track better.


Details of the Drop-Port--with VIDEO!
The visible part of the Drop-Port is a cartridge-sized cut-out in the floor of the action. This tapers into a funnel shape that lets the spent case fall nose-first through a single hole in the underside of the stock. The Drop-Port is carefully sized so that empty brass will fall through from gravity but a loaded round won't. I've found that getting a BR case to eject 100% reliably in a standard action is not easy. The round is short and fat so it clears the chamber too early and the ejector pushes the cases out the extractor too fast. This can result in an empty case sitting in your action, no longer held by the extractor. Needless to say, this can slow you down during a stressful competition. When you get a Drop-Port you can forget all those problems. Failure to eject is NOT going to happen with a Drop-Port. The system just works every time, and it's FAST. Right-Click on the Media Player image and "Save As" to download a video (6.9 megs) showing me cycling the action during live fire.


One smart feature of the Drop-Port is the extractor location. A Remington extractor is located at the bottom of the bolt. This way the case is supported by the extractor until the front of the case lines up with the cut-out in the action. At that moment the front of the case tilts down and the rim slips out of the extractor. In the stock there is a funnel which collects the case. The case drops out of the rifle through a single small hole in front of the trigger guard. Mr. Stiller has patented the Drop-Port. This is also done to keep people from building actions with a Sako extractor and a Drop-Port. When the bolt is closed the extractor is in line with the bolt race-ways and if something goes wrong the extractor can become a projectile leaving the action. With a Rem extractor this is not going to happen because it is enclosed in the bolt head itself. That's the reason a Rem extractor is used. Using the Drop-Port is very easy. Drop in a round, close the bolt, shoot, open the bolt, drop in another round. (See Diagram, bottom of page.)


Building an Accurate Load--Tools and Recipes
I start with new Lapua cases and after full-length sizing I trim them with a Wilson trimmer. Then I turn the necks for a .264" neck diameter with a Lapua 105 seated in the brass. After fire-forming I use a "semi-custom" Harrell's full-length sizing die with bushing. I use a .262 bushing with the moly-coated bullets. This Harrell's die is the best I ever used. Full-length sizing with it gives very low run out. [Editor's Note: Harrell's stocks a number of dies with various internal dimensions. You send them three fire-formed cases and they'll pick out a die that fits your brass the best. The cost is $71.00, much less than a one-off custom die cut to spec.] Overall the excellent concentricity I'm seeing with my rounds is a combination of a superb chambering job, a neck-turned Lapua case and the Harrell's sizing die. The die is supplied with a brass bushing that allows you to measure the amount of sizing you are doing. For seating I use both a Wilson inline seater and a Forster seater that threads into a press. The latter gets the most use because I find it easier to use. Run out with both is around 0.001" or better measured on the bullet.

Load development was very easy. I started with Varget and all loads between 30 and 31.7 grains shot well. Vihtavuori N150 also shot very well with a charge of 32.1 grains behind moly-coated Lapua 105s. The smallest group I fired was 4mm (0.15 MOA) center to center with Hornady 105gr A-Max bullets and 29.2gr of VV N140. But I couldn't repeat it the next shooting session. To my delight, the light bullets are also shooting very well in the 1:8" twist. Nosler Ballistic Tips are giving very good results with a case full of N140. I've also tried N150, N540 and AA 2520. For all loads I've been using CCI BR4. Bullets are seated well into the lands with square marks showing. This gives an overall length around 59 mm (2.32"), depending on the bullet used. Velocity is around 2730 fps with my AA 2520 load (30g with uncoated 105gr A-Max). I went a little higher but pressure was near max so I backed off. (The AA 2520 varies quite a bit from lot to lot.) I've not yet chron'd the Varget, N150, N140, or N540 loads, but I should have that data soon.


Shooting the Rifle--How It Performs
The rifle is very easy to shoot and it is very accurate, but it had some drawbacks in the beginning. First there is the stock. It is designed for bench shooting and on a table it does this very well. I use a Caldwell front rest and a Protektor rear bag. When shooting prone I'll also use the rest but the cheek weld is not ideal (the Edge was optimized for free recoil shooting from the bench). The rings that are supplied with the action are rather high. I looked around and found some that were lower. This made shooting easier, but I still wasn't satisfied. The gun was a bit nose-heavy. There is a weight system built into the stock, but it wasn't enough to bring the gun in balance. I like the balance point to be just in front of the receiver ring. So I cut the rear off the stock and put in a larger tube and turned some weights to put in it. I also made up an aluminum butt plate. Then I installed a Harrell's brake to cut recoil to a minimum. With these modifications, the rifle is now shooting the way I want. I think the Edge stock is a very good design for benchrest shooting but for prone shooting it has some shortcomings. I think the MBR is a better stock for shooting prone. The last thing I changed on the rifle was bedding the scope in the rings. I ran out of adjustments when shooting an 800-meter match so I put the scope in an angle in the rings and then bedded everything to make sure there was no stress on the scope tube. Jerry Stiller does make long-range rings to solve this problem the easy way.



Scope Dope: 6-24x50 Swarovski with 6 Clicks per MOA




Stiller's Precision delivers its actions complete with scope rings. For optics I chose a Swarovski 6-24x50 target scope with a 30mm main tube, and front-adjustable parallax. Swarovski is one of the premium scopes here in Europe. It compares with Zeiss and S&B optics. I always have liked this scope for long-range shooting. The glass is very clear and sharp, and the Swaro can surely compete with Leupold's offerings. One rather unique feature of this scope is the click increment. Rather than using the more common 1/4-MOA or 1/8-MOA clicks, this scope employs six clicks per minute of angle. I like the 1/6-MOA clicks for precise centering at a long-range targets. The adjustment range is ample, with 3.6 feet of elevation adjustment at 100 yards, and 2.1 feet of windage at 100 yards. Eye relief is a 80mm (3.15"). At 15.43" in length, the scope is more compact than many high-magnification zooms, and it is reasonably light at 24.5 ounces (without rings).



Muzzle Brake--Less Recoil, Same Excellent Accuracy
After testing the barrel with different loads, I decided to put a brake on one barrel. Most of my guns are muzzle-braked and since I had two virtually identical barrels, I put a Harrell's brake on one. The barrel had to be threaded to mount the brake and here I was a little concerned--I remembered the advice to "never mess with a winner". The un-braked barrel was ultra-accurate and I was curious whether the process of fitting the brake might affect the accuracy. The barrel had to be turned down to a 5/8" diameter at the end. Would the turning-down change something on the inside as is often written in articles?




Thankfully, my worries were unfounded. My targets showed no loss of accuracy--there was no evidence that the brake had caused any changes (except as to recoil). This speaks greatly of the precision with which the brake was machined. I have wondered though, perhaps the brake makes the gun more shootable and in that way compensates for some small accuracy loss that may be there? Whatever the case, the gun shoots just as tight as before, except now it's a lot more user-friendly,
with less muzzle hop and less "push" on recoil. With the brake attached, the lack of recoil was very noticeable. You can put up a 100-meter target, crank the scope to 24x power and watch the bullet hit the paper.

And now I come to the end of the story. One day when testing the rifle at 100 meters (with brake installed), I spied a fly on the target. Well now, I thought, here is an interesting "precision shooting" challenge. I put the crosshair on the fly, squeezed the trigger, and the fly was history. One shot, one kill. Now THAT is impressive precision. If you look closely you'll see what's left of Mr. Fly around the bullet hole. Or "bug-hole" as you Americans would say. This kind of performance is a real confidence-booster for the trigger-puller, let me tell you. I can't wait for the matches to start.
Stiller's Precision Firearms
Advanced Design and State-of-the-Art Manufacturing



Jerry Stiller tells us: "The engineering of the Viper reflects some key design objectives. I wanted it to be able to fit standard commercially available stocks and have a barrel fit-up that was well known in the industry. I liked the idea of the larger bedding area and higher stiffness of the aluminum actions, so I chose the Panda footprint and barrel tenon for the Viper. I also made some changes to what was available at the time to make the product better. I used a smaller diameter firing pin to eliminate primer piercing, hard anodized all the aluminum parts for corrosion resistance and to make the surface hard and slick. The bolts are also coated for the same reasons. We started out with Tungsten Disulfide, went to TiN next and then went to hard chrome on our bolts. Most of our actions have hard chromed bolts. We recently converted to Armolly for the bolt coating, a hard-chrome-based coating with other benefits. We did not like the extraction surfaces on the other actions, so we designed a truly linear extraction that can only be done on a mill with a Fourth Axis. To date, over half a million dollars have been spent on equipment to make our actions and other products. It takes money to make money, there really is no free ride. Our latest additions are a new Haas VF4 machining center and a Mitsubishi wire EDM unit. I want to give thanks to Speedy Gonzalez, Gary Vincent and Jerry Hensler for some early ideas and information on what makes a good action.


The Drop-Port
--Simple Yet Advanced
The Viper, Cobra and Diamondback can also be fitted with our exclusive Drop-Port system, optimized for the smaller PPC and BR cases The drop-port ejects the case out the bottom of the action using only gravity. No ejector plunger is required so the system is as foolproof as anything can be. (A normal spring-loaded ejector creates an uneven load on one side of the case head.) Unlike other ejection systems, micro-ports etc., a Drop-Port doesn't require tuning or adjusting, and just works. Many top shooters tell us they can cycle rounds faster with a Drop-Port action than with any other design."

Stiller Precision Product Line
Viper: Best suited for benchrest competition with cartridges of the .308 or .284 maximum length. The Viper is ideal for both short- and long-range competition.

Viper SS: Designed for long-range benchrest and F-Class shooters, the new stainless steel Viper features a recoil lug and a +20 moa offset on the scope rail.

Cobra: Sized for PPC and BR-length cartridges, the Cobra is essentially a Viper action shortened in the middle by a half-inch. This reduces weight and allows shorter bolt travel.

Python: Crafted for large caliber guns up to 408 Chey-Tac, the Python has a larger bolt diameter, larger barrel tenon and is ideal for 17-pound 1000-yard guns and any other big boomers.

Rattler: Designed to meet NBRSA and IBS rules for Hunter Class competition.

Diamondback: The Diamondback is for those customers who want the performance of a Viper but who prefer a round profile and stainless construction.

Predator: The stainless-bodied Predator is similar to a Remington 700, and it will drop into stocks inletted for Rem 700 action. We like to say that Predator has "hunting clearances, milled to benchrest tolerances."

Copperhead: Hopefully soon to be released state-of-the-art action for rimfire. This new design was inspired by Bill Calfee and others including Mike Eschleman.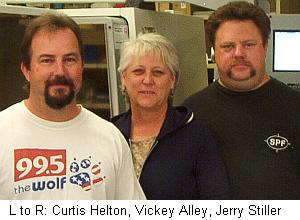 The Crew at Stiller's Precision Firearms, LLC
Jerry Stiller is a mechanical engineer and is licensed by the state of Texas. After graduating from Montana State University, he started working for a major defense firm in 1985 designing advanced night vision equipment for the military. He still works a few hours a week for that company designing next-generation sights for machine guns and other military equipment. In addition to the normal CNC work, Jerry designs all the products that SPF sells, writes most of the CNC code, and maintains the machinery. Curtis Helton, a premier master machinist, is SPF's Vice President. Curtis does just about everything required in a daily role at SPF. In addition to the normal CNC work, Curtis does almost all the barreling, plus any action modifications that require hand-working parts on a manual machine. Vickey Alley, our office manager, has a degree in management information systems and marketing. She does all of the Barrelman business, takes care of billings and receivables, and packs and ships all the products.
Copyright © 2005, AccurateShooter.com, All Rights Reserved. Drop-Port technical drawing, Copyright © 2005, Stiller's Precision Firearms, All Rights Reserved. No reproduction of any content without advanced permission in writing.

Topics: Drop Port, Dropport, Drop-port, Ejector, Viper, Stiller Precision, Cobra, Viper SS, Python, Rattler, Predator,Diamondback, Shilen, Reamer Rental, Elk Ridge, PPG Reamer, Match, 6mm, 6mm BR, 6BR, 6PPC, 25 BR, 25BR, PPC, 6 PPC, 6.5-284, .257 Ackley, F-Class, Norma, Lilja, Krieger, Shilen, 500 yards, IBS, NBRSA, 300m, 800m, Varmint, Varminting, Swarovski, 1/6, 6 clicks, MOA, Jewell trigger, Benchrest, BR, Bench Rest, Single-shot, competition, rifle accuracy, Accurate Powder, AA 2520, N140, N150, N540, Norma, CCI BR4, Hodgdon Powder, Varget, Vihtavuori, Berger, Lapua Scenar, stocks, McMillan, Stolle, Kelbly, Panda, Action, Harrells, Harrell's, stainless barrel, reloading, powder, case forming, neck-turning, Fowler, Lapua Brass, Berger bullets, precision, Swarovski, S&B, NightForce, Hammonds, Wilson Die.