MAK Tubeguns in 6BR, .243, 240 NMC

Versatile, Accurate, and Cost-Effective--Tubeguns Are Here to Stay

Other Guns of the Week >
If you go to High Power and prone matches around the country you'll find plenty of competitors slinging up to bright-colored, metal rigs that don't look anything like your grand-dad's hunting rifle. A product of American ingenuity, the tubegun delivers great accuracy in a cost-effective system well-suited for a do-it-yourself project. This week gunsmiths and High Power shooters Kevin McDonald and Steve Satern talk about their competition tubeguns built on MAK kits. Kevin shoots both the 6BR and the .243 Winchester cartridges in his tubeguns, while Steve favors a medium-sized wildcat, the 240 NMC.






The Origins of the MAK Tubegun
"The history of tubeguns goes back more than a decade," according to Kevin McDonald of MAK Enterprises. Kevin explained: "At one match in 1999, Gary Chaney, one of our local shooters, arrived with a rifle he'd borrowed from Bill Wylde. Bill had dreamed up the concept and built a rifle he called his "funnygun". The "funnygun" was the first tubegun we'd ever seen and this one was chambered in 22-250 to shoot the Sierra 80-grainers. Anyhow, Gary and his shooting partner for the day, Dan Ireland, who both shot the rifle, finished 1st and 2nd. Needless to say everyone quickly became interested in the project. Within a short time Dan Ireland, Mike Idlewine, Archie Kappel and I collectively built up five or so tubegun rifles and started competing with them. Mike, Archie and I belonged to the same local club and shared an interest in High Power competition. We all had a similar shooting background and we shot everything from M1 Garands to AR15s to M14s to 40X Remington rifles with some success. We began to have a following for this stock so Mike, Archie and I put together a plan to produce the stocks.

The three of us came up with the acronym "MAK" from our first names: "M" for Mike, "A" for Archie, and "K" for Kevin. Our first batch was a prototype run which we distributed to the local shooters in Indiana. The second run was much more refined so we started advertising and selling them. These were all single-shot kits. We received a lot of calls for a repeater but at the time we did not have a magazine that we felt would work without modifying the receiver. Then a local Accuracy International (AI) distributor showed us a five-round magazine system AI made for the Remington 700. We acquired some of the magazines and started to make a prototype kit. Mike and I competed with our rifles for several months to ensure that the system would work. Mine was chambered in .243 Winchester while Mike's was a .308. I shot that .243 rifle for about three months and it performed very well. It had been years since I had used a manually-operated rifle for rapid-fire strings so that was a challenge. But the gun certainly worked well enough for me--I managed to win the Indiana State High Power Championship with it. That certainly proved the potential of the tubegun system."




Component Description--What Goes into a MAK Tubegun
Kevin told us: "My repeater is a standard short-action Remington 700 that had all of the work done to it (threads recut, action trued and lugs lapped, etc.) Gary Growe performs this locally using Greg Tannel jigs and fixtures as well as his own. We chose not to sleeve the bolt as it was to be a repeater. I have several barrels for this rifle but the two that I use most are a 6BR and a .243. Both are cut-rifled barrels from Steve Satern in 1:745" twist. We use a Pacific Precision 6BR reamer with a 0.273" neck. Both barrels are medium Palma tapers finished at 28", as much length as I thought I could handle in a repeater. Mike shoots a 30" barrel on his repeater but he is 6'8" tall! I use a Jewell trigger, no safety. There are a few of our kits set up for the tactical market. These employ a Jewell bottom safety because the standard Remington will not fit. We could have made this work but it would have required a scallop in the sleeve so we chose to leave this detail out. For across the course shooting, I use what I would call the standard or the Warner rear sight and a basic ladder front sight. Both front and rear sights have adjustable apertures and I use a 0.3 magnification lens in the front. When running a scope, I use a Leupold 8.5-25x50 Long Range Target model."

Load Development and Accuracy
Kevin observed: "This year I shot about 1100 rounds through my 6mm BR tubegun across the course and prone. For 200 and 300 yards, I load ammo on a Dillon 550. My 200/300 recipe is 28.0 grains of Varget with bare Sierra 107s, Lapua or Norma 6BR brass, and Federal 205M primers. I jump the bullets 0.015". This load runs 2750 fps and will easily clean a 200- or 300-yard target if the shooter can perform. I have two loads for 500 and 600 yards and both work well. One is 28.5 grains of Varget with the DTAC 115 gr (Tubb) bullet seated 0.015 off the lands, Lapua brass, and a 205M primer. This yields a velocity of 2750 fps. I also load the Sierra 107 seated 0.015" off the lands with 30 grains of Varget, 205M, and Lapua brass which yields a velocity of 2875 fps. When I switch to the .243 I can easily obtain close to 3000 fps with either the 107 SMK or the DTAC 115 bullet. The .243 load for the 107s is 48 grains of H1000, Lapua brass, WLR primer with the bullet seated .015" off the lands. The .243 load for the 115s is the same except the powder charge is dropped to 47 grains of H1000.

I have tested the Meplat uniforming theory at 600 yards with the Tubb 115 bullets. I had to come up one minute from my normal setting and the load performed well. I have only shot one match doing this so at this point I cannot say whether or not it was significant. Since I shoot across the course with iron sights, I leave the ladder sight base attached to the barrel when I switch barrels. I use a torque wrench which allows me to reinstall the barrel without having to sight the rifle in each time. I learned this method from Robert Whitley who did the testing and wrote an article in Precision Shooting about our stocks and how they could be made into a switch-barrel rifle. Right now I plan to stay with the 6mm calibers as I've had a lot of success with them. However, since the magazine accommodates a round up to 2.800" OAL, there are several guys who've built .308-Caliber MAKs and at least one fellow made a 6.5-284 repeater."






Q & A Conversation with MAK's Kevin McDonald



Q: Tubeguns really stand apart from most other rifle designs in offering extreme accuracy in a package that a home smith can work on. Is the kit aspect a key part of the tubegun's success story?

A: A kit lowers the cost of entry substantially compared to an out-of-the box rifle. And with the kit concept, I think that most shooters would agree that there is always more satisfaction if you can win with a rifle that you had a significant role in building.

Q: What are the main advantages of a tubegun?

A: There are several advantages. For one there isn't any bedding to contend with. The barrel is free floated. For those who shoot an AR15, it is almost identical. The only change that was made was to move the trigger slightly forward in relation to the back of the pistol grip. Most any AR15 butt stock or pistol grip can be used. Barrels can be changed easily. The hand guard is held in place by four screws which can be removed quickly to expose the barrel. Since the action is enclosed the bolt can be cycled without having to change your head position on the stock. And with the action glued into the sleeve it becomes one unit. The gluing process is relatively simple. It takes about an hour to accomplish with a package of JB Weld, a bowl of water, and some Q-Tips to dip into the water to clean up any excess bonding material.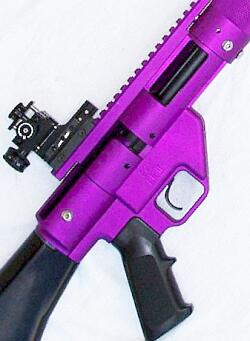 Q: How is the tube gun particularly suited for High Power or across-the-course competition?

A: For those who shoot the AR15 across the course and are satisfied with the AR15, the single-shot for long range is a simple transition. The feel is nearly identical. The repeater can be used across the course and long range. I shoot a single-shot in most of the prone-only matches but have shot the repeater in both with success. This year I shot the repeater in .243 with the Tubb 115s and was very competitive at 1000 yards. With the repeater there is much less surface area for gluing but it seems to shoot just as well as the single-shot rifles.

Q: What did you hope to accomplish in engineering the MAK repeater?

A: The whole idea for me was to have a repeater to be more competitive at 600 yards and have the same feel as the AR15, since that was the platform we were all shooting at the time.

Q: What's the best way to set up the stock and sights for High Power competition?

A: There are thousands of opinions as to how a rifle should be set up for High Power competition. I have used the standard A1 or A2 butt stock and done well. I have an adjustable butt stock which really makes running the bolt better in the sitting position but it is an adjustment that has to be made between stages. For now I want to just work on the basics so I opted for the fixed butt stock. Some prefer a high head position, others low. I choose to mimic the AR15 so mine is the same as the AR15 which I would consider to be more towards a low position.

Q: Can an AR shooter "step right into" a tubegun without major changes?

A: The tubegun is not identical but so close that few people have a problem transitioning. We find that shooters struggle more with the conversion from post and rear aperture of the service rifle to front and rear aperture of the match rifle than they do with the conversion to the tubegun stock.

Q: What are the two or three most important things a new tubegun shooter should know about shooting technique and gun tuning?

A: Tuning a tubegun is simple--just glue in the barreled action and shoot an established load. When I built my repeater I had a .243 Douglas chrome moly barrel on it. I was crunched for time so I simply picked a .243 load out of the Sierra manual and went to the matches. I tried at least three other loads right from the Sierra manual and all of them shot well enough to win matches at 500 yards which is where most of our shooting occurs late or early in the year in Indiana.


Q: How does a MAK Tubegun stack up vs. the Tubb 2000?

A: We feel that the MAK is comparable from an accuracy standpoint. The Tubb may have quicker lock time which can be a plus. The Tubb 2000 is the Cadillac of across-the-course rifles. It has all the bells and whistles--adjustable butt stock, sight rail offset, short bolt throw, etc. But you can get into a MAK tubegun for a lot less money. Our single-shot kit runs $565 plus shipping for colors, or $525 plus shipping for the standard kit in "Henry Ford" basic black. The repeater kit is $755 plus shipping for colors and $700 plus shipping for black.

Q: Will you be offering any new features or equipment options this next season?

A: We are presently testing the film-transfer coating process. This promises to offer an almost infinite amount of styles such as camouflage and even a carbon fiber look. We offer the standard sight rail with no taper or a +25 MOA rail. Once an order is placed we confirm the customer's specs and install the rail per his choice at no additional charge. We have completed a design for an F-Class hand guard as we have some shooters shooting the tubeguns in long-range benchrest. We get a lot of requests for a kit which will accommodate the Savage action. At this point in time we have not pursued that.

Q: What do you see happening in the High Power game over the next couple of seasons. What calibers will dominate?

A: Right now the 6XC caliber is popular. It shoots well and has low recoil. I think if someone such as Lapua would make brass for this cartridge it would be here to stay. If not it may or may not be the cartridge of the future. We've heard the news about the new Lapua 6.5x47 case. That certainly has potential, but we won't know until the brass arrives.

Q: Are you going to try the new 6.5x47 Lapua case either in 6.5mm or a necked-down 6mm versions?

A: I'm very happy with the 6BR and the .243. Once my wind-reading abilities improve I may just shoot the 6BR, but until then I screw on the .243 for the tough 500- and 600-yard matches.

Q: What's your advice for new tubegunners in terms of components selection and upgrades?

A: Start with the basics. You can easily source standard AR15 components to complete the rifle. We recommend truing-up the action before gluing. A standard barreled action can be installed as received from the factory with the lug trimmed if you're on a tight budget. The action can be removed from the sleeve if so desired but it is best to do it right the first time to avoid this.



Comments from Sue Mogle, Tubegunner Extraordinaire




Tube guns are fun to shoot, and that enjoyment isn't limited to the "Good Ol' Boys." Sue Mogle is a very successful High Power prone and position shooter, and she's won many honors with her candy-apple red MAK Tubegun. Sue reports: "Those tube guns feature prominently in the top places at most of our long range matches. They're easy rifles to shoot well. And they're extremely cost-effective! It's probably the cheapest way to build a truly competitive rifle for long range."

Sue explained: "The tube gun is a sleeved action, it keeps the recoil in a straight line and requires no bedding, which can break down. Maintenance is very low! Most of us shoot prone slowfire (NRA High Power long range), but several of the guys have shot F-Class also. I've never benched mine, so as far as what accuracy the rifle is actually capable of I'm not sure, but for NRA High Power you need a minimum of a minute-of-angle rifle. The tube gun will easily do that. Mine is chambered in 6.5-284. My personal best at 1000 yards is 198-12, every shot dead on call, including the two 9's due to loose-nut-behind-the-trigger. I've shot a couple of other conventional rifles, 300 WM with a McMillan prone stock and a 7-08 with a modified 40X stock. Of the two I definitely prefer the McMillan stock. Stock fit is very important with the conventional rifle, at least for position shooting.

A lot of shooters, myself included, came to Long Range from NRA across the course High Power, and most of us shoot the AR-15 in one of it's many incarnations. So the tube gun, modeled on the AR, is very familiar to us. With match modifications (adjustable buttstock and handstop) it's easily configured for most shooters. I REALLY like the 6.5-284 caliber. The ballistics are similar to the .300 WM with about a third of the recoil. I'm not particularly recoil-sensitive but a heavier-recoiling rifle will knock you out of position more, and more quickly, than a lighter-recoiling rifle, requiring you to readjust your position frequently.

If you're new to long-range shooting, definitely find a good coach/mentor to help you get started. Long range is NOT a game for beginners. We have way too many shooters who have done well at up to 300-500 yards come out with 308's (or other rifles), that have never shot 1000 yards and don't have loads/rifles that will go the distance. It's VERY frustrating both to the shooter and the guys in the pits to keep shooting and can't even get on paper, usually because the loads are subsonic at that range. I've been in the pits and seen a .308 round bounce off the paper target and fall to the ground. The GOOD news is that Highpower shooters are a VERY good group and universally generous with advise and help for new shooters. All you have to do is come out, observe, and ask questions!

In the beginning, it took about a year to collect everything I needed: tubegun kit, Remington 700 SA, barrel, trigger, buttstock, and sights. It's a pretty easy "kit" to assemble--though beyond my meager expertise--any competent gunsmith can do it. Cost varies by your choice of parts, obviously, but for around $1500-$2000 (not counting sights) you'll have a rifle that will easily run with the Big Dogs. But that's just the price of the gun. For position shooting, you'll also need a spotting scope and stand at a bare minimum. Figure $200 and up for scope (sky's the limit), stand about $200. For your ground-mat, you can use a piece of old carpet or spend up to $100 or so. Shooting coats run from $50 for basic cloth to $500 for fancy leather. (Good used coats are not too hard to find for $50-$100). Then add shooting glove, sling, cart to carry all that stuff, wind gauge, reloading press, brass, etc.--most of us are hopeless gadget-mongers. I actually had a savings account before I started this sport!"

Editor's Note: The single-shot MAK tubegun kit costs $525.00 in "basic black", and slightly more for left-hand models. With color anodizing, the single-shot costs $565.00. The slick, new repeater model is $700.00 in black or $755.00 in your choice of colors. Add to this the price of a barrel ($300-$400), chambering and barrel-fitting ($150-$250), Remington 700 action (about $400), and miscellaneous components such as trigger group, handstop, and buttstock ($200). That totals about $1700-$1800 for a single-shot system (less sights or scope), assuming you install the action yourself. That's thousands less than a complete Tubb 2000 Competition Model. If you have a spare Rem donor action, you're way ahead price-wise.
Tubeguns--From the Barrel-Maker's Perspective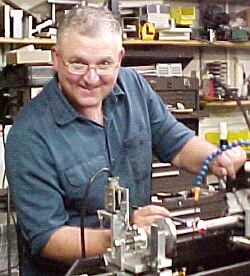 Company Background and History
After many years of interest in the shooting sports, and in High Power rifle shooting in particular, I found myself employed as a machinist and toolmaker. With those skills, I started to do more and more of my own gunsmithing. I had always wanted my own business, so with my wife Deb, and my father Wayne, I started Satern Custom Machining (SCM). Starting with gun work, we progressed to manufacturing shooting accessories and now we also produce custom cut-rifled match barrels. I was unhappy with the amount of time it took to acquire a barrel and with the quality of the machinery available for making barrels, so I drew on my experience as a machine builder and produced my own my own driller, reamer and computerized rifler. The beauty of building ones own machinery is that I can change it to suit the needs of the customer.

Satern Barrels--Cut-Rifled and Competition-Proven
We do single-point, cut-rifling only. Our barrels are 5-Groove, as we believe this provides the most accuracy. The barrel begins with either 416R stainless or H 4140 Chrome Moly. Depending on barrel contour, we select the proper diameter of the material. Then we drill it, contour it, ream it, and select the twist. The unique thing about my computerized rifler is that I can provide any twist from 1:4.5" to 1:24.0". All Satern barrels are hand-lapped and gauged to ensure uniformity.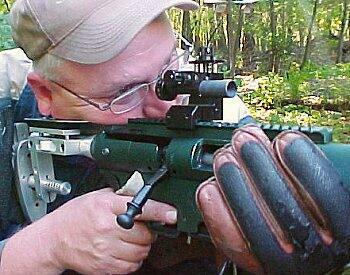 One of my customers reports that, by switching to Satern barrels on his AR15, he has picked up 18 points across the course--vaulting him from mid-expert class to the high end of master. We are currently building a MAK Tubegun for him in 240 NMC. I have had great success shooting my own 240 NMC, Satern-barreled MAK Tubegun. After I installed one of my barrels I went to a 600-yard (800-point) match in Omaha, Nebraska. We ended up shooting only 40 rounds due to a nasty wind (the target carriers were breaking in the 45+ knot breeze). With the new barrel installed the day before (with just 12 rounds through it), I shot a 399-31X out of a possible 400. The next weekend I went to Des Moines and shot a 797-51X. My father shoots F-Class using a 240 NMC single-shot MAK Tubegun with a Satern barrel. In his most recent match he shot a 797-61X. Out of a possible 6500 total points this season, he has only dropped 18 points. Nice shootin' Pops!

Complete Assembly of Tubeguns
Currently we assemble MAK Tubegun kits with Satern barrels. I have put more tubeguns together than anyone else in the country, with great success. The MAK Tubegun and the Satern barrel are a marriage of good old-fashioned American ingenuity, simplicity and enterprise. The ergonomics of the MAK Tubegun are very similar to the AR15, allowing an easy transition from service rifle to match rifle. At Camp Perry in 2000, I was shooting next to Mike Idlewine (the "M" in MAK) who was using a prototype tubegun. That was the future, I thought to myself. I ordered a repeater kit from MAK and set it up. I found the assembly much easier than that of a conventional rifle. The stripped Remington action is glued into the receiver tube and aligned using the action screws. Chambering and fitting barrel to action is the same as any rifle with the exception of the recoil lug, which is not used. This makes the MAK Tubegun perfect as a switch-barrel rifle. Additionally, the basic MAK Tubegun can be modified in a variety of ways. On my rifle, I added an adjustable SCM-crafted butt-plate assembly and handstop. I highly recommend these features for competition, tactical, and varmint shooters.


Satern Custom Machining is a family-owned business specializing in barrels and accessories for the High Power, varmint, F-Class, and tactical shooter. In addition to our barrels we sell the Satern Caliber-Specific (aluminum and brass) Powder Funnel, +20 MOA scope bases, scope stands, articulating scope heads, bore guides, M1 Garand timing blocks, single-load followers, adjustable buttstocks, handstops, and DAC cleaning, lubricating and rust-inhibiting products. The business is owned by Steve & Deb Satern, and Wayne Satern.

Satern Custom Machining
320 West Fifth Avenue N
Estherville, Iowa 51334
Phone: (712) 362-4991
Website: SaternMachining.com


Johnson rifle and Sue Mogle images Copyright © 2005, G. Salazar, used by permission, All Rights Reserved. All other content Copyright © 2005, 6mmBR.com, All Rights Reserved. No reproduction of any content without advanced permission in writing.

Topics: MAK, Tube Gun, Tubegun, MAK Tubegun, Satern, Satern Custom Machining, Satern Barrels, Cut rifle, cut rifling, AR, AR15, prone, Highpower, High-power, High power, 6mm, 6mm BR, 6BR, Norma, 243 Ackley Improved, .243 Ackley, .243 AI, 240 NMC, Switch Barrel, 6.5-284, 1000 yards, 300m, 300 meter, F-Class, Benchrest, BR, Bench Rest, Single-shot, competition, rifle accuracy, Norma, Hodgdon Powder, H4350, Varget, Vihtavuori, Berger Bullets, Sierra, Clinch River, Lapua Scenar, Sierra, MatchKing, Competition Shooting, stocks, Border Barrel, Broughton, Krieger, stainless barrel, Tubb 2000, reloading, powder, case forming, neck-turning, Lapua Brass, Scenar, bullets, precision.