Darrell's 25 BR "Peppermint"

Darrell adds "the forgotten caliber" to his stable of BRs

Other Guns of the Week >
They say that a man can never have too much money or too much time. Darrell Jones would add that a man can never have too many BR-based rifles. Darrell had a fleet of BRs, in 22BR, 6mm BR, 6.5 BR, 7 BR, and 30 BR. But he was intrigued by the potential of a rifle in the .257 caliber. Could it shoot as well as a 6mm BR? Could it challenge the more popular calibers in the highly competitive 600-yard benchrest game? Through careful research and component selection, Darrell created a 25 BR rifle that proves the viability of the 25 BR as a competition round. Pushing 115gr high-BC Berger bullets at a healthy 2837 fps, Darrell's
25 BR "Peppermint" won first place in its very first match.






The Barely Bigger BR--Exploring the .25 Caliber Option by Darrell Jones
I decided to build a 25 BR after several weeks of deliberation and ruling out a .257 Ackley Improved. Part of my dilemma was that I wanted to shoot F-Class competition at 600 yards, and I was unsure about the accuracy potential of the 25 BR. However, I currently have several BRs chambered in 22 BR, 6BR, 6.5 BR, 7 BR, and 30 BR and they all shoot exceptionally well at 600 yards. This lead me to believe a 25 BR should deliver fine accuracy, just like its other BR siblings. Why wouldn't a 25 BR shoot accurately provided that I built it with the right components? The feasibility saga began. I began searching diligently for custom 25-caliber bullets. Unfortunately, there are not many 25-caliber custom bullet makers. I actually found only two custom bulletsmiths who produce the 25s. I did look at Fowlers and then looked at Bergers. Both Jef Fowler and Berger make 110-grain flat-base bullets. The Berger 110gr FB bullets (.414 ballistic coefficient) shot very well out of my 12-Twist 25-06 Ackley. However, I wanted to shoot a heavier bullet if possible. Berger makes a 25-caliber 115gr VLD boat-tail with a .522 ballistic coefficient. This needs a 10-Twist barrel. After making several calls to vendors, I found the Bergers were readily available from several sources.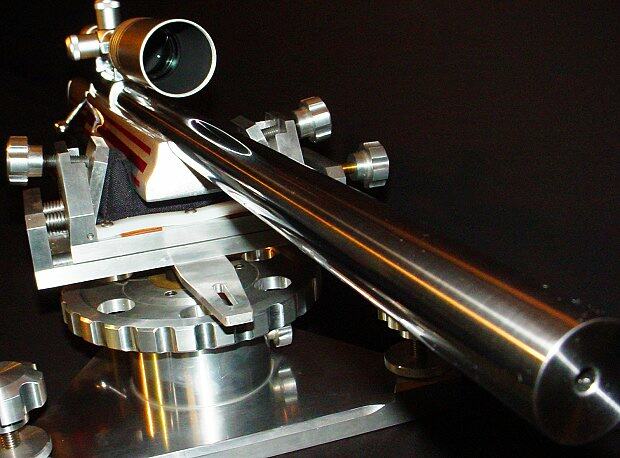 Chambering for the 25-Caliber
I wanted a chamber that would let me shoot both the 110s and the 115s. I took some time surfing the net looking for rental reamers that had suitable throat dimensions. I found that Elk Ridge Reamer Rentals uses PPG reamers exclusively. As destiny would have it, they had a 25 BR pilot reamer available. I called and spoke with Shawnie and she faxed me a reamer diagram that indicated it was designed to tight SAMMI specs. I asked how often was the reamer used and was told "not very often".

I did want a minimum no-turn neck optimized for Lapua brass. The drawing indicated that the reamer would cut a .281" neck and a throat of 1.0315". This was very close to ideal, though I did have to turn two thousandths off the necks of Lapua 6BR brass after I necked it up. I resized using a .277" bushing and the loaded rounds came out to be .279". Realizing that this was in the ball park, I decided to go with the Elk Ridge Reamer and build a 25 BR that could shoot 110gr or 115gr bullets. Now the question was where to get a match-grade 25-caliber barrel. I called quite a few of the custom barrel-makers, including BlackStar in Texas. I have had wonderful success with the BlackStar barrel on my 6BR "Chantilly"--it has delivered great accuracy and impressive velocities. Since the 25 BR was so similar, I decided to go with another BlackStar. I called Calvin Riggs at BlackStar, (713) 849-2090, and ordered a 10-Twist, 6-groove, 1.250"-diameter straight-contour tube. It arrived eight weeks later.


With the barrel in hand, I called Calvin to see how much my gunsmith needed to cut off the end of the blank (to avoid any belling or flaring at the tip). To my surprise, I was contacted by the technician that actually worked on my barrel. Arnie informed me that BlackStar uses an electro-polishing process to finish the bore so we only had to trim one-quarter inch at most off the muzzle end. After chambering, the barrel finished at 1.245" diameter and 27.5" inches with an 11° crown. I actually had the throat lengthened to accept both Berger 110gr and 115gr bullets. The bases of the FB 110-grainers sit flush with the neck-shoulder junction, when they are seated .010" into the lands. With the longer 115gr VLDs, the bottom of the bearing surface (i.e. start of boat-tail) is just about even with the neck-shoulder junction.

Other Components
As you can see, I went with a Panda polished action and a weighted McMillan BR stock painted metallic silver with red candy cane stripes thus the name "Peppermint". This gun actually does double duty now as a 25 BR and 6 PPC switch barrel. When I want to run the gun as a 6 PPC for short range, I simply screw on the PPC barrel, then swap in a bolt (fitting the PPC bolt face) from another Panda action I own. That's one advantage of owning custom Kelbly actions! Don't even think about exchanging bolts between factory guns. Kelbly rings and a Weaver T-36 fixed-power scope handle the optical duties while a Jewell trigger set at one ounce takes care of the firing mechanism.
Load Development and Accuracy
The barrel broke in easily with just 10 shots, using a "shoot one and clean" process. The load I started with was 31.5 grains of Varget with CCI 450 primers. The Berger 110s and Berger 115s had the same Point of Impact (POI) at 100 yards. However, the 115s impacted two inches higher at 600 yards with the same load. That shows the benefits of a higher BC. Pushed by the CCI 450s and 31.5 grains of Varget, the 115-grainers were running about 2837 FPS. I boosted the load up to 32.0 grains but I noticed primer cratering, so I backed off, settling on 31.5 grains for the 115gr Berger VLD.
"Peppermint" Shoots 200 (14X) to Win at 600 Yards
On September 4, 2005, I took "Peppermint" to our local 600 yard F-class match--her debut in competition. Shooting the Berger 115s with 31.5 Varget, she won with a perfect score of 200 with 14 X's. At my club, we use a SR3 target. The X-Ring measures 3" in diameter and the 10-Ring measures 7". At the match there were some very good shooters with top-flight custom rifles in accurate calibers such as 6.5-284 and 22 Dasher. I was very fortunate to come out on top, but I give the credit to Peppermint's good bench manners and outstanding accuracy. As you can see from the target, "Peppermint" is a tack-driving rifle, and she has proven herself in competition. It takes a good gun to finish "on top" in her very first match. So far, I'm very happy with the project, and more than satisfied with the accuracy of the 25 BR. This is definitely a worthy cartridge for Egg Shoots, 500m varmint matches, and the 600-yard F-Class game.
25 BR, 31.5gr Varget, .205" for five shots at 100 yards.
BR-Based Cartridge Comparison
CALIBER
22 BR
6mm BR
25 BR
6.5 BR
7 BR
30 BR
Bullet
80gr SMK
107gr SMK
115gr Berger
107gr SMK
130gr SMK
118gr BIB
BC
.420
.527
.522
.420
.391
na
Load Grains
31.0 H4350
30.0 Varget
31.5 Varget
32.0 Varget
34.0 AA2460
34.0 H4198
Barrel Length
27"
27"
27.5"
27.5"
28"
24"
Velocity
3100 fps
2880 fps
2837 fps
2851 fps
2719 fps
2970 fps


Comparing the BR Variants
Now that I have several calibers in the BR cartridge family, (22 BR, 6mm BR, 6.5 BR, 7 BR, and a 30 BR), it is my humble opinion that they each have their own place. A varmint hunter's dream, the 22 BR can push a bullet faster and more accurately than the 22-250. With an 8-Twist barrel, the 22 BR can send an 80gr SMK to 600 yards with extreme accuracy.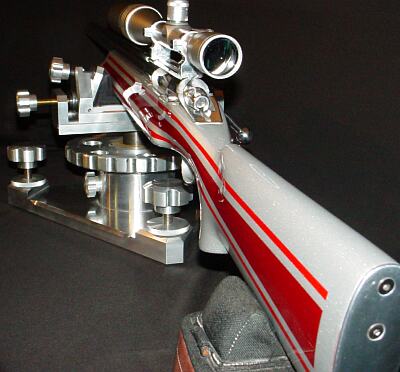 The 6 BR can do it all. The 6mm caliber offers a wide variety of quality bullets suitable for any shooting situation. All the major custom barrel makers produce outstanding 6mm barrels in a full range of twists. Moreover, since the 6 BR cartridge is so popular, there is a great store of knowledge about reloading for the 6 BR. It is easy to find a load that will shoot superbly in any bullet weight.

The 25 BR has proved to be easily tuneable, proficient and not fickle. You can obtain extreme accuracy without great effort in load development. The 115gr Berger offers a good high-BC projectile for this caliber, making the 25 BR a viable alternative to the 6 BR. As I've shown, it is competitive with a 6 BR in head to head competition.

Compared to the 25 BR, the 6.5 BR has a small edge in ballistics. However, there are not many light bullet choices available, especially from custom makers. The 123gr Lapua Scenar is an excellent bullet with a .547 stated BC, but it may be a bit heavy for the case capacity.

The 7 BR was designed for silhouette shooting, and it excels at that task. The 7 BR can push a 130 grain bullet fast enough to knock over the steel silhouettes at 500 meters with real consistency.

The 30 BR is nothing less than outstanding. The 30 BR is now the dominant cartridge on the benchrest Score-shooting circuit. It is also highly accurate for group shooting at 200 yards and very capable of winning a 600-yard F-Class match. Barrel life of over 6,000 rounds is realistic.

I like all the "flavors" of BR derived from the 6mm BR Norma case. However, if I could only have one BR in my safe, give me my 8-Twist, 6 BR "Chantilly" and I will be a happy camper. The final point I would make is if it is stamped BR on the case, it will shoot extremely accurately if you can.



— Darrell Jones —



Copyright © 2005, 6mmBR.com, All Rights Reserved. No reproduction of any content without advanced permission in writing.

Topics: Black Star, Reamer Rental, Elk Ridge, PPG Reamer, Match, 6mm, 6mm BR, 6BR, 6PPC, 25 BR, 25BR, PPC, 6 PPC, 6.5-284, .257 Ackley, F-Class, Norma, Lilja, Krieger, Shilen, 500 yards, IBS, NBRSA, Egg Shoot, Ground Hog, Varmint, Varminting, Weaver, T-36, Jewell trigger, Benchrest, BR, Bench Rest, Single-shot, competition, rifle accuracy, Norma, CCI BR4, Hodgdon Powder, Varget, Vihtavuori, Berger, Lapua Scenar, stocks, McMillan, Stolle, Kelbly, Panda, Action, stainless barrel, reloading, powder, case forming, neck-turning, Fowler, Lapua Brass, Berger bullets, precision, Cowen Rest, Bausch & Lomb, NightForce, Hammonds, Wilson Die.