DeSimone's Dynamic Duo

1000-Yard Record Rig (Reborn) and Classy New Curly Ash 6.5 Super

Other Guns of the Week >
The Benchrest record books list many impressive feats of marksmanship. But Rich DeSimone's 1.564" five-shot 1000-yard group is such an amazing achievement that it stands head and shoulders above most other long-range records. It is the 1K equivalent of Wilt Chamberlain's 100-point game--a record that may not be broken by mere mortals. When you talk about long-range accuracy--that group by Rich sets the standard for all to emulate. This week we feature both the rifle with which Rich set his 1000-yard IBS record, and his new 1K machine, an ultra-accurate 6.5 Super featuring a Viper action and stunning hardwood stock.




The Quest for Ultimate Long-Range Accuracy by Rich DeSimone
First off, let me preface this article by admitting I am not the "greatest" long-range benchrest shooter. There are numerous competitors that I shoot with on a regular basis whom I consider to be better shooters than myself. I was just fortunate to be in the right place when "preparation and opportunity" happened to meet! You need to have a good rifle and good reloads--plus a certain amount of ability and a whole lot of luck to set a record in any rifle discipline. Long-range shooting, for me, started with groundhog hunting in my home state of New Jersey back in the 60's. Up until around 1993, my only custom rifle was a 25/06 built with a Douglas barrel and a commercial Mauser Mark X action in a laminated stock with a Unertl 15X Ultra-varmint scope. Then a friend introduced me to the winter benchrest matches being held at the Central Jersey Rifle and Pistol Club, which I joined. That led to the short-range benchrest game and several custom Light, Heavy and Hunter Class rifles. My first custom was built by former IBS president Bob White.

Around 1997, I got the "itch" to do my own machine work since I hated waiting months for a gunsmith to complete a simple chamber job. So, I enrolled in the local Vocational Tech program and began tinkering with the machines a couple of nights a week during the winter. Subsequently I got my own lathe and chambered my first rifle, a 45/70 on a Mauser action. Since then, I have done all my own work. Over time, I upgraded my lathe and got a mill/drill to handle stock inletting and other projects.






Three years have passed since I shot that record group and I can see why it has not been broken. It's just too dog-gone hard to shoot that small. The closest I have come is 4" a couple of times.



In 1999 my wife and I decided to move to the Hickory, North Carolina area to be near some good friends who had moved there in 1987. Having followed the 1000-yard matches in Precision Shooting magazine, I knew Hawk's Ridge was only a "stones throw" (about 40 miles) from my new "digs". I knew that I was going to get involved in this game, so I proceeded to build a 17-pound gun. This rifle was built in .243 Ackley--not the caliber I set the record with. I shot the .243 AI for my first year and a half of competition, through the end of the 2001 season. During that first year and a half of competing, I noticed that Bob and Leslie Crone were doing a lot of winning in both LG and HG classes shooting a cartridge they called the 6.5 Super. This is basically a Winchester .284 case necked down to 6.5 mm with the shoulder pushed forward about .010" and blown out to 40°. So you see, I just "latched on" to their idea and ordered a reamer from Clymer made to the Crone's specs. That winter, I got my hands on a Krieger HV contour, 28", 8.5 twist barrel and proceeded to chamber and install it on my present rifle.


Smashing the IBS 1000-Yard Record
The 2002 season started off with me shooting this rifle in both light and heavy gun classes. My basic load was similar to that which the Crones were using: 53 grains of H4831 powder and either Federal or CCI primers and Hornady 140gr A-Max bullets. At the start of the season a shooter from Tennessee by the name of Greg Sigmund showed up. Greg had just started producing his .625 BC, 147gr "Clinch River" VLD bullets. I purchased a few hundred and started working with them. On August 17, 2002, I was rewarded with a 1.564" five-shot IBS-record Light Gun group. As I recall from my notes, the weather conditions were average for that time of the year. It was sunny with some breezes and luck was on my side. On that particular day, we shot Heavy Gun first and I got called into the scoring shed because they could only find 9 out of 10 shots on the paper. The group was in the upper portion of the target and it was possible that I lost one over the top. Later that afternoon, someone came out from the scoring shed and said they needed me again. Uh-Oh! As I walked in, I could see the target and what appeared to be just four shots in a small group--that had me worried. But as I got closer, I could then see there was a double and everyone around the table started congratulating me on a new possible record. That's the story of this record. It was something special. Prior to this group, the rifle was shooting in the five to seven inch range which is pretty much where most decent guns shoot.

What Will It Take to Break the Record?
Three years have passed since I shot that record group and I can see why it has not been broken. It's just too dog-gone hard to shoot that small. The closest I have come is 4" a couple of times. I have seen groups in the 2" range but getting into the Ones is a different story. I believe Henry Childs shot small group at the 2005 Iowa IBS Nationals and it was a 2.9". A woman at our club shot a 2.1" this year. The previous record was shot at our range by John Hildreth from West Virginia and that was in 2001. My group was only about .040" smaller. With time, I'm sure my record will be broken as there are a lot of new long-range shooters coming on board every year and Lady Luck is bound to shine on one of them. Plus so much information is being disseminated via the internet forums, particularly Wilbur's Benchrest Central and this site. New shooters are getting the advantage of so much good, solid information that it shortens their learning curve considerably. Breaking this record will take a good shooter with good equipment and reliable/repeatable hand loads, shooting on a day with decent conditions and a lot of luck. As far as which caliber? Anything in-between 6mm and .338. They all shoot well on any given day. In choosing a caliber for my latest 1K gun, I stuck with the 6.5 Super. They say "if it ain't broke…" But I did change to a wood stock instead of glass, and I opted for a Stiller Viper action. The Viper has more camming leverage during bolt lift, allowing easier extraction and faster cycling. Read on for the technical details of my two rifles.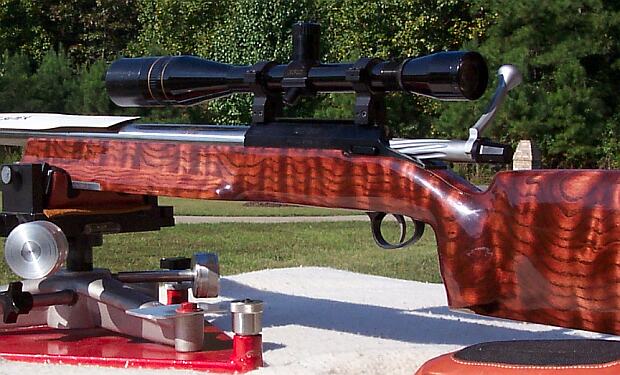 Comparing the Two Rifles
--How Do They Shoot
How do my two guns compare in terms of accuracy and general performance? First of all, the record-setting red gun has been relegated to 600-yard matches. I rebarreled it for a 6mm wildcat that I developed utilizing two reamers. I combined a 6mm BR reamer to give the base dimension and then ran my .243 Ackley reamer in .300" short. The result is a 6 x 44 Ackley or, as I call it, a "644 Super". It is throated for the 100-grain class VLD bullets. Capacity is 44.5 grains of water. The 6mm barrel currently on the red gun is an 8.5-twist cut-rifled Border barrel. This tube is still fairly new and is showing some good results. At Piedmont recently, the red "644 Super" had a new potential 600-yard record going with four of five shots. But sadly, one dropped out at 6 o'clock to make a sub .9" group into a 2.5" group--yep, that one hurt. Overall, I can say that both guns are shooting well and they seem to work with my shooting style. I shoot both rifles with very little grip or hand pressure. But I wouldn't say I use free recoil technique. Both these guns kick more than your PPCs, so you need a little hold. Normally, I am almost in contact with my shoulder and I rest my trigger hand on the Edgewood Gator bag and just use my finger to "touch the trigger".


Gunsmithing and Components for Two World-Class Rigs
Of the two rifles featured in this article, the red gun set the 1000-yard record when chambered in 6.5 Super. (I subsequently rebarreled it to a 6mm for 600 yards, and I use the wood gun for 1000 yards). The red stock is a fiberglass Shehane Tracker. It has a piece of 3/8" re-bar running from the tip of the fore-end down to the action. The barrel channel was milled out; the bar set below the channel surface and filled with epoxy resin and fiberglass matting. Lead shot and epoxy resin were also poured into a hole drilled in the butt for weight. The action was an original CPS-SLV (Central Products for Shooters) provided by Walter Pirera, Central Products' owner, after he sold the business. (It is now Time Precision in Connecticut.) This action still needed some minor machine work to adapt it to my 6.5 Super cartridge. The SLV stands for "Steel, Light Varmint" and was primarily used for the PPC cartridge. It was more or less an improved clone of the XP-100 using 18 TPI threads with a longer tenon. I adapted the action for the larger rim size, and fitted a Jewell 1.5 oz. trigger.

When shooting 6.5 Super, the red gun was fitted with a 28", 8.5-twist Krieger in Heavy Varmint contour, tipped with a Brownell's muzzle brake. To allow sufficient elevation for 1000 yards, I had Art Cocchia, the proprietor of Time Precision, make me up a 20-MOA elevated base to hold the Leupold 24X fixed-power target scope with 1/8th-MOA dot reticle. I did all the paintwork as my trade background was in auto body painting and fiberglass work (e.g. Corvettes).

My new 6.5 Super is built on a four-part lamination of Curly Ash crafted by one of our Hawk's Ridge club members. He has a stock duplicator and he shaped the stock along the lines of a Tooley MBR stock. The bottom of the butt from the toe to the grip was reshaped to run parallel to the fore-end and the lower edge was narrowed to 1/2" to better fit my Edgewood Gator bag. Again, as with the red rifle, I milled the barrel channel from the tip of the fore-end to a point directly in front of the Jewel trigger. In the channel, I inlaid a piece of 1" x 3/8" aluminum flat stock. The Viper right bolt, right port action sits on top of it. Under this piece of aluminum, I glued two short pillars. On the underside of the stock, forward of the trigger guard, is another piece of aluminum that contacts those pillars. They are drilled and counter-bored for the socket head screws, which hold the action. Lead shot has also been added to the butt for weight.

On the underside of the wood fore-end, I fitted a piece of 1/4" aluminum plate with the center milled out to form two tracks. This piece was glued and screwed into the reinforcing aluminum under the barrel channel. A 8.5-twist Krieger barrel, identical to the one originally on the red record rifle, was chambered with the same 6.5 Super reamer and fitted to the Viper. (Krieger donated this barrel after I set the record.) One of Lynwood Harrell's muzzle brakes was then installed. Stiller provided me with 20-MOA rings to hold another Leupold/Tucker 24X scope. The Curly Ash stock was stained "red oak" and then covered with over twenty coats of clear lacquer. I sanded in-between every three coats to eliminate any "cavities" in the finish. The end result is smooth as glass!


Precision Reloading
In developing my loads, I started with the H4831 recipe Bob Crone was using for his 6.5 Super. Yes, I tweaked powder charges and seating depths and tried various primers but really didn't do anything earth-shattering. The record group was shot using Norma brass, which was on its eighth reloading.

One somewhat unconventional thing I do is to anneal my cases after EVERY firing. Charles Bailey, the 2000 IBS 1000-yard Shooter of the Year, suggested I do this. The purpose of regular annealing is to insure the necks give the same grip every time. Also, I believe it is very important to keep the necks brushed out and clean. I soak my cases in CLR (calcium, lime and rust remover) for two hours after annealing. Then I brush out, rinse and dry. Charges are trickled onto a RCBS 10-10 scale utilizing a fixed magnifying glass to read the scale. My current match load is 53.5 grains of H4831sc behind a 147 Clinch River bullet with Fed 210M primers. (NOTE: this load may be too hot for a standard 6.5-284 case.) I turn my case necks to .012" wall thickness. Using a .284" neck bushing, this gives me a .288" loaded round for a .290" chamber. This means I have less neck clearance and tighter neck tension than some other shooters prefer, but it works for me. I seat the Clinch Rivers to just engrave the rifling on the ogive. All my dies are pretty much custom-made. For my shoulder bump/neck-sizing die, I ran my chamber finish reamer into a blank from Bald Eagle Precision. Similarly, I created the seater from a blank Wilson hand die cut with the finish reamer. For any base-sizing that needs to be done, I use a modified Redding .284 Win body die. (I hogged out most of the guts except for a small ring at the base).

My basic reloading advice is pretty straightforward. Develop a technique that gives you consistent ammunition. I like to keep my case weight consistent to within 1.5 grains. Primer pockets are uniformed and flash holes chamfered on the inside. Necks are turned to within .0001" to .0002". I don't recommend "fitted" necks in the long-range game. I allow .001" on either side on the neck or .002" total clearance. My PPCs had only .0006" total clearance. Start annealing your necks once the cases are fully fire-formed (i.e. after two to three reloadings). Polish or brush the inside of necks every time. The more even the pull on the bullet, the lower your Extreme Spread. The lower the ES, the less vertical you get. Cartridges should enter the chamber easily so that when the bolt handle closes, you just feel slight resistance (zero headspace) and extraction should be unobstructed. If you have to bang the bolt handle to get it open, you will upset the gun in the bags which costs you time and rhythm. Of course a good action is important too. When it comes to smooth extraction, the more modern Stiller Viper definitely out-performs the older CPS.
The Future of Long-Range Competition
It's hard to foretell the future, but probably you will see advances in the use of barrel tuners. Not everyone is going to jump on it right away. There will be the experimenters with the machining ability to produce and modify them. If these "early adopters" start winning regularly, then other folks will start jumping on the bandwagon. I personally feel that barrel tuners are better suited for the short-range guys who can physically see the results on their sighter targets and make an adjustment. In the 1K game you cannot see your hits and you don't have a sighter target for reference during the match. I don't anticipate using a tuner on my 1K gun, but I am going to try one of those rubber "Limb Saver" barrel vibration dampers.



As to calibers, we are starting to see a few more 7mms at the matches but this is not a major trend. When you see the match results, the 7mms are definitely not dominating. The BC on the 6.5s is almost identical to the Sevens and pretty close to the 30s. We may see some improvements in bullets. I picked up 100 of the 6.5mm Tooley-design flat-base bullets from Clinch River but have not tried them yet. On early inspection, it looks like you need to cut the throat longer for the heavy flat-base bullets to work well. But if you extend the throat and the flat-base bullets don't work, then you have to rechamber--not a happy prospect in my book. I do know a couple shooters, including Dave Tooley, who tried the FB Clinch Rivers, but I didn't observe any dramatic improvements. The BIB flat-base 30s seem to be doing very well but probably no better than good VLDs.

Barrel wear will remain a concern for 6.5-284 shooters. But there are ways to extend useful life. In my opinion--and that's all it is, an opinion--use moly-coated bullets. It just seems logical to me that using some form of lubrication on a bullet trying to squeeze its way through a bore will cause less abrasion than pushing bare jackets over steel. Rechambering can breathe new life into an older barrel but the cost is about the same as chambering a new barrel. (Remember why I do my own machine work?). Whether you run moly or naked bullets, I do recommend investing in a Hawkeye bore scope (I did). Using the Hawkeye, you'll learn whether your barrel is truly clean and your throat's condition will no longer be a mystery.



Advice for New Competitors

First and foremost, you must do your share of reading. The book Precision Shooting at 1,000 Yards (available from PS magazine, Bruno's Shooters Supply, Sinclair etc.) is a good place to start along with the PS Benchrest Primer. There's also a lot of good info on this site authored by some very good shooters. Next, you should attend a few matches and look over the equipment that is performing well. Talk to the competitors and pick their brains. Just tell a guy he has a great looking rifle and he will usually spill his guts talking about it. If you have a hunting rifle, get an elevated base and a 10-20x scope and 30 rounds of ammo and shoot in factory class. There will always be someone to help you get on target. If you buy a used rifle, get some advice as to which dealers are reliable. Bob White at the Shooters Corner is an excellent choice, but there are others also.

If you want to have a custom 1000-yard gun built, then use an accuracy gunsmith who shoots 1000-yard Benchrest and understands the game. DO NOT use your local gun shop that does hunting rifles. Bad Move! Look at equipment lists on club web sites and see who is using what and who is building it for them. Get on the 1000-yard Forum on Benchrest.com and ask for help if you are really stumped about something. When you go to the range to practice, use wind flags. Otherwise you'll just waste ammunition and burn out your barrel faster. You have to pull the trigger when the flags are going the same direction each time or your groups will get big! And go out to 300 yards during load development so you can see your vertical, and get a better sense of how the wind moves your bullets.

As a final note, your editor asked me what factors contributed most significantly to my success in long-range competition. I'd say the things that have been most important are: 1) having all top-quality components and equipment (cartridge components, rifle parts, scopes, rests, loading blocks, you name it); and, 2) having the confidence that comes from building your own equipment.



— Richard DeSimone —


Photos Copyright © 2005, Rich DeSimone, used by permission, All Rights Reserved. All other content Copyright © 2005, 6mmBR.com, All Rights Reserved. No reproduction of any content without advanced permission in writing.
Topics: Rich DeSimone, Shehane Tracker, Bill Shehane, Master 1000, Stiller Precision, Python, Super, 6mm, 6mm BR Norma, 6BR, 6.5-284, 6.5x284, 6.5mm, 644 Super, 6x44, 6-44, Williamsport, IBS, NBRSA, Stolle, Panda, Score, Group, Agg, Aggregate, Benchrest, 6mm Improved, Light Gun, LV, HV, 6PPC, Border Barrels, Krieger, 300m, 600m, 1000 yards, Jewell, Benchrest, BR, Bench Rest, rifle accuracy, Recoil, Hodgdon Powder, H4350, H4831, H4831sc, 4831, Lapua, Sierra, Match-King, Clinch River, Competition Shooting, Stocks, Leupold, Time Precision, Benchrest Central, barrel, reloading, powder, case forming, neck-turning, Lapua Brass, Winchester, bullets, precision, Ash, Curly Ash, Laminated, Fiberglass, Hard Hold, Hawkeye, Borescope.