PPC with Pedigree

Maui Eric's Hall-Scoville 6PPC from Dwight Scott

Other Weeks >
The 6PPC remains King of the Hill in "Point Blank" 100/200 yard Benchrest competition. This week we feature a state of the art 6PPC rig, one originally commissioned for famed gunsmith/shooter Dwight Scott. This PPC boasts an elite pedigree. In Dwight's hands, it racked up many impressive performances, including First Place in the Cactus Classic. This report is from our friend Eric Cordeiro of Maui, Hawaii, who bought the rifle and a quiver of barrels from Dwight. This Scott-Scoville has recently changed owners again, but Eric kindly got us some photos before his tack-driver went off to its new home. Bob Scoville, who built the amazing carbon fiber stock, also prepared a technical report for us, explaining the cutting-edge technology inside the rifle.






Eric writes: "This gun is a 'full-boogie' 6PPC custom--as good as it gets. Built to shoot "zeros" in high-level competition, it features a .262" neck and a Hall double-ported action specially configured for Dwight Scott. As you might know, Allan Hall sets up all of Dwight's actions with a dual port. This gun is a personal rig that Dwight had built for himself and sold to me last year. Due to the lack of serious Benchrest competition here in Hawaii, I had to let the rifle go recently. But the parting was not without much regret. Plus I had to endure many nights in the doghouse--you see my girlfriend normally used this rig and she was not happy to see it go. Nor was I, to be truthful. It is a wonderful rifle. It tracks superbly and the accuracy is astounding. This gun won at the National Level with Dwight behind it, and it has shot in the Ones for me."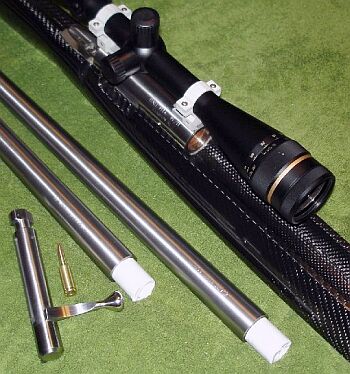 SPECIFICATIONS:

10.5 lb Light Varmint, glue-in.

Hall "D" Action, double port, right bolt
(Action and bolt polished).

Shilen barrel with .262" neck.

Custom milled-down bases, Kelbly rings.

Jewel 1.5oz trigger.

Leupold 36x BR scope, fine dot reticle
(Factory certified with tracking-test proofs).

Scoville carbon fiber stock, Simison weight system in rear of stock.

Aloha,
Eric Cordeiro
---
---




Report from Bob Scoville, Stock-Maker



This rifle was one of five I built for my first balsa/carbon production run (Winter 2000/2001). The stock was built for Dwight Scott. Tony Boyer, Dick Wright, and Armond Pagliai got the others. The design was the result of a need to reduce stock mass to compensate for the increased weight of the new Leupold 45X scope. The plan was to reduce only the stock weight so the competitors could stay with proven action and barrel combinations when changing to the new scope. The original balsa core/carbon fiber prototype was built for Tony Boyer.

The outward profile of the carbon prototype resembled Dwight Scott's innovative redwood and cedar BR stocks, which had proved very successful. But internally, the balsa/carbon stock was very different than any previous wood design. This stock's original weight was only 16 ounces. Tony felt the stock had real promise but did not have to be so light. He suggested adding 6 oz. to the final weight. Following Tony's advice I refined the inner structure and added what I call "internal armor" to help ward off damage if the rifle were mis-handled. Faye Boyer shot the reworked prototype for a number of years. All of these first production stocks shot very well, winning many Hall of Fame points and a Super Shoot.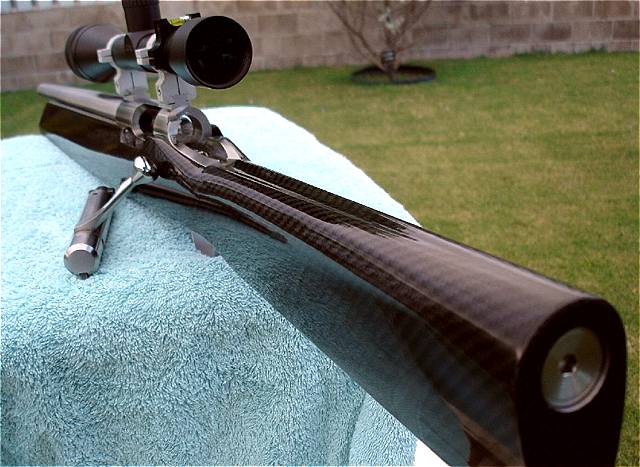 There is a lot more to the structure of the stocks than meets the eye. The carbon fiber skin with which I cover the stocks creates a light, tough exterior surface. However, this contributes very little to the overall performance of the stocks. The real strength and stiffness is the result of an internal beam utilizing balsa core/carbon fiber technology.

This type construction can be found in aircraft, race cars, powerboats, and sailboats. It is interesting to note, balsa has the highest strength to weight ratio of all woods and carbon fiber is one of the lowest stretch (modulus of elasticity) relative to weight of all materials. The marriage of these two materials is common in the high-performance world. Additionally, balsa is used commercially for vibration dampening and sound reduction.

Building a complete stock requires 21 pieces of wood and 22 gluing operations. All critical surfaces (surfaces that ride the rest or real bag and barrel/action channel) are machined on a vertical mill to insure best possible geometric consistency (parallel flats).

The stocks at a 22 oz. build weight are normally still too light to bring a gun up to LV 10.5 lbs. In the butt, a weight system conceived by Dwight Scott and manufactured by Jerry Simison is installed.

I built a number of rifles with this action, a Hall "D". Mr. "D"-wight Scott has worked with many action manufactures refining their final product. The first thing you notice about these Hall actions is the overall size. They are long and beefy, with a fat 1.375" diameter. This produces an action that is super stiff with plenty of bedding surface.

First time out, this Gun of the Week won its very first Aggregate at the Cactus Classic. This was the first rifle Dwight shot he did not stock himself. The overall shape and angles of my stocks are the result of his stock work. I think with me doing his stock work it freed him up to concentrate on his gunsmithing. Dwight stayed with his Super Shoot-winning "Spot" rifle for 11 years. But now I stock several rifles a year for him, allowing him more opportunity to pursue his gunsmithing.



Bob Scoville
6865 Meldrum Road
Fair Haven, MI 48023
bobscoville@aol.com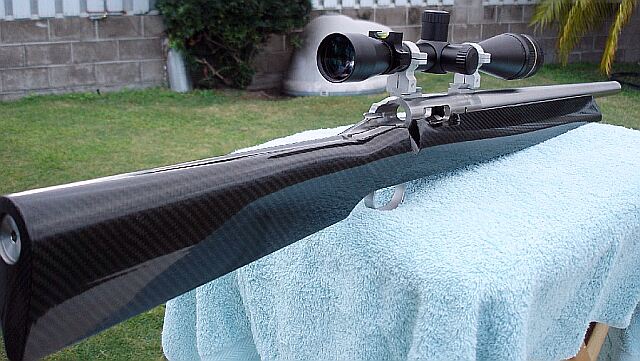 Weight system:
Jerry's Gun Shop (Jerry Simison)
23434 County Highway 20
Detroit Lakes, MN 56501
Phone: (218) 532-7007


Copyright © 2004, 6mmBR.com, All Rights Reserved. Photos courtesy Eric Cordeiro, Maui, HI. No reproduction of any content without advanced permission in writing.



Free Counter