Seattle Switch-Barrel

Rick Beginski's "Wet & Wild" 6mm Dasher

Other Guns of the Week >
So what kind of rifle does an ace smith build for 600-yard and 1000-yard competition, when he's the client? Here's the answer--Rick Beginski's big blue "Wet & Wild" switch-barrel rig. Rick will run a 6 Dasher barrel at 600 yards and a 6.5-284 at 1K. Though he's never one to brag, we can assure you this guy knows how to build winners. Rick's craftsmanship is outstanding--as proven by the results of his guns in competition. He's built five NBRSA record guns, and he smithed three of the Top 10 Light Guns at the 2004 1000-yard Nationals.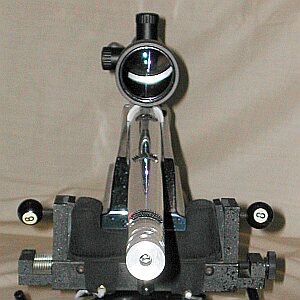 When Only the Best Will Do...
Rick told us: "This rifle was built to be the once-in-a-lifetime rifle that everyone thinks they want and need. Its home range is the Upper Nisqually Sportsman's Club in Eatonville, Washington. It's a true long-range Light Gun class rifle, set up to shoot both 600-yard and 1000-yard matches. The action is a right bolt, left port Panda from Russ Hayden's Shooting Supply. The rifle has two barrels. One is an 8 twist Broughton barrel chambered for a 6mm Dasher and the other is an 8 ½ twist Krieger chambered in 6.5-284. Both barrels have muzzle brakes to keep the gun movement down to next to nothing. This is a sweet gun to shoot. It tracks and stays on target remarkably well.

Tight-necks for both 6mm Dasher and 6.5-284
Both reamers came from Dave Kiff at Pacific Tool & Gauge. The 6.5-284 has a .286" neck with the throat set up for the 142gr Sierra MKs and the Dasher is a .263" neck throated for the 107gr Sierra MKs. Both barrels are 1.250" diameter for 6 inches and tapered to .940" at 30 inches. This conforms to the Pennsylvania rules. It also just makes the 16.5-pound Williamsport weight limit, allowing me to shoot the gun at the Kalispell, Montana 1000-yard club matches.



"When shooting in the Seattle area, you might as well just paint the raindrops on the gun, cause they're going to be there anyway."



I chose a Hoover (Master 1000) stock for the gun, an Alex Sitman design. This features a flat, extended (22") fore-end and parallel toe for good tracking. These have proven very successful in 1000-yard competition. Other components include a Jewell trigger, BAT Machines trigger guard, and rings by Speedy (S.G.&Y.). The scope is a 30mm 6.5-20x50 Leupold LRT boosted by Premier Reticles to 18-40 power. It also has the small Leupold dot. While you lose a little brightness, the boost really transforms the scope into a very effective 1000-yard optic. And, on a good day, I can see bullet holes at 500 yards. If you're curious, the red and green tape on the top of the scope are courtesy of the weigh-in certification for the NBRSA nationals. The scope has been there several times on other guns.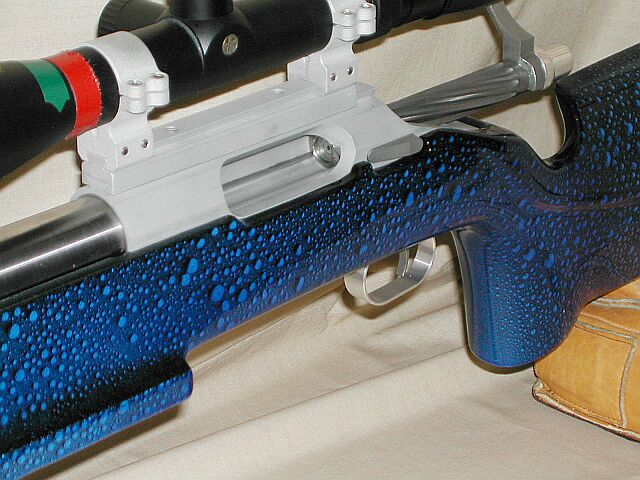 About That "Wet-Look" Paint Job
The wet and wild paint job was completed by Mike Lavelle of Killerpaint.com in Snohomish, Washington. It has five coats of clear to add depth to the individual raindrops. Mike has done outrageous paint jobs on everything from folding chairs to helicopters. When shooting in the Seattle area, you might as well just paint the raindrops on the gun, cause they're going to be there anyway. You may notice the large supply of towels in the pictures used to keep the raindrops off the all the metal parts of the gun.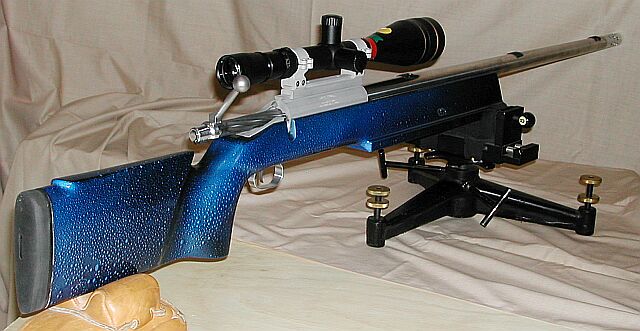 Load Development in Progress
As far as accuracy, I can't give any definitive reports yet. I'm still breaking in the barrel, so I've only tried two loads so far. Once the brass is all fire-formed, then the serious load development begins. I'll also be trying some of the new 115gr Tubb DTAC bullets along with the 107gr Sierras. I'll try to post my results on the 6mmBR.com forum when they're available.

All reloading chores are handled by Redding full-length sizing dies and Wilson neck-sizing and seater dies. I use a K&M arbor press. It has a unique linkage mechanism and is available with an optional seating force gauge. Very slick unit. The gun sits on an old, old Hart rest with a Bald Eagle windage top. And as you may notice, I somehow always feel like I'm sitting behind the 8 ball."



-- Rick Beginski --
Mukilteo, WA 98275
Email: RWBPLF@AOL.com







Editor's Note -- More About the Stock

The Master 1000 Stock (aka "Hoover") was designed by Alex Sitman of Master Class Stocks for John Hoover and his family. Glass versions are built by Robertson Composites in Canada, while Alex produces the laminate versions. Workmanship on both versions is excellent, and the flats are straight and uniform. The Master 1000 features a completely flat forearm, that runs parallel to the underside of the buttstock (straight toe). This gives it superb tracking characteristics. The stock has been very successful in competition, winning the Hoovers the 2004 National 1000-yard Team Title, and numerous individual honors. Adam Hoover, IBS Junior National Champion, posted an amazing 1.7" 5-shot group at 1000 yards with this design. The distinctive step-down on the long forearm helps shooters position the rifle on the bench. The stock is also available in a left-hand pattern, and a "low-profile" laminate version without the step-down. This lowers the center of gravity, which many F-Class shooters prefer.

Master 1000 Stocks
c/o John Hoover
Accuracy One Shooting Supplies
4040 Keefertown Road
Tyrone, PA 16686
Phone:
(814) 684-5322, MWF 6-9pm
(814) 684-1777
Email: J1005Xs@aol.com
$350 for two-color gelcoat blank, un-inletted

Master Class Stocks
c/o Alex Sitman
611 East Second Street
Bellwood, PA 16617
Phone: (814) 742-7868

Copyright © 2004, 6mmBR.com, All Rights Reserved. No reproduction without advanced permission in writing.