Gun of the Week

Aussie F-Classer -- "Maddco Max"

Other Guns of the Week >

Can a Palma shooter find happiness with a 6mm BR F-class gun? The answer is yes, reports Cameron McEwan, who gave us this report of his slick Maddco rig from Down Under. Other than the McMillan stock and Nightforce scope, it's an All-Aussie rifle. We've dubbed the black beauty "Maddco Max".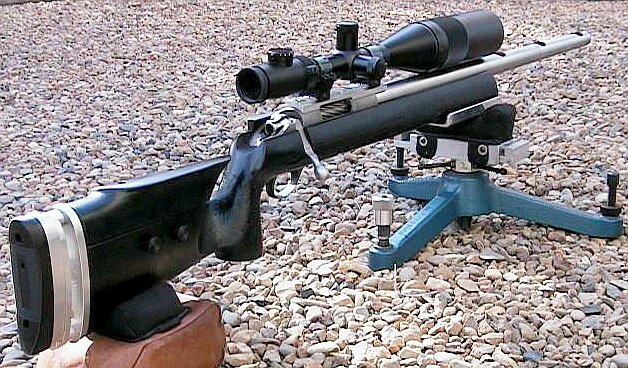 Cameron writes: "I live in Australia and have been shooting F-Class for two years. I have shot long range "fullbore" (iron sights) over here for 25 years. This Easter I completed my current F-Class rifle. The rifle is based on a Maddco single-shot action. This action is made by Nev Madden here in Australia. Nev is known around the world for his barrel making. The trigger is also made by Maddco. The barrel is a 26" Maddco chambered in standard 6 BR Norma. Twist is 1 in 8". I inletted a McMillan prone stock and glued the action in. I fitted an accessory rail to the fore-end and have attached a 3"-wide alloy plate to ride the front bag. I started with a Leupold 6.5-20x scope but the rifle now wears a brutish Nightforce 8-32x. I currently use Lapua cases, 105g Lapua Scenar bullets with 29.5gr of 2208 (sold in the US as Varget I think). This rifle is the most accurate long range rifle I have ever used. What makes me proud of this rifle is all components except stock and scope are made in OZ. I even built the adjustable butt-plate myself.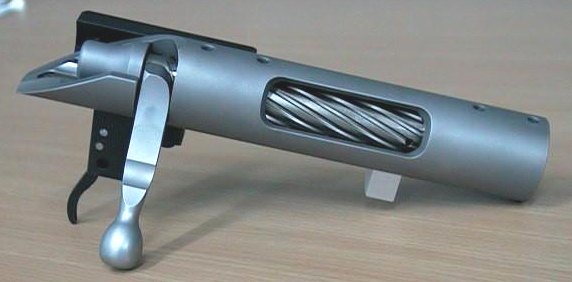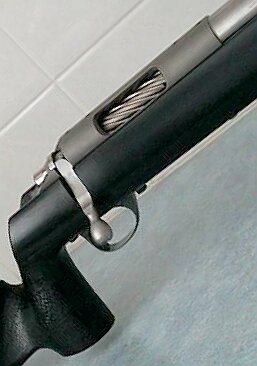 I live in a small town, Dalby, about 150 miles west of Brisbane. Nev Madden has his business, Maddco Barrels, in Toowooma about an 50 miles from my place. Nev's main concern is building barrels, and excellent they are. Nev has a new machinist who is dedicated to building these actions and triggers for the moment. He is working on a small number at present. The majority of parts are CNC produced, but because the tolerances are so close, the assembly of each action is very time-consuming. The action itself is your basic two-lug design, fluted bolt, sliding extractor, detachable recoil-lug, sight plate, spring loaded ball bolt stop. The housing is nitrided for durability. Length is 8.1", diameter is 1.374", making it larger than a Nesika 'J' or Rem 700 action. Tolerances are held very close. The trigger, also made by Maddco, is a three-lever design with external adjustments. Trigger pull adjusts from 2 oz. to over 4 pounds. The trigger is excellent, but at the 2 oz. setting the bolt cannot be worked fast as with a Jewel trigger. If you want a Maddco action, don't hold your breath. My mother always told me, good things come to those who wait. I previously owned one of the first batch, purchased in 1993. I went and sold it after an eye injury, what a silly move. The marvels of medicine have now allowed me to shoot again.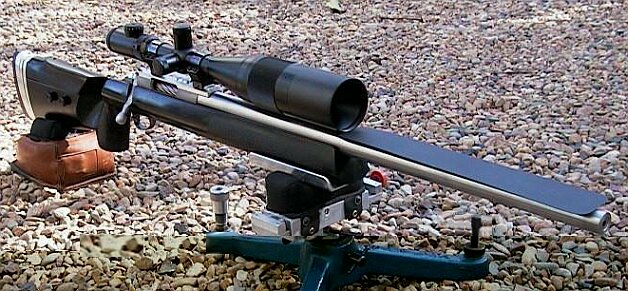 I have not checked my loads for velocity yet, but the charge is close to max. I went 1/2 grain higher and the cases showed signs of too much pressure, plus accuracy dropped off. The barrel is 26". The rifle is set up as a switch barrel, but I can see no reason to use another calibre at the moment. The 6BR is a dream to shoot. With such low recoil and great inherent accuracy, I find I can concentrate on reading the conditions, knowing the bullets will find their mark if I do my job. Nev Madden is also amazed, as a barrel-maker and former Australian BR champion, at how well this cartridge performs, even at point-blank range, using long bullets and a fast-twist barrel."


-- Cameron McEwan --

Send Email
Text Copyright © 2004 6mmBr.com, All Rights Reserved. Images Copyright © 2004 Cameron McEwan, All Rights Reserved. Used by Permission. No Reproduction without advance approval in writing.