Factory-Loaded 6mm BR Ammo
Record-Setting Ammunition from Lapua and Norma
Just how good is the factory-loaded ammo from Lapua and Norma? Well, it's good enough to set World Records in 300m competition. Even the most skilled handloader may be hard-pressed to produce more accurate loads. Our initial test with the 90gr Lapua ammo showed it can deliver 0.3 MOA at 100 yards from a good gun. At the 2003 Europe Cup in Switzerland, Juha Hirvi used Lapua ammo to set a new European and World Record: 1,180 points (400+387+393). And Norma Diamond Line 6mm BR ammo has won CISM 300m championships multiple times.
| | | | |
| --- | --- | --- | --- |
| Factory Load | Bullet | ft/sec | m/sec |
| Lapua Match | 90gr Scenar moly | 3051 | 930 |
| Lapua Match | 105gr Scenar | 2789 | 850 |
| Norma Diamond Line | 105gr Berger LTB moly | 2789 | 850 |

3000 fps from Lapua's 90gr Factory Load -- Great Choice for 600yd BR
Lapua offers factory ammo loaded with 90gr and 105gr Scenars. Lapua claims 3051 fps for its 90gr molys and 2953 fps for 90gr naked Scenars (26" barrel). The Lapua 90gr round would be our first choice at 600 yards in steady winds. We think the extra 260 fps over the 105gr version is worth the slightly lower BC (.420 vs. .530 for the 105gr Scenar), and the 90gr Scenar should be very accurate in a 1:10 twist barrel.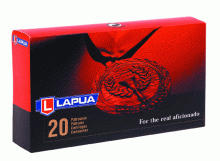 We plan to test the 90gr Lapua Factory ammo at 600yds and see if this factory 90gr round can compete with handloads, right out of the box.



Lapua ammo is available from Graf's for about $26 per box of twenty (20) loaded rounds:
90gr moly Scenar, Graf's Item LU4316045; 105gr moly Scenar, Graf's Item LU4316046




Factory Ammo That Shoots .42 moa at 300m -- Impressive Indeed
While you can achieve somewhat higher velocities with custom hand-loaded ammo, we think the factory-loaded match ammo is good enough to win 600yd matches at the club level and that's saying a lot. Components are top of the line. Brass is excellent as are the bullets. Norma uses moly 105 Berger LTBs while Lapua uses its own 105 Scenars (moly or naked). The Scenar enjoys an edge in BC, because Berger's length-tolerant-bullet design is a bit shorter to aid feeding from magazine. So the Lapua ammo may work a little better in the wind, but the Norma may have an edge in pure accuracy in steady conditions. Click on this Norma Diamond Line 300m test target. That's 10 rounds, recorded by an electronic target. The 3.5cm (1.38") group works out to .42 moa. And check out this Norma 60-round 300m test target. Will your handloads do better than that, even shot from sandbags? Maybe not. Unfortunately, though widely available in Europe, this Norma ammo is very hard to obtain right now in the United States. At Shot Show 2006, Norma promised it would be expanding its distribution system in the USA, with sources for powder and ammo in place by end of summer 2006.
Lapua Importer:
Kaltron Pettibone Inc.
1241 Ellis Street
Bensenville, IL 60106
Phone: (630) 350-1116
www.kaltron.com
Lapua Distributor
Graf & Sons
4050 S. Clark
Mexico, MO 65265
Phone: (800) 531-2666
www.Grafs.com
Norma Distributor:
Black Hills Shooters Supply
2875 S. Creek Drive
Rapid City, SD 57709
Phone: (800) 289-2506
BHShooters.com
Copyright © 2004, 6mmBR.com, All Rights Reserved. No reproduction without advanced permission in writing.