Shooting the 30BR in Competition

A quick rise to the top...

By Joe Entrekin

When I first began score shooting competitively, I was using a 6BR that shot very well. However, some of my friends were shooting 30 X 47s in a bastardized club class called "Custom Hunter", and I couldn't help but notice those big ole holes they made in the targets. It's certainly easier to catch the center ring with a bigger hole. Well, after Randy Robinett and my gunsmith, Ronnie Long, had several lengthy conversations regarding the potential merits of the "new" 30BR, Ronnie asked if I had any interest in the 30. Being a curious and experimental sort, I thought the 30BR would be something kinda fun to try. Ronnie ordered three HV 30 cal 1:18 twist barrels from Krieger, one of which he fitted to my former 6BR rifle. Somehow, I wound up with another one of those barrels, and my friend and shooting partner, "Humble" Henry Rivers eventually got the 3rd one. They have all been exceptional barrels. I am still shooting my barrel in competition, and with 7400 rounds through it, the barrel is still winning.

There was a little learning curve, but pretty soon there was mostly a lot of moaning and groaning about Joe showing up with that (expletive deleted) 30BR, again! I was beating the local guys so consistently, that a couple of them even suggested it might be intimidating others into not showing up for the matches. The next step was to help get some registered IBS score shooting started down here in the South. Traditionally, VFS class score competition has been almost exclusive to the northeastern part of the country, especially strong in PA, MD and Maine. We put 2 or 3 matches together in Dublin, GA (MGGOA), which got us on the score shooting map. The 30 shot well in those matches, as well as continuing to place well in club matches in our area, against some good shooters. I became convinced that I could probably hang with anybody in the country with the 30, so I made plans to attend the 100/200 Nationals, which were being held at the Palmisano Range, near Neskopeck, PA, that year.


Reservations were made, and being a thin-skinned southern boy, I just prayed for good weather. So much for prayers; I think that was THE most miserable weekend of shooting I've ever endured. On Saturday, we shot the 100 in very cool, gusty, windy conditions. I was pretty happy to come out in 10th place, one of the 10 clean scores shot that day. Sunday burst my little bubble, though, with horrible gusty winds and it snowed/sleeted 3 times during that miserable day. The conditions simply ripped the heart right outa this ole southern boy, and all I wanted to do was complete the match, pack up and go home. I had learned what I came for: Yes, with a little more confidence and experience, I could hang with the veteran competitors shooting my 30BR. And, the really great thing was that I had been "adopted" by the gang from Maine, made an honorary "Maineiac", and given the moniker "Smokin Joe". They were hosting the 100/200 Nationals the next year, and made me promise to come.

During the next year, Henry Rivers and I became friends. After a couple of phone conversations about the 30BR, and another whipping by it at a club match up in Elberton, GA, Henry asked if he could shoot my rifle. I had 10 rounds of loaded ammo left that needed to be shot, so Henry sat down and shot them into a target at 100 yards producing a .22" 10-shot group. I don't need to tell you what ensued. Pretty soon there was another 30BR on the line at the local matches. Henry worked through his learning curve for the remainder of the year, but got better & better. That year finished with us taking 1st and 2nd at the NC State Score Championship, tied with 500-35X scores, which is near world record territory. I had also gone to the 100/200 Score Nationals in Augusta, ME that summer, and did quite well, winning the 100 and coming in 2nd at 200 and 2nd overall. After such a successful year, I kept telling Henry that I was convinced that we could shoot as well with our 30BRs as anyone in the country, and encouraged him to consider seriously pursuing competitive score shooting at the National level. We did just that the next year, with both of us placing well at most of the matches we entered. I took second at the Bud Pryor Memorial Match in Thurmont, MD (the "30BR graveyard"), Henry won the 200/300 Nationals also at Thurmont, and I was awarded Score Shooter of the Year with Henry a very close second. We apparently turned enough heads in 2003 to start a revolution in score shooting, with a large number of 30BRs showing up for the 2004 season.

The 2004 season has continued to be good for the 30BRs. I won the Bud Pryor and the 100/200 Nationals. Clark Shen, shooting a pair of 30BRs, took the 200/300 Nationals in both VFS and Varmint Hunter. And this year Henry has won Score Shooter of the Year with me second. The match results speak for themselves; the 30BR is currently THE dominant chambering in score shooting.



Load Information from Joe Entrekin and Henry Rivers


As for loads, I have a Harrell's measure, as does Henry, and we have used from 61.5 clicks, up to 63.0 clicks; that translates roughly to 33.8 grs, up to 34.8 grs of Hodgdon H4198. Using the high end requires a lot more brass maintenance. Currently, I'm shooting 62 clicks (34.2 grs) while Henry shoots the high end load, as does Randy Robinett. I can't tell a significant difference and the middle-of-the-road load makes life a whole lot easier, brass-wise.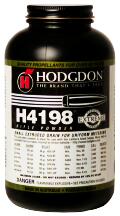 When I first started using H4198, including the 100/200 Nationals in Maine that year, I was shooting 61.5 clicks (33.8 grs) and the gun shot about as well as ever. If I had caught on to a little wind condition nuance of the Augusta, Maine range, I'm confident that I would have left with all the marbles plus set a range record, but I dropped 2 points before I figured it out. At that time, nobody had ever shot a clean 500 score there. Jimmy Goody finally did that this past year. He shoots a 30, but it is a 30 Jag, not BR, similar to a 30X47 HBR.

Comparing H4198 vs. Vihtavuori N-130, they both work well. My SDs were good with both powders. But I think H4198 is the ticket. When I switched from N-130, it just seemed that the gun's performance got a little more consistent, particularly in actual matches. Also, H4198 is slightly more dense than N-130, so you can put more powder in the case. I've found I can get a full click more H4198 in my cases than N-130. That works out to about half a grain more by weight. This can make a difference in max velocities.
In photo, BIB 125gr 7-ogive (left), and BIB 118gr 10-ogive (right).
In matches, I use the 118/10, with a Danzac coating I apply myself.