If you want to shoot accurately at long distance, you need to keep your rifle on an even keel. There are many anti-cant devices on the market, but the
U.S. Optics
unit is the best we've found. Unlike the scope-mounted units that place the level at 12 o'clock, the U.S. Optics bubble sits on the side so you can see it through your left eye without moving your head away from the scope. Also, the level is not obscured if you use flip-up lens covers. It is precision-machined, rugged, and the bubble unit flips to the side when not in use (in the swivel model). It also has a threaded cap to protect the bubble chamber.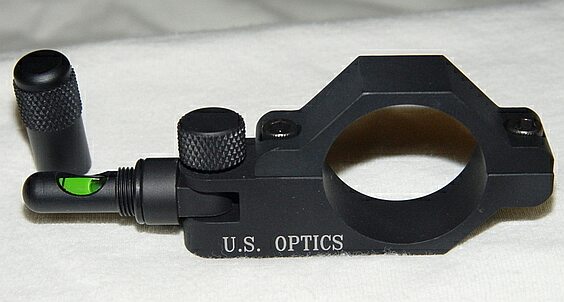 US Optics also makes a more compact unit that mounts via a Weaver Rail. This is actually our first choice because it weighs less, and keeps mass closer to the bore centerline. This is a better choice if you have multiple scopes. With the rail mount the level stays with the gun no matter what optic sits on top. It is available either with a swivel level or the fixed version shown at the bottom of this page.
Order from
U.S. Optics
, (714) 582-1956.
List Prices:
Swivel base type $88.00
Non-Swivel base type $68.00
Swivel tube mounted (30mm only) $83.00
Non-Swivel tube type (30mm only) $63.00
While we think the USO unit is worth every penny, if you are on a tight budget, Brownells sells a couple similar units. The least expensive is the B-Square which mounts on a Weaver rail. It is item 122-100-600, $25.95. If you don't use a Weaver rail, there is a unit that uses a threaded shaft. You will need to tap your rings or scope base to mount this. Compare the B-Square unit (photo right) with the sturdier U.S. Optics base-mount device (photo above).
For more information, contact:
U.S. Optics, Inc.
150 Arovista Circle
Brea, CA 92821
(714) 582-1956 Phone | (714) 582-1959 Fax