If you shoot IBS, Varmint Score, High-Power, Palma, or F-Class matches you need a Score Book. It will help your spotter keep track of your performance during the match, and it is an invaluable tool for analyzing your performance after the match. A good Scorebook, used religiously, allows you to map your progress and compare results when testing different loads or experimenting with new shooting techniques or hardware. In addition to a Scorebook, you need something to keep it secure. We like the Creedmoor Aluminum Snapak because it is weatherproof and it offers a nice, flat, secure writing surface. The tactical guys (who travel light and carry everything in a ruck) prefer the Cordura Nylon case. Either way, a Scorebook and a suitable case belong in your range kit.
Creedmoor® Data/Score Book
The updated Rifle Data/Score book has enlarged target overlays with double overlays for 200- and 300-yard rapid fire stages. Key data is arranged in a simple check-off format. Pages for 200, 300, 600 and 1000 yard shooting.
N075 $8.98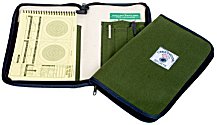 Creedmoor® Nylon Data Score Book Pouch
Here is a convenient way to use your data book in the field. Fits easily in a rucksack or range bag. Made of 1000 Denier Cordura Nylon with a quality YKK zipper, the cover has pockets for your data book, wind calculator, pens and any other supplies. Color: Green. N082 $19.98
(Score Book sold separately.)
Creedmoor® Snapak Aluminum Score Book Holder
Made of heavy duty aluminum, it will hold your data book, gun book, windage table, pens and any other small items you need on the range. The metal cover provides a firm, stable surface for writing. A sliding internal clip holds most size data books securely so the pages lie flat, even when it's windy. The Lacquer finish resists weather, stains & mildew. It can be closed for easy storage and will fit into a lift-top shooting stool. N076A $19.98 (Score Book sold separately.)