SharpShoot-R Lightning Rods
(Review by Jason Baney)
Just when we I thought we had every version of cleaning rod covered, Terry Paul at
SharpShoot-R Precision Products
has proven me wrong. While talking about his new cleaning rods I mentioned it would be nice if the mid-sized rod (usually .27-30cal) fit in a 6.5 cal since there was no one making a 6.5mm specific rod. This left us stuck with ill-fitting .22 caliber rods. He assured me that the new rods would in fact work for a 6.5mm barrel. After hearing this I was eager to try one out.
Well, I was not disappointed! The new mid sized rod fits nicely down the bore of my 6.5-284. It measures about 0.245" on the coated area, and maxes out at 0.250" at the coating/tip junction. After getting the measurements, I convinced Mike Lucas to make me a new insert to fit the rod so I could properly use his fine bore guide. Well, he did not disappoint either, and provided a new insert with a 0.253" hole which fits the rod perfectly. Mike can now provide the correct insert to match this rod for a couple dollars.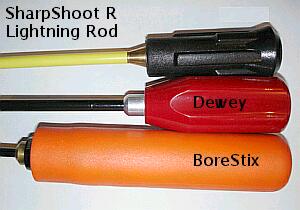 The handle is small but comfortable and does not drag across the comb of my Tracker MBR stock like some other rods do. This is a nice touch that will save my glossy clear coat. The handle, fitted with ball bearings at both ends, turns as smoothly as any other rod I own, so no problems there. These Lightning Rods also have color-coded coatings, with this one, the 30 cal rod, being yellow. The color coding makes grabbing the wrong rods on the way to the range nearly impossible. The 17-cal rod has a red coating while the 22-cal rod is coated blue.
The tip is unique among the rods I own and features a male 8-32 thread on the rod. Each rod also comes with an adaptor to make it a 8-32 female thread to accept all the standard tips. Terry assures me he is also working on his own tips for these rods to make a perfect transition from the brass ferrule and the tip. He plans Dewey type tips and Parker Hale type tips, with others possible. Hopefully, a female-tipped version of the rod will be available in time, since most commercial bore brushes and jags are male. In the meantime, we suggest you attach the male to female converter with non-permanent Lock-tite, just so you don't lose it at the range. We should also see some quality patches from SharpShoot-R products made from domestic cotton as opposed to cotton imported from unfriendly parts of the world.
The mid-sized rods (6.5-30 cal) are in stock now and the 17-Cal and 22-Cal Rods are expected within a couple weeks.And a .338-Cal magnum rod is planned as well. All rods will be available from 12-44 inches long, with the mid-sized, and magnum rods becoming available in 60" lengths as well! One very attractive benefit with these cleaning rods is a "No-Fault" lifetime warranty.
ORDER FROM SharpShootr.com
Email:
gethelp@paulcousa.com
Phone: (785) 883-4444