| | |
| --- | --- |
| Price: | $139.00 |
| Prod. Code: | 05-470 |
We've always favored Wilson trimmers, and with the addition of a new wider-range micrometer this unit has become even easier to use and more versatile. Sinclair's Ultimate Trimmer combines a Wilson hand trimmer with a metal base, a rotary case-holder clamp and an adjustable micrometer that handles cases from 1.300" to 3", i.e. from a 22 Hornet to a .416 Rigby Magnum. With the upgraded micrometer (the previous unit had only a 1" range of adjustment), this is simply the best hand trimmer for precision reloaders. It is faster, more precise and more versatile than any other hand-operated case trimmer. Yes, it does cost quite a bit more than an equivalent Forster unit, but we much prefer the way the Ultimate Trimmer functions, particularly the ease with which you can adjust trim length.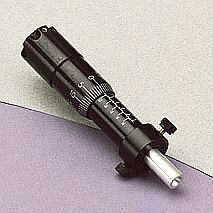 With the micrometer-equipped Wilson, trim length can be adjusted in a matter of seconds. The index marks are easy to see and you can lock the adjuster in place once the length is set correctly. Want to switch calibers? Very simple, just get a $6.00 case holder (part number WBRH-N for 6mm BR) for the new caliber, and dial your micrometer for the new length. (Log your previous Mic setting for future reference).
Unlike the Forster or RCBS trimmers, Wilsons don't require a different trimmer pilot for every caliber. And you don't need a variety of collets to hold different rim sizes. All you need is a $6 case-holder for each caliber. (And some case-holders will do double or triple duty; e.g. a .308 case holder will work with .243 Win and 7-08 cases as well.) Because of this, the Wilson system is actually very price-competitive with a Forster trimmer for those who reload many calibers. Note however that off-the-shelf case-holders may not be available for wildcat calibers. While a standard 6mm BR case-holder will work fine with a 6BRX, to trim Dasher cases, you'll need a custom case-holder cut with your chambering reamer. That would add significantly to the cost of the unit. With a Forster, you can trim Dasher cases using a standard .308-size collet and 6mm pilot.
You can buy a Wilson Trimmer from Sinclair without the clamp, base or micrometer for just $31, but the system is so much more efficient with the micrometer that it's really worth the money. And with the base, you can bolt or C-clamp the unit to a bench, or secure the trimmer with a vise. The case-holder clamp isn't essential, but it does firmly secure the case in place, allowing one-handed trimming. You can add the new micrometer to any existing Wilson case trimmer for $84, Sinclair part number 05-4500.
Order from
Sinclair International
, (260) 493-1858. You can also order the Wilson basic trimmer from other sources such as Russ Haydon and Midway USA, and then add the micrometer separately. But you'll save money if you buy the whole system from Sinclair as a package. The same base unit can work with Wilson's outside neck-turner and the Wilson 30&deg or 45&deg case-mouth chamferer.