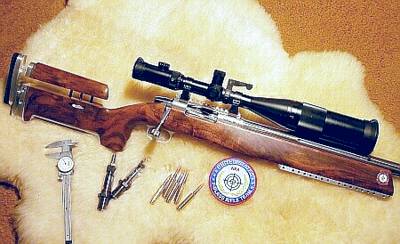 F-Class FAQ
by Team USA
What is F-Class competition?
Well, it is sort of a cross between Palma-style shooting and conventional benchrest. You shoot from the ground, like Palma, but you use a high-power scope, front rest (or bipod) and rear bag, like Benchrest. Most matches are scored by hit value like Palma, rather than group size like 1000 yd Benchrest. F-class is one of the fastest growing forms of rifle competition. Scopes allow the shooters to wring the full accuracy out of their guns at long range. Shooting from the ground allows matches to be conducted at ranges that don't have benches for long distances. Being so new, F-class rules are still evolving, but here in the United States, two classes are recognized: F-Class Open with a 10kg (22 pound) weight limit and F/TR (F-Class/Target Rifle) with is restricted to .223Rem. and .308Win. caliber rifles fired off of bipods, with a 18.15 pound weight limit or 16 pound weight limit if a front rest is used. A rear rest (sandbag or sock) is permitted if wanted.
While F-class rifles are similar in many respects to 1000-yard Benchrest guns, the way shots are fired during the course of a match is quite different. 1K Benchrest shooters can fire all their shots in a fast string with conditions remaining relatively stable. F-classers shoot in squads of two or three. After each shot, you must wait for the target to be pulled and marked. So, while a 1000-yard Benchrest guru like Bill Shehane might fire 10 shots in one minute (or less), a top F-classer might fire his ten shots in ten minutes. Consequently, wind shifts are more likely to impact F-class shooters, so you need good wind-doping skills to be competitive. While 1K BR shooters normally produce smaller groups than F-class shooters, the gap is narrowing, with "cleans" having been shot at 1000yd targets (1 MOA X-ring) in recent matches. At the recent F-Class Nationals in Camp Butner, 1/2 MOA X-rings were used at 600 yards. F-class guns and shooters are now getting so good, that there is some pressure to adopt 1/2 MOA X-rings for the 1000-yard distance also.

Learn More about
F-Class
from Team USA.
German F-class team
site. Good photos from Int'l matches.
---
F-Class Ultimate Rig
-- The Turn-Key Solution
Well, somebody finally built a race-ready F-class gun you can buy complete with top components from two of the most respected names in the business--Stolle (Kelbly's) and Robertson Composites. The stock is similar to a McMillan MBR, but with longer forend and slicker external finishing. The modified Panda action features a built-in +20 moa scope rail and an integral recoil lug. We prefer a built-in lug over a pinned-on lug, since pinned lugs cost more money and require extra smithing. Complete rifles with the new action are sold by Kelbly's and
SGY Rifles
, (817) 430-0597. Price hasn't been announced yet. 6mmBR.com plans to field-test one of these rifles very soon. Stay tuned...
---
6mm BR for F-Class -- Enough Round for 1K? You Betcha...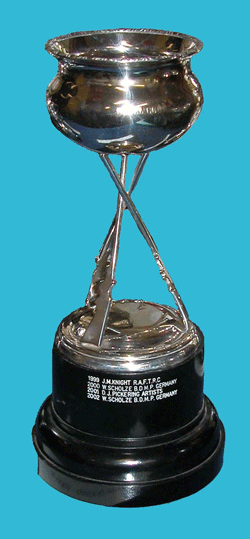 While
Larry Bartholome
, Captain of the USA F-Class team, shoots a 6.5-284 in team competition, when he's shooting a match on his own, he's just as likely to be behind a 6BR or 6BR improved rifle. Larry writes:
"The reason I shoot a 6.5 most of the time now is that we decided quite some time ago that everyone on the team would shoot the same bullets in the same velocity range to make it easier on the coaches in the World Championships. If I am shooting F-Class at 1k don't count my 6BR out. In fact it has shot the only 20x clean at 1k that I know of. The BR flat out just shoots little knots. If I had to have one caliber for all my long range shooting that would be it."
Likewise, F-Class Vice-captain Bob Crone campaigned a 6BRX for years in F-Class and it's still his first choice for club-level matches because the components are much cheaper and the light-recoiling 6mm lessens fatigue over a full weekend of shooting. Bob has shot 3" to 4" 5-shot groups at 1000 yards numerous times with his 6 BRX. He knows the cartridge has what it takes to win at long distance.
The first-ever World F-Class Championship, hosted in 2002 in Canada, was won by Germany's Wolfgang Scholze shooting a standard 6mm BR. Mr. Scholze also won the 2002 "Queen's Trophy" (photo right) for the European Championship. It's clear the little cartridge can do the job if the trigger-puller does his.