October 2005 Blog
BLOG Archives: START | Sept 2006 | Aug 2006 | July 2006 | June 2006 | May 2006 | Apr 2006 | Mar 2006 | Feb 2006 | Jan 2006 | Dec 2005 | Nov 2005 | Oct 2005 | Sept 2005 | Aug 2005 | July 2005 | June 2005 | May 2005 | Apr 2005
October 25, 2005 -- NEWS, FEATURES, and PRODUCTS
NEW CARTRIDGES--Lapua 6.5x47 UPDATE: On 10/24/05 we talked at length with Tommi Tuuri, Lapua 6.5x47 Project Engineer. Tommi says Lapua is still testing, so no final decision has been reached on primer size--large vs. small. We asked Lapua to test the new cartridge with small rifle magnum primers (e.g. CCI 450s). According to Tommi, Lapua had not tried small rifle magnum primers yet, but he agreed that was worth doing. Once again, Lapua promised 6mmBR.com a cartridge drawing with measurements, but we still haven't received anything. Tommi believes the shoulder will not exceed .459", so it seems like the body taper will be similar to the 6BR Norma.
Initial testing, in 6.5mm only, has shown best accuracy with Lapua's 100gr and 108gr Scenars. This bodes well for those planning to neck the case down to 6mm, to shoot 100-115gr bullets. We've asked for sample 6.5x47 cases, but Erkki Seikkula, Lapua's marketing director, explained that nobody in North America has an import permit for the new brass, so it may be a couple of months before he can even send over prototypes. It appears the brass will not be sold in Europe much before Christmas, and it could be February, 2006 before we see any 6.5x47 brass in the USA. Seikkula said it would take up to two months just to get import permits for U.S. distribution.
GUNSTOCKS--New "Low-Rider" Long-Range Stock: Well Richard Franklin has done it again--come out with an innovative, yet stable and sure-handling stock design for competitive shooters. Created for F-Class as well as 600-yard and 1000-yard BR duties, the new stock features a radically-undercut rear section and two-step fore-end. Working in tandem, these features lower the stock's center of gravity significantly. The stock also features milled rails on the underside of the fore-end for improved tracking. Modifying his successful "Model 8" 1000-yard stock, Richard worked out the details of the new design with input from top shooters including Alan Warner, Bob Crone, Walter Stroman and Mark Schronce.
Richard tells us: "This stock will put the bore of your rifle closer to the rest than any other stock on the market. This stock was designed at the request of many customers and match shooters. It is designed to lower the center of gravity and to reduce the effects of bullet torque in the barrel and to track exceptionally well in the bags." There are some hidden tricks too, as Richard revealed: "The rails under the forearm provide four edges to grab and steer the fore-arm straight back. It will ride flat in a bag that is slightly puffed up in the middle and will not rock to either side. The bottom of the butt stock has a cutout with a built-in 1/2" rail that lowers the butt stock 1.25" more than our model 008." The new "Low-Rider" stock is available in laminated Rutland woods for $275, straight-grained Walnut or Cherry for $375, or fancy laminated woods (P.O.R.). Click Here for more info and photos.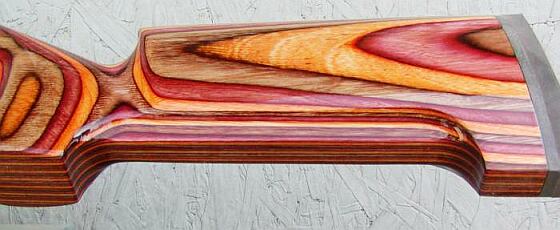 SITE NEWS--Varmint Hunters Assn. Joins Sponsor Ranks:
We'd like to welcome the Varmint Hunters' Assocation (VHA) as our newest site sponsor. On the VHA Website, VarmintHunter.org, you'll find lots of useful features, including Event Calendar, online store, shooting and safety tips, and reprints from the VHA magazine delivered to all VHA members. Here are some sample articles from the VHA Magazine:
Precision Ballistic Charts--A Critical Aid To Long-Range Shooting

Trials And Tribulations Of Making The Long Shot

Stand And Deliver: 10 Tricks... To Be A Better Coyote Hunter
6BR FACTORY AMMO--Lapua 77-grain Ammo at Graf's: We've seen quite a bit of interest lately in slow-twist 6BR rifles for short-range target shooting and varminting out to 400 yards or so. If you've got a 1:12" rig, you should try a box or two of the Lapua factory ammo, loaded with Lapua's 77gr hollow-points. This is an excellent projectile that performs on a par with many custom match bullets. And if you don't have your dies yet, you can buy a box of loaded ammo, and then use the fired brass to have custom dies fitted. The 77gr ammo has earned high praise from shooters in Australia and the USA who have tried it. This stuff should deliver quarter-MOA or better accuracy--a few shooters have even reported groups in the high ones. Grafs.com currently has 16 boxes of the 77gr ammo in stock, priced at $21.99 delivered, for a 20-round box, item # LU4316048. That's a reasonable price when you consider you're getting $10 worth of fresh brass in the bargain. Recommended twist rate is 1:13" or faster, though we've heard the bullets will stablize in some nominally 1:14" barrels. The 77s also shoot great in 8-twist barrels.
VARMINT VIDEOS--Blow-Out Sale on Coyote Hunting Tapes:
Lock, Stock and Barrel plans to update its stock of Randy Anderson Coyote Calling Videos from VHS to DVD format. So, right now you can purchase the Anderson Videos on VHS tape for just $5.99 each--less than half the normal retail price. Titles available are: Calling All Coyotes, Verminators, The Truth: Calling All Coyotes.
This is an excellent series for those who hunt the wiley predator. Most of you guys still have a VHS player around the house (or sitting under the TV), so enjoy big savings while supplies last.
OPTICS--50% Off on Sinclair Ring-Lapping Tools: Here's a great deal from Sinclair International. They've come up with a somewhat fancier version of their ring-lapping system, so the original Sinclair Lapping Tools are 50% off while supplies last. "We've made these lapping tools for over twenty years and have continually refined them as we do with all of our Sinclair products. These original lapping tools are available in 1" and 30mm steel. We've just released a new lapping tool and have these 'old style' tools to liquidate at below cost." For 1" rings, order the LAP-1, $13.75 including compound. For 30mm rings, order the LAP-3 unit, $16.40 with compound.

VARMINTERS--.204 Ruger Brass in stock at Midsouth: Since its introduction in 2004, the .204 Ruger cartridge quickly became hugely popular among varminters throughout the country. With so much demand for the new cartridge, finding good .204 Ruger brass has been difficult--it often sells out as soon as it goes on sale. However, Midsouth Shooters Supply has obtained a large quantity of Hornady-made .204 Ruger brass, item # 003-8604. The price is $17.46 for fifty (50) cases.
GUN TECH--Avoid Scope Canting with Leveling Tool: A canted scope will throw off your accuracy, particularly at long range. Here's a nice, inexpensive system that will help you align the cross-hairs on your scope. The Wheeler Engineering leveling system is now just $9.99 at MidwayUSA, discounted from $17.99 (product # 529349). It uses two magnetically-fixed bubble levels, one mounted on the action and the second mounted on the scope. The lower bubble unit bridges the bolt raceway, allowing you to level the rifle. Then rotate the scope in the rings until the top bubble is centered. It's very fast and easy.
Note, this works great on blued Remington actions, but it is not designed for stainless guns. It will work on some non-ferrous receivers with flat-lipped ports, but you may have to secure the bubble levels with tape. Here are two reviews from Midway customers: "This is an extremely easy product to use. It fit perfectly on my Remington Model 700 and lined up my crosshairs in seconds--Thomas R., Midland, TX"; "I've tried all the other crosshair leveling devices and this is the best! Fast and accurate. Have used it on seven guns and it worked on every one--Art S., Dallas, TX" Another purchaser offered a good set-up tip. He suggests you set both levels on a FLAT surface, and note where the bubble appears relative to the hash marks on the glass tubes. Also check the position of the bubble in the scope-mounted (upper) unit compared to the bubble position in the lower unit. Then, looking down from above, spin the upper unit 180° clockwise so that the left end becomes the right end. Compare the two levels again, and chose the orientation in which the upper bubble level corresponds best to the lower bubble level. Note, for further confidence in the scope-leveling process, hang a plumb line a few yards away. After the rifle is leveled, look through the scope and the vertical cross-hair should be perfectly parallel with the plumb line.
BLOG Items Wanted: Can you share a smart reloading tip, or news of a great bargain on gear? Can you give us a report from a major match? Then contribute to our 6mmBR Blog. Just email your comment or news item to Mailbox@6mmBR.com. Please keep photos under 200kb in size.
October 18, 2005 -- NEWS, FEATURES, and PRODUCTS
OPTICS--More Styles of 30mm Signature Zee Rings Coming: We love Burris Signature Zee Rings for use with Weaver rails. The polymer inserts allow the rings to hold solid without marking your scope, and you can load up to +20 MOA of elevation using +10 MOA inserts in the rear and -10 MOA inserts in the front. However, "extra high" was the only choice available for scopes with 30mm main tube. That will change in a few months. Burris will offer both "medium", and "high" as well as extra high. Burris sent this note recently to one of our users: "New for the 2006 year we will be offering a Medium and High 30mm Signature Zee ring. These fit Weaver-style bases. The models are 420587 (High, Matte), and 420588 (Medium, Matte)." Now we just wish Burris would just upgrade the cross-bolts with a Torx or hex-head. Burris are you listening?
RELOADING--Easy Method for Bullet-Coating: Reader Mike Etzel has come up with a simple, cost-effective way to apply moly or danzac coatings to your bullets. And you won't need any expensive gear other than your regular vibratory tumbler and some small plastic containers. Mike explains: "For a number of years I have been using a very convenient way of coating my projectiles with DANZAC in a tumbler. Instead of using a separate tumbler filled with DANZAC and stainless steel balls for coating applications, use small resealable plastic cake or pudding cups filled with stainless balls and DANZAC. Each cup will accommodate between 20 to 70 projectiles depending on caliber once the polishing balls and DANZAC are added. When I need to polish some cases, I insert the sealable plastic container(s) into the polishing material in the tumbler, add cases to the media, and in the process clean cases and coat the projectiles simultaneously in one tumbler. This saves on time and and resources and does two operations in one session."

BULLETS--Swift Releases New 6.5mm Scirocco Bullet: Many hunters favor Swift's Scirocco bullet because it performs great on game, combining excellent accuracy with controlled expansion. Swift recently announced the release of a new, 130-grain hunting bullet with a .265 Sectional Density. The Scirocco's claimed .571 ballistic coefficent (BC) is very impressive. For comparison, the BC of Lapua's 123gr Scenar match bullet is just .547. The new Sciroccos are shipping right now. One recent purchaser reports: "Just received my box of 100 this afternoon. The bullets look great and boy are they long! The ones I received were 1.352" long. The bullet profile reminds me of the original design for Hornady A-Maxs. Hopefully I get a chance in November to try them on deer, out of my 6.5x55 Tikka." The High-BC Scirocco, with its signature Black Tip™, should deliver better ballistics than other bullets in its weight range. With a bonded core, the Scirocco yields positive expansion (even at relatively low velocities), and retains 80+ percent of its weight upon impact. If your favorite vendor doesn't have the 6.5mm Swift 130s yet, you can order them directly from SwiftBullets.com, product 713351-76130-7.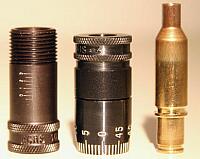 TOOL TIME--Adapting the Precision Mic for the 6BR: The RCBS Precision Mic is a handy tool. Unfortunately, RCBS doesn't make one for the 6mm BR Norma cartridge. But don't fret--6mmBR.com reader Caduceus has come up with a simple solution that allows a .308 Winchester RCBS Precision Mic to be used with 6BR brass. We like Caduceus' invention, since the Precision MIC is extremely useful for measuring headspace of your chamber and setting up full-length resizing dies for minimal shoulder bump and maximum case life. By using a 9mm case, trimmed down to an OAL of 0.511" as a spacer, Caduceus can calibrate the .308 Winchester version of the tool for the 6BR. He also describes practical use of the measurements obtained with the tool for setting up his FL-resizing dies. Click HERE for Caduceus' full report with step-by-step photos.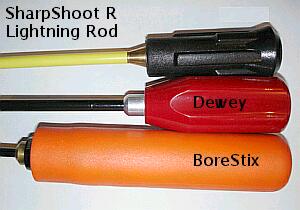 NEW PRODUCT--"Lightning" Cleaning Rods: SharpShoot-R Precision Products just released its newest product line, a set of cleaning rods that promise to be among the best on the market. The $29.99 rods come in three versions: 17-Cal (red-coated shaft), 22-Cal (blue-coated shaft), and 30-Cal (yellow-coated shaft). Available lengths are 12", 17", 24", 30", 36", and 44". With the convenient color-coding, you won't pick out the wrong cleaning rod by accident. These rods are fitted with ball bearings at BOTH ends of the handle, so they turn smoothly. Being made of high-quality spring steel, "Lightning Rods"™ will not kink or break. Terry Paul, SharpShoot-R president (and inventor of Wipe-Out™), tells us that his rods' shaft coatings are very uniform and concentric, so you won't find "thin spots" like on some other brands. The shaft coatings as well as the handles are impervious to chemicals and solvents. Unlike Tipton or BoreStix rods, the new "Lightning Rods"™ have a male tip, with a male-to-female adapter for use with male bore brushes and jags. Thread pitch is 5/40 for the 17-Cal rod, and 8/32 for the 22-Cal and 30-Cal rods. "Lightning Rods"™ have a no-fault lifetime warranty. A full line of jags, brushes, mops and patches will be available soon. Editor Jason Baney noted that the yellow 30-Cal rod works perfectly with his 6.5-284. He was pleased to report that the handle did NOT drag on his stock, unlike rods with thicker handles. Jason reports: "The mid-sized rods (6.5 to 30-Cal) are in stock now and the 17-Cal and 22-Cal rods are expected within a couple weeks. And a .338-Cal magnum rod is planned as well." Click Here for Jason's full product review, hot off the press.
GUNSMITHING--New Online CNC Machining Option: Gunsmiths--how would you like to have a few million dollars of advanced machining tools at your disposal? Well, check out eMachineShop. This new company allows you to design and order custom parts/products fabricated from a variety of materials--plastic, aluminum, steel, even wood and fiberglass. The way it works is you download FREE CAD software, and design your product. During the design phase, eMachineShop's "intelligent software" analizes the shape, material and finish to alert the user of any problems, making it easy for engineers and non-technical people to successfully design parts. When you finish your design, the software generates a 3D preview and a price quote. According to Emachineshop CEO Jim Lewis, "eMachineShop is the most cost-effective way to turn ideas into real 3D parts at both prototype and production quantities."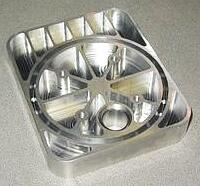 By all indications, this is the real deal, a full-fledged computerized machine shop that can handle a wide variety of jobs from large to small. You can design and produce something as simple as a bracket, or something as complex as a 3-axis milled receiver. Clients include the U.S. Army, Sandia Labs, and Yale University. A full set of production processes are offered, including CNC milling, CNC Lathe-turning, punching, blanking, laser cutting, plastic extrusion, tapping, bending, water jet cutting, and wire EDM. Surface finishes include brushing, plating, powder coating, anodizing, polishing, grinding, and more. For more info log on to eMachineShop and try out their interactive demo.
BLOG Items Wanted: Can you share a smart reloading tip, or news of a great bargain on gear? Can you give us a report from a major match? Then contribute to our 6mmBR Blog. Just email your comment or news item to Mailbox@6mmBR.com. Please keep photos under 200kb in size.
October 11, 2005 -- NEWS, FEATURES, and PRODUCTS
MATCH RESULTS--US F-Class Nationals Oct. 7-9: The 2005 F-Class Nationals at Oak Ridge, TN proved to be a tightly contested affair. In the 22-lb "Open Class" the top three shooters all shot perfect 1200s with "win, place, and show" being decided by X-Count. Match Director Rusty Nail, cnail@multipro.com, observed: "That's pretty amazing. This can be a tough range, yet three people shot for three days without dropping a point." Jeff Cochran shot a superb 1200-91X to grab the Open Class win, followed by Bret Solomon (1200-90x), and Robert Bock (1200-78X). Not far behind were John Dink (1199-81X), and 2004 Champ John Brewer (1199-77X). John told us "one little gust I felt on my face gave me that nine. But I have to hand it to Jeff. He and the whole Texas contingent shot great. Overall the wind wasn't too bad. I had 1/2 to 1.5 MOA windage most of the time. But there were little flicks that would take you out of the X-Ring." Rusty added: "As Oak Ridge goes, conditions were pretty good, though we had every kind of weather except sunshine." In Open Class, quite a few of the shooters used a 6BR or 6BR Improved for the 600-yard stages, which had a 3", half-MOA X-ring. Rusty tells us one of the 6BRX shooters had a spectacular string going at 1000 yards in calm conditions, posting 23 consecutive Xs.
In the F-TR class, shooters were limited to front bipods this year, with most guys running standard Harris units. Nonetheless, the best shooters' scores were right up there with the Open classers. Dale Carpenter topped the F-TR field with a great 1197-58X. Emil Praslick III finished second with 1185-57X. Alan Warner notes that "Emil shot irons and a sling for the 1000-yard matches. Dale actually thanked him for not using a scope!" Finishing third through fifth were Paul Phillips (1183-51X), 2004 F-TR Champ Brad Sauve (1182-42X), and John Droelle (1181-50X). Turnout for the match was excellent with 77 shooters on the line. In Team competition, the "Spindle Shooters", lead by Jeff Cochran, took the Open Class Trophy, with the USA White team (coach/captain Alan Warner) placing second. In F-TR team shooting, Great Lakes Express won for the second year in a row, followed by Gunsite Hills. We want to congratulate all those who participated in the 2005 Nationals, and give special praise to Rusty and his crew for running a fine match. We hope to have an interview with Jeff Cochran soon. Stay tuned.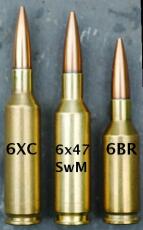 PRODUCT NEWS--Lapua Produces New 6.5x47 Lapua Cartridge: We've been working on this story a while now, hoping that Lapua would reveal specs on its new medium-sized competition cartridge. Officially dubbed the "6.5x47 Lapua", the cartridge is finally in limited production, to be unveiled this week at the Swiss 300m championship. Our Finnish friend Jari Raudaskoski visited the Lapua factory last week and he got to look at one of the new cases. Unfortunately, Lapua wouldn't let him leave with it, so we don't have case measurements yet. We talked to Lapua's engineers tonight, and this much is final--it will have a 30° shoulder with a long neck like the 6BR case. Lapua is still testing with different powders and different primers (both large and small). Get this--they are even testing a large primer pocket with small flash-hole. Initial tests suggest that accuracy is slightly better with the large primer size, though Lapua feels a small primer pocket may handle high pressures better. Capacity should be enough to drive a 6.5mm 123gr Scenar (.547 BC) to 2850 fps, though the factory velocity goal for loaded ammo with the 123-grainer is just 840m/sec (2755 fps). Necked down to 6mm, the case should be very close to a 6XC, driving a DTAC 115gr bullet to 2950+ fps. As soon as we can get the dimensions we'll publish them here. Jari reports: "I was invited to Lapua factory last Tuesday morning with Jyrki Vuorjoki. We both shot fine in Ohio, WBC8. Erkki Seikkula showed me one empty case, stamped 6,5X47. I asked him to give it to me, but if I remember correct, he said, it was first one coming from line and shot just first time in that Tuesday morning. It was not even annealed yet. So I had to give it back. [The] case was in my hand only half minute, so [I couldn't measure it]. But it surely looks interesting." The photo is for comparison purposes only, showing the RUAG 6x47. This is NOT the new Lapua round, but it should be very similar--maybe with a little less body taper.
CLEANING PRODUCTS--Montana X-treme 50BMG: Gun Test Magazine named Montana X-treme's 50 BMG solvent as the "Best-working cleaner" in their recent bore-cleaner tests. Other tested products included Sweet's, Shooter's Choice, Accubore, Tetra and Sports Care. Montana X-treme's 50 BMG received a four star rating from Gun Test Magazine and was found to be the only solvent tested which "completely cleaned" the old Model 70 test rifle. We aren't surprised at these results. Some of the nation's top long-distance shooters swear by 50 BMG. Bill Shehane, 2004 1000-yard Shooter of the Year told us "It's the best copper cleaner that I've ever tried. The older I get the less I like to clean and the more I like to shoot. I want something I can break-in barrels with quickly and maintain them in copper free / carbon free condition after lots of powder and long heavy bullets lay the fouling to it. I have used them all and they all work to get the job done. Some better than others and some faster than others. But none as fast as Montana Extreme 50 BMG. I use a Hawkeye [bore-scope] and see no need in leaving the solvent in over night on the nastiest barrels. I have never had one that two trips with the 50 BMG didn't do the job and most never take over one trip. Even when breaking in barrels, one treatment is usually enough. I know they say [50 BMG] has oil in it but I ALWAYS follow with 1 patch of Montana Extreme oil." When using 50 BMG, you'll want to keep the cap on--the formula can lose some of its effectiveness if left open. While you should patch the 50 BMG out after use, prolonged contact with the barrel does not appear to be harmful. Rich DeSimone wrote: "Since I have been using Montana Extreme products (and I love the 50 BMG) I do not even use a brass bore brush. On occasion, I use one of Danny Huffman's nylon bristle brushes. I constantly leave 50 BMG in my bore for days. Normally I run a couple of patches with 50 BMG thru my bore after a match and take the rifle home whereupon it sits in my cleaning cradle until I get the chance to finish cleaning it."
HUNTING--Barnes offers FREE DVD on bullet peformance: "Choosing the Right Bullet" is a new instructional DVD created especially for hunters. The DVD graphically illustrates how different bullets perform on game. Shooting tests compare Barnes' Triple-Shock accuracy, penetration and weight retention with that of other premium hunting bullets. Click Here to order your free DVD. This will provide some interesting insights, particularly for hunters interested in the real world performance of various bullet designs on game.
Shooting Chrony Gamma Master on Sale: MidwayUSA has discounted Shooting Chrony's top of the line chronograph, the Gamma Master, down to $169.99 this week, a $28.00 savings over normal retail. This unit (product # 331656) includes a remote read-out unit and a battery-powered printer. The Shooting Chronys are very compact, with the display unit fitting inside the hinged body for transport and storage. We've found Shooting Chrony products to be very serviceable and handy, quick to set-up and take-down. They work best with cloudy or overcast skies. The Gamma Master features a 500-shot memory (divided into 50 numbered strings of 2 to 10 shots each). We wish the controls were a bit more user-friendly--it is hard to remember the button-pushing sequence to clear memory, for example, and we wish there was a simpler "forget" function to eliminate a bad reading. However, if you bring the manual to the range with you, you'll quickly learn how to use all the important features.
<;;b>LEGISLATION--CA Exempts Single Shot Handguns: Good news for Encore, Contender, and XP100 fans in the Golden State. Gov. Arnold signed SB 269, a bill to exempt Encores, Contenders, and boltguns like the Striker from the infamous "Handgun Safety Test". Previously most single action revolvers were exempt (thank to the Cowboy Action folks), but bolt-action, falling block, and break-open handguns were subject to costly certification procedures which effectively barred sale of these guns in the state. SB 269, which goes into effect January 1, 2006, will exempt single-shot pistols with a barrel length of not less than 3 inches and which have an overall length of at least 7.5 inches when the handle, frame or receiver, and barrel are assembled. At least this is a step in the right direction.
BARGAIN BIN--Surplus IMR 4895 at Wideners: Widener's Reloading has more IMR4895 pull-down powder in stock (product #SMP4895), at just $79.00 for an 8-lb keg. This is an excellent powder for the 6BR cartridge for bullets from 80-107 grains. Use commercial IMR 4895 data, but we suggest backing off one full grain to start. You should find loads similar to Varget work well. Since this is pull-down powder, we recommend sifting for best results. While it may not be up to benchrest standards, this would be an excellent choice for fire-forming loads and varmint rounds.
BLOG Items Wanted: Can you share a smart reloading tip, or news of a great bargain on gear? Can you give us a report from a major match? Then contribute to our 6mmBR Blog. Just email your comment or news item to Mailbox@6mmBR.com. Please keep photos under 200kb in size.
October 4, 2005
MATCH NEWS--US F-Class Nationals Oct. 7-9 in Tennessee: The 2005 F-Class Nationals will be held at Oak Ridge, TN on Oct. 7, 8, & 9, at the Oak Ridge Sportsman's Association Range. This will be conducted as an NRA-sanctioned Match in association with the U.S. F-Class Team. In the United States, F-Class matches normally feature two classes, the 22-lb Open Class, and the F-TR class, limited to .223 and .308 Win, with an 18.15-lb weight limit. 600-yard matches are conducted Friday, with 1000-yard matches Saturday and Sunday. Click here for the Match Info Sheet and Schedule. As of October 4th, there were a couple cancellations, so there might be a chance for a few late entrants to secure a spot before Friday. Cost is $150 per entrant ($75 for Juniors). To learn more about the match, or to request a late entry, email Rusty at cnail@multipro.com. For more information on F-Class shooting, log on to USFClass.com.
MATCH RESULTS--NBRSA 100/200 Nationals: One of the biggest "point-blank" benchrest matches of the year concluded just recently. Legendary Tony Boyer led the field of 200 competitors by capturing the 2-Gun, 3-Gun, and 4-Gun titles. Let there be no doubt, Tony is still the "King of benchrest." Other first place winners by category included Joe Krupa (HV Grand .1846; HV 200, .1650; and 2nd place in 4-Gun), Larry Scharnhorst (HV 100, .1868), Dennis Tinkham (LV Grand, .2087; and 2nd place in LV 200), Michael Gamble (LV 200, .1885), and Butch Fjoser (LV 100, .1772). Click Here for full results. We want to thank user CAROBY for posting these results. Congratulations to all those who participated.
NEW PRODUCT--Stainless Viper Action: The rumors were true--the stainless steel Viper is a reality. Designed for 1000-yard and F-Class rifles shooting 6.5-284 and 30-caliber cartridges, the new action features a built-in +20 MOA scope rail, plus an integral recoil lug in the front of the action. Jerry says there are a few Right Bolt, Left Port actions with .308 boltface in stock so you can get one right now if you act quickly. Price is $1300--steep but consider that you're saving the cost of a tapered rail and lug. Right Bolt, Right Port models should be available around the first of the year.
METAL MAGIC--Amazing Home-Built Custom Rests: Belgian Danny Geuens sent us these shots of his home-built front bench rests. Massive, and machined with the precision of a Swiss watch, these are remarkable examples of craftsmanship. Shows you what a man with a good lathe and some ingenuity can accomplish. Well done, Danny! The rests are milled from RVS steel, with contrasting bronze components. Weight for the larger rest (with plate) is around 30kg. Danny doesn't sell these commercially, he just crafts them for himself and a few friends at his local club. To learn more about Danny's rests, email us and we'll forward your message to Danny.
SHOOTING STRATEGIES--Bullet Diameter and Distance: Rich DeSimone provided this interesting report, that highlights the benefits of shooting a large diameter bullet: "On Saturday. I went to a non-registered 300-yard 'one for five shot hunter target' fun match at the Watauga Gun Club up in the mountains of NC. We just shot one target which consists of six bullseyes with one being a sighter. My problem was that I could not see my hits with a 24X scope and the mirage. My spotter got me in the middle of the sighter using 80gr Fowler bullets from the 644 Super. Then a breeze started moving me off the record bulls. Had I been able to see hits, I could have held off. When I got home and measured what would have been my group size, it was 1.5" (all shots drifted out to 3:00) With an 1.5" ten ring, I could have shot a 50 and contended for a win with the other three guys who shot 50. In these conditions, .30 cal. holes could be seen but the 6's were tricky So...I'm thinking a 30 BR might be the ticket for next year." [Editor's note--the same goes for 500m and 600-yard matches--being able to see hits is a big advantage. Read this article by Jason Baney on his 500m Groundhog Match win.]

MINI-REVIEW--Zeiss Diavari 8-24 Side Focus: Rust reports: "I got to check out a couple of scopes the other day including the 30mm Zeiss Diavari 6-24x56T with centimeter turrets and side parallax adjust-ment. The reticle was a second focal plane Mil-dot, looked to be a laser-etched glass. Good eye relief throughout the zoom range was the first thing I noticed. The second thing was the optics. The field of view filled the entire ocular zone and it was edge to edge, sharp and color correct. I can't over-state just how nice the glass was. Clicks on the turrets were positive and not overly stiff. The Zeiss had a fair amount of diopter adjustment but still not enough for me to take my glasses off, but then I've never seen a scope that did. Price was about $1400 retail and if I was in the market for a top quality 6-24 it would make the short list based on the glass alone. The Zeiss appears to be a lot of scope for the money even at that price.
The Zeiss Diavari was sharp and clear as anything I've ever seen. Good solid feel to it. And the way the image filled the ocular wall to wall was just plain sweet. I think I could live with cm clicks with that scope. I do not recall seeing anything quite like the Zeiss previously and I have recently looked at the 3.5-17X US Optics (could be off on the power of the scope) with a Horus reticle, the new Leupold 4.5-14X M1 (very nice glass, outstanding feel to the knobs and if they took care of the parallax adjustment it would be a real winner), a Swarovski 6-24 and a bunch of other stuff. Nothing comes close to the image projected by the Zeiss. Haven't seen the new 5-25x56 Schmidt & Bender though." Editor's note: The Zeiss is available with a variety of reticles. Currently the elevation is limited to 0.5 cm adjustments, but there are rumors a 1/4-MOA version is on its way. The Zeiss offers 57.6" of elevation, the scope body is anodized and scratch-resistant, and Zeiss claims the 28.4 ounce 6-24x56 Diavari is waterproof, shockproof, and fogproof. While the basic model has great twilight performance, an illuminated reticle version is offered for about $300 more.
GUN TECH--Mastin F-Class Stock Update: After our initial report about the new Mastin F-Class stocks, we had requests for another photo with a Barnard action installed in the built-in V-Block. Thanks to Aussie Bob, here's his handsome new 30BR. He tells us he'll shoot it for the first time this week. Note how the underside of the buttstock and the fore-end are perfectly parallel. Also, the forearm has been thinned in the vertical plane for a lower center of gravity on the bags.
BARGAIN BIN--Wipe-Out Brushless Bore Cleaner on Sale: We use this stuff for all our rifles and it works great. At the recent NBRSA Nationals we saw plenty of Wipe-Out in the range kits of big-name shooters. If you've had trouble locating Wipe-Out at your local store, MidSouth Shooters Supply has it on sale for just $9.97 for a 5 oz. can, item 216-WOA510. One can will probably get you through a season, and it will save you countless hours of labor time. Normally we leave Wipe-Out in the bore for 3-5 hours, but you can reduce dwell time by using Wipe-Out Accelerator. Here are two comments from Wipe-Out users, as posted on the MidwayUSA website: "I just received my new borescope and have been looking in all of my firearms' barrels. I know for a fact that this product is the only one I have tried that completely removes copper from a barrel. A plus is that it does it with so little effort. Especially effective on older rifles that have copper fouling in a pitted bore.--G. Curtis." "Best product EVER for really nasty bores. Used it on a 90 yr old Mauser. Two applications and what looked like a worn-out bore was pristine. Friend used it on a really worn Enfield -- same thing. Thought at first it was overpriced...WRONG! Does twice the work of any cleaner I've used and with much less work. For really bad bores, just spray it in and leave it overnight.--Gun Runner".
BLOG Items Wanted: Can you share a smart reloading tip, or news of a great bargain on gear? Can you give us a report from a major match? Then contribute to our 6mmBR Blog. Just email your comment or news item to Mailbox@6mmBR.com. Please keep photos under 200kb in size.
Copyright © 2005-2006 AccurateShooter.com | 6mmBR.com, All Rights Reserved.
No reproduction without advanced permission in writing.