June 22, 2006 BLOG
NEWS, FEATURES, PRODUCTS, and RELOADING TIPS. BLOG ARCHIVE.
COMPETITION--22BR Sets Pending 600-yard Sub-Inch NBRSA Record: Another shooter has broken the inch mark at 600 yards. Jan Sarras reports: "Last weekend at the Palomino Valley (NV) Gun Club Range, Mark Ronchetti posted a .9775" five-shot group at 600. This was a NBRSA Registered match. Mark was shooting a 10.5-pound 22BR rifle. Conditions were excellent in the third match and Mark nailed it. The targets are being sent in for record submission."
CARTRIDGE UPDATE--Lapua 6.5x47 Brass Is Shipping: Folks, it's finally here. Grafs.com started shipping 6.5x47 Lapua brass this week, filling back-orders. The first 500 boxes (50,000 pieces) are nearly sold out, but another 500 boxes should be arriving by the end of July. If you've been hesitating, order soon--product # LU4PH6010.
Initial tests by Darrell Jones, using production brass air-shipped from Europe, have shown the 6.5x47 can drive a 123gr Scenar well past 3100 fps with Reloader 15, and close to 3000 fps with H4350. The 120 Nosler showed great accuracy at very high velocities, (too fast to print), but that was tough on brass. Darrell tried some Berger 140s, and easily drove them, as we predicted, well past 2850 fps with Vihtavuori N550, a high-energy double-base powder. Darrell feels 2880 is "very doable" with the 139s/140s in a 28" barrel. This means the 6.5x47 offers performance nearly identical with a Remington .260, with 10% less powder. The shorter cartridge will also mag-feed from a Rem 700 short action even with VLDs seated to engage the rifling. And Berger tells us they are currently working on three new 6.5mm bullets: a 108 FB, a 120 BT, and a 130 VLD. All three should be ideal for the 6.5x47 case, and the 130 should have a very impressive BC, perhaps as high as 0.60. But please don't call Berger yet--all these bullets are prototypes and production is months away.
VARMINT NEWS--Lapua Tactical 20 Brass On Sale Now: Our sources at Dakota Arms report that Lapua-brand 20 Tactical brass is IN STOCK and available from Dakota Arms. Current pricing is $0.60 each, or $0.54 per piece for 100 or more, or $0.50 each for 1000 or more. Brass is shipped in poly bags. To order, contact, Paulette Kok, Dakota Sales Manager, 605-347-4686 ext 301. To learn more about the Tactical 20 cartridge, go to our 20-Caliber Cartridge Guide. This round nearly matches the Ruger .204 in velocity, with a more compact design.
BENCHREST--Wild Scott/Scoville Barrel-Block Guns Appear: Two radical new short-range benchrest rigs made their debut at the Kelbly Super Shoot last month. Created by Dwight Scott and Bob Scoville, the guns feature asymetrical, off-set stocks with free-floated actions. The barreled action is secured by twin clamping rings positioned right ahead of the action. This mounting system should provide greater barrel rigidity, while the offset stock reduces the effect of torque on the gun. Though the new Scott/Scoville designs break new ground in many ways, they performed extremely well in competition. Two prototypes, piloted by Bob Scoville and Jerry Simison at the Super Shoot, took 3rd in HV 200 yds, 11th in HV Grand, and ranked 13th and 18th in the Two-Gun. They beat the vast majority of "normal" BR rigs at the Super Shoot.
| | |
| --- | --- |
| | |
Bob Scoville reports: "The goal of the project was to create a shooter-friendly stock for top-level competition. Unlike conventional glue-in stocks, no inletting, bedding, glue-in, or custom fitting is required. However, it is recommended that barrels be turned down to a 30 mm cylinder at the threaded end to facilitate easy barrel and action changes. Set up as a Light Varmint, the stocks weighed 24 oz. By removing the LV section (at the rear) and replacing it with the Heavy Varmint sub-assembly, the weight of the rifle is increased by 2.5 lbs. Four screws attach the stock to the barrel and action. Barrel changes can be easily accomplished when the stock is removed. To counteract the torque of the bullet, the barrel and action were moved 0.25 inches off centerline. Dwight did the metal work and I constructed the stocks. Two different designs were used. The gun pictured is the one I shot. The barrel blocks in both guns function about the same. Jerry's is more self-contained and attaches to the stock with four pillars. The pictured rifle has the v-block built into the internal structure of the stock and requires a little more work when changing to a different length action."
MINI-REVIEW--New Kelbly Match Trigger: German Salazar of ShootersJournal.com, reports: "I received one of Kelbly's new triggers a few weeks ago and installed it on my 6BR Remington 40X. Installation was normal for any Remington pattern trigger and it fit perfectly. However, the stock (previously inletted for a Jewell trigger), required a slight amount of material removal at the front of the trigger slot as the Kelbly trigger is a bit longer than a Jewell. Construction of the Kelbly is very robust. It appears to be machined from a solid bar of steel rather than being two end plates screwed together. Perhaps the trigger's best feature, however, is very wide range of pull-weight available with no changing of springs or other parts. As delivered it was set for approximately 1.5 oz. and broke very cleanly at that weight. Since my application is 300 Meter prone shooting, I raised it to 6 oz. This required moving a pin under the sear bar to the second of four holes and slightly tweaking the weight of pull screw. Compared to other triggers, it was a joy to work with this arrangement and took just a couple of minutes. All adjustments (weight of pull, over-travel, and sear engagement) are made with set screws and their effect on the internal parts can be seen through windows cut into the trigger body. This makes trigger tuning more precise. On the downside, the barreled action must be removed from the stock to perform the adjustments (unless you use a trigger hanger), but that's a small price to pay for the overall quality and ease of adjustment. At my current setting of 6 oz. and no over-travel, the trigger breaks like ice. I couldn't ask for more. Kudos to the good folks at Kelbly's--they have another winner here."


FIELD TEST--Baney Reports Big-Time 6BR Velocity Gain with Reloader 15: Jason Baney has been using Varget in his new Stiller Diamondback-actioned 6BR. That rifle has demonstrated impressive accuracy, winning 3 out of 4 Varmint matches entered, but we were a bit puzzled about the velocity, which was maxed at about 2870 with Varget and 105gr Scenars (28" Broughton barrel). Jason recently tried some of Alliant's Reloader 15, and, to his surprise, he achieved 2940+ fps with his "starter load". Working up in .2 grain increments, he was able to gain a solid 100 fps over his "Max" Varget load, as measured with an Oehler 35p chronograph. Granted, Jason may have had a particularly slow lot of Varget, but the velocity gain with RL15 was quite dramatic. If your 6BR has a case of the "slows", try some RL15. We suggest a starting load of 29.7gr RL 15 with the 105s or 107s. Work up in .3 grain intervals, then fine-tune with .1 grain intervals when near Max.
BORE CLEANERS--KG12 now available from EABCO.com: In last month's BLOG we reported on field tests conducted by The Rifle Store, in the UK. These tests measured the amount of copper removed from a 210gr bullet with 24 hours of solvent exposure. A number of foam cleaners ranked near the top. However, the #1 copper solvent, based on the amount of copper removed, was KG Industries' KG12 Big Bore Cleaner. Many readers asked where KG12 could be purchased, since most of the "big name" vendors don't carry it yet. Eben Brown obviously knows a good product when he sees it--his company, Eabco.com, now stocks KB12. Click this link, KB12.pdf, to download a photo-illustrated summary of the copper solvent tests.
COMPETITION--NRA Nat'l Championships Start July 10: The NRA will conduct its annual National Rifle and Pistol Championships at Camp Perry, near Port Clinton, Ohio, from July 10 to August 14. The event is divided into five phases: pistol, smallbore 3-Position, smallbore prone, high power and long range. The matches are unique in that ordinary club shooters may compete on the same firing line as some of America's finest marksmen, including former Olympians. Click Here for more information and a complete schedule of events.
NEW PRODUCT--Sinclair Deluxe Rear Bags by Protektor: These custom bags are built especially for Sinclair by Protektor. Each rear bag features a bottom comprised of 3-layers of stiff leather with an integral doughnut. The design dramatically reduces rocking movement. Sidewalls have stiffer leather than most bags, which prevents "rounding" of the bag. Bunny Ear models have "v-style" ears and are a great choice for those with cheek pieces or thinner rear stock profiles. Mid-Ear models have ears slightly taller than bunny ears for additional support and have two rows of stitching between the ears for the larger stocks." Price is $61.00. In the photo, the Mid-Ear model is "Bag41", and the Bunny Ear version is "Bag42".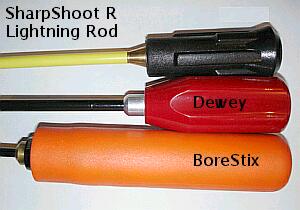 TECH TALK--Bore Cleaning Rods: We are often asked "what is the best cleaning rod?" There's no definitive answer to that question. Most of the one-piece bearing-handle rods on the market are pretty good. Some people have strong preferences for a coated rod vs. a "naked" rod or vice-versa. If your stock has a raised comb, you may need a rod with a thinner handle. Price is also a factor. Our editors own and use Deweys, Bore-Stix, Tiltons, and the new coated "Lightning Rod" by SharpShoot-R (the Wipe-Out guys). One of our Forum members, DMS, offered this advice, which we think is worth sharing: "There are a few things that may be more important than what brand of rod you choose. 1. Use a good quality rod guide. One that is made for the specific action and caliber. The universal one-size-fits-all units won't hold the rod centered in the bore. 2. Don't run your patches so tight. A patch is used to wet the bore or dry it. It doesn't have to be very tight. By having to push hard on the rod you will flex it making it contact the rifling and producing undue wear. 3. Take care of any cleaning rod. Store it in a case (PVC tube works great and is cheap) to keep it clean and prevent it from warping. Wipe it down to prevent dirt/grit from embedding on it. Consider this--I saw a guy at the range Sat breaking in a new barrel. Between shots he would lay the cleaning rod on the ground under the bench and run it thru the bore without wiping it down and without using a bore guide at all. He probably did more harm to a $450 barrel than if he never cleaned it."
Noted Gunsmith Dwight Scott also advocates having a very tight-fitting bore guide so the cleaning rod does not touch the bore in the critical throat area: "An awful lot of people think that so long as they use any old bore guide they can't hurt their barrel. Not so. They'll arc their arm when cleaning, and that will cause the rod to bend. A lot of people wear out their barrel in the critical area of the throat by improper use of their cleaning rod. I think bowing of the cleaning rod is one of the biggest problems I see. If you can get a patch through your bore guide, it means that the rod can touch the lands and throat which can cause damage. If you have a tighter-fitting cleaning rod bore guide, it is much more difficult to make this common mistake. I use custom-fitted rod guides and that's why I don't see much throat erosion (from abrasion). Over both of my cleaning rods I have a 13"-long stainless sleeve over the rod that runs inside the bore guide with just about .001" clearance. T.K. Nollan makes something similar, the "Barrel Saver". The Lucas bore guide is similar but the tight section is only 4" long."
BULLETS--105gr Amax on Sale: Through 6/30/06, MidwayUSA.com has Hornady 105gr A-Max 6mm bullets on sale. These are high-quality match bullets that also work great for long-range varminting because of the plastic tip. This creates more expansion and energy transfer than typical BTHP bullets. Sale price is just $13.49 per 100, plus shipping. Ask for Midway product number 491048. Note we recommend an 8-twist for this bullet in a 6BR, or a 9-twist or faster in a .243 or 6mm Remington.
RELOADING--New RCBS Hand Primer Tool: RCBS's new hand-priming tool boasts some very impressive upgrades. The tool now shares the Universal Shell-holder we liked so much in the RCBS APS (strip-priming) hand tool. An opposed set of spring-loaded jaws allows you to prime nearly all sizes of cases, without the need for conventional shell-holders. This makes the tool faster and more convenient if you load a variety of calibers. The new unit also shares its ergonomic grip (with plenty of leverage) with the APS model. A redesigned primer tray accommodates all brands of primer packages--you can easily load 100 primers at a time without worrying about spills. A unique Primer Safety Gate shields the primer being inserted from the remaining primers in the tray. That's an important safety feature. The new Universal Priming Tool retails for about $41.00, RCBS product number 90201.


BLOG Items Wanted: Can you share a smart reloading tip, or news of a great bargain on gear? Can you give us a report from a major match? Then contribute to our 6mmBR Blog. Just email your comment or news item to Mailbox@6mmBR.com. Please keep photos under 200kb in size.