June 2005 Blog
BLOG Archives: START | Sept 2006 | Aug 2006 | July 2006 | June 2006 | May 2006 | Apr 2006 | Mar 2006 | Feb 2006 | Jan 2006 | Dec 2005 | Nov 2005 | Oct 2005 | Sept 2005 | Aug 2005 | July 2005 | June 2005 | May 2005 | Apr 2005
June 25, 2005 -- NEWS, FEATURES, PRODUCT HIGHLIGHTS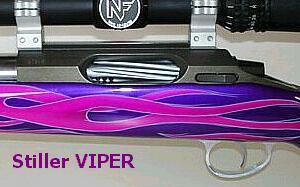 DISCOUNT PROMOTION--Save $30 on Stiller Actions with our Dollar Doubler!
Ask any top smith and he'll tell you Jerry Stiller makes some of the best custom actions in the world. And nobody but Stiller makes a Drop-Port. As an exclusive offer for 6mmBR.com readers, Stiller Precision is offering ten (10) discount certificates for Stiller Viper, Python, or Diamondback Actions. For $15, paid to 6mmBR.com, you will get a one-time-use certificate good for $30.00 off the retail price of a Stiller Viper, Python, or Diamondback. Think of it this way, you help support 6mmBR.com, and DOUBLE your money in the process! Current retail prices are $900 for a standard Viper, $950 for a Viper Drop-Port, $1000 for a Python, and $1000 for a Diamondback (all prices include Stiller Rings and trigger guard). With the certificate you will get $30.00 off these prices for one (1) action. NOTE: This offer is limited to the first ten (10) readers who respond and send payment. Act now and contact us at MailBox@6mmBR.com to secure your place in line. We will provide payment details to you via email. You will be mailed your certificate after we receive payment via check or Pay-Pal. Please do not just use the "donation" button on this page as we need your postal mailing address. Offer expires August 15th, or as soon as all ten certificates are sold.
DONATIONS and READER SUPPORT: You may not realize it, but this site is an all-volunteer effort. Nobody gets paid. Your Editor/Moderator foots all the bills, along with working 30+ hours a week on the site. So, in order to grow the site, we need your support, and we especially need your help convincing commercial vendors to do their fair share. Our thanks go to those who made donations this month: Scott D., Mike E., Phil E., Nicholas F., Bruce G., Glenn H., Tom J., John T, and Mike Lucas. Those nine guys made it possible for the site to serve over 1,400 visitors a day.
All donations, large or small, are welcome and important. With our PayPal system, there's no minimum amount. Ask yourself what a movie ticket costs these days, or a pint in a pub. If you've sold something in our classifieds, remember what made that possible. But most importantly, here's our request--when you place an order with a gear vendor like Bruno's, MidwayUSA, or Graf's, mention this site and suggest that they lend their support. Or send them an email. Many companies, large and small, get tons of publicity through this site. It's important that they know you hear about their products through 6mmBR.com. This will benefit your pocketbook as well, because it helps us arrange special discounts for 6mmBR.com users, like the "Dollar Doubler" deal we are offering with Stiller Precision.
RELOADING TIP--Better View for Balance-Beam Scale Users: Even in today's digital age, many reloaders prefer the simplicity and reliabilty of a balance scale for weighing powder charges. LTRDavid has come up with a clever upgrade to an O'Haus-type scale that makes the weighing process easier for those of us with old eyeballs. He's simply mounted a magnifying glass in front of the balance marker, using two clamps. Pretty ingenious wouldn't you say? We wonder why the scale-makers didn't offer a small magnifier as a factory option long ago. For more smart reloading tips, check out David's website, LTRDavid.net.
CARTRIDGE DESIGN--Cheechako's 6mm Super-Dasher: As good as the BRX, Dasher and other 6BR Improved designs are, many shooters would like an enhanced-capacity 6BR that retains a long neck. Many feel a long neck helps accuracy, and it certainly give more flexibility in seating bullets and allows you to "chase the lands" as the throat wears. Cheechako, one of our readers, invented such a cartridge a few years back. He calls this Super-Dasher the "Prancer" (get it?).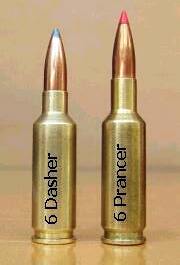 Cheechako tells us: "I 'designed' this cartridge about 4 years ago for the exact same reasons talked about above [greater case capacity than 6BR, more neck length]. It uses the old Rem Basic BR Brass with the small primer pocket. You push the shoulder back with several dies, trim, and fire-form. I would say the Rem brass is maybe not quite as good as the Lapua but it is a lot better than a lot of guys give it credit for. I shot the Sierra 107 SMK and the Berger 105 VLD. Loads were not much different than what are used in the Dasher--I think I may have gone about one grain higher because I was able to seat the bullets way out, gaining a little more capacity. Bottom line was that I was able to get similar velocities with a little less pressure and about the same accuracy. Do I still use it? No. IMHO the 6BR is a great 600-yard cartridge without any changes. Again IMHO when you get out to 1000 yards the small 6mm cartridges such as the BR and its improved versions can only compete with the mid-size cases such as the 6XC, 6x250, 6 HLS, etc. by really pounding the brass. So why try and make a great 600-yard cartridge into a 1000-yard cartridge? This is especially true now that the 115 DTAC is proving to be a good bullet. You simply need more powder and a 45 to 50 grain H2O case is about right." We think Cheechako may be underestimating the potential of his cartridge design. We'd like to see a commercial version of Cheechako's Prancer case. Hey Lapua engineers, are you reading this?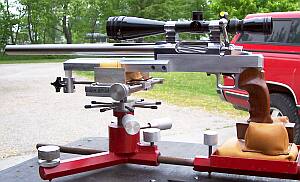 GUNTECH--6BR Pistol on 'Cub' Action: Cayle Davis sent us this picture of his latest ultra-accurate pistol project, a 6BR with 18" barrel and Kelbly "Cub" action fitted to one of Cayle's all-aluminum custom stocks. Cayle writes: "I'm still working on the load development but so far all is well. Had a little trouble with the scope and had to change it but we're getting there. Love these tack-driving pistols...." Another one of Cayle's custom pistols, a XP100-actioned 22BR, was a featured Gun of the Week.
OPTICS--Super Discounts on Sightron II Scopes: If you're looking for a compact, low-to-medium power scope for a "walking-around" varminter or a hunting rifle, Lock, Stock & Barrel is running a "Close-out" Sale right now on Sightrons. Sightron's SII 3.5-10x42 scope (Item #103109), is just $199.95, marked down from $312.95, while the SII 2.5-7x32 scope (Item #100238) is just $179.95, discounted from $233.95. And LockStock.com is even offering FREE shipping for these scopes. These scopes have sharp lenses, 1/4-moa clicks, good controls, stable tracking, and a life-time warranty. Hunters will love the SII Sightrons' constant eye relief, so you can zoom the scope without having to adjust position on the stock. These are solid, "no-frills" hunting scopes at very attractive prices. NOTE: These scopes do NOT have an adjustable objective.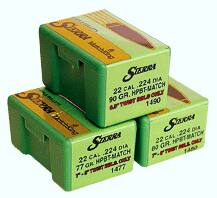 NEW BULLET--Sierra 22-CAL 90gr Match-King:
Sinclair Int'l is now shipping orders for the new 90gr Sierra MatchKing HP VLD bullet. Long-Range shooters' requests for a heavier 22-caliber match bullet resulted in this new SMK. Designed specifically for the .223 Rem, the new 90-grain MK works equally well in a 22BR or 22 Dasher. Sierra lists the ballistic coefficient as .504 @ 2200 fps and above, and .511 between 1900 and 2200 fps. Required twist is 1:6.5" or faster. Designed for single-loading use only, the 90gr SMK will not mag-feed from an AR-15-style magazine. The new 90s come in boxes of 50 or 500. Sinclair's price is $12.75 per fifty.
SITE NEWS--Bob Blaine Joins Team as .243 Cartridge Editor: 6mmBR.com welcomes Bob Blaine, who will be helping out with information on the .243 Winchester and .243 Ackley Improved calibers. Bob has decades of experience with these calibers, and, as an employee of Sinclair International, he is privy to the "inside scoop" on the bullets, propellants and reloading components. As the new 243 "Guru", Bob can answer 243-related questions in the Message Board, and he'll be working on a new 243/243 AI Cartridge Guide.
CALIBER GURUS/EDITORS Wanted: At the request of both readers and potential sponsors, 6mmBR.com will be adding new calibers to our set of "Cartridge Guides" (currently 6BR, 6BR Improved, 22BR, 30BR, 6XC). We are seeking folks who would like to be a "Caliber Editor" in charge of a particular Cartridge Guide. Calibers we hope to add include .204 Ruger, 22 PPC, 6 PPC, .243 Win/.243 AI, 6.5-284, and .308 Winchester. As "Caliber Editor", your task would be to collect basic cartridge information, load data, and provide some photos of the round. Our Editors qualify for substantial discounts on reloading tools and components. Want to be a Caliber Guru? Then email us at Mailbox@6mmBR.com, stating the caliber in which you're interested.
June 17, 2005
GUNSMITHING--Benefits of Bushing Your Firing Pin: Shooters who are converting factory actions to run 6BRs or 6PPCs should consider having the firing pin bushed. These small-cased cartridges like to run at pretty high pressures. When running stout loads, you can get cratering caused by primer flow around the firing pin hole in the bolt face. The reason is a little complicated, but basically the larger the hole, the less hydraulic pressure is required to crater the primer. A limited amount of cratering is normally not a big issue, but you can reduce the problem significantly by having a smith fit a bushing in the firing pin hole. In addition to reduced cratering, the bushing job often produces more consistent ignition. Greg Tannel (Gre-Tan Rifles) is an expert at this procedure, and his turnaround time is fast--usually 2-3 days (shop time). Current price for a bushing job, which includes turning the firing pin to .062", is $40 plus shipping. That price goes up to $50 on July 1st. Get your bolt in by the end of the month to get the $40 price.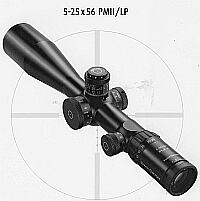 OPTICS--New Schmidt Bender 5-25x56--Best Long-Range Scope Ever?: Schmidt & Bender scopes have long been the benchmark for optical excellence and rugged durability. Until now they've been a little short on magnification for long-range target shooting. That's changed with the introduction of the new 5-25X56 PMII. Built with a fat 34mm tube, this new scope promises unrivaled optical clarity and resolution. The big NightForce scopes still rule in the 32-42x category, but we expect the new S&B to be a world-beater in the 25x class. Thanks to Klenchblaize in the UK for telling us about the new S&B. It will be pricey--probably in the $2400+ range. We plan to test the scope as soon as it's available.
NEW BULLET--High-BC Flat-Base 105 from Ed Watson: Gunsmith Rick Beginski reports very promising results from a new 6mm 105gr flat-based bullet produced by custom bullet-maker Ed Watson. Accuracy has been outstanding and the Ballistic Coefficent is reported to be around .410, comparable to a 90gr boat-tail bullet. Left to right in the photo are the new 105 Watson, 105 Berger, 107 Sierra and lastly the DTAC 115. The Watson bullets come 80 to a box and the label says they are made in Rorschach dies. Ed Watson is hard to reach--no website or email, but we have this number in Greenville, SC: (864) 244-7948.
PRACTICE TIP--Virtual Benchrest Simulation: Want to hone your shooting skills, but can't get to the range? Try the Virtual Shooter benchrest simulation, offered by our friends at Benchrest-Russia.com. It's a Java application that runs within your browser (in English). It challenges you to deal with changing wind velocities and angles in real time. Use your mouse to move the cross-hairs. After a shot you'll see the sight picture move up with "recoil". Just use the mouse again to recenter the reticle. A timer is running like in a real match, and you get a set of sighters before shooting for record. Watch that wind direction!. Link: Virtual Benchrest.
CLEANING PROCEDURES--Use of Bronze Brushes: There's been some debate in our message board about the advisability of running a brush both ways through a bore. We won't settle the debate, but here's what one respected smith, Greg Tannel, has to say. Greg has used a bore-scope to inspect barrels which have been "short-stroked" with bronze brushes. He tells us "Reversing a bronze brush while it's inside the bore will definitely score a stainless barrel. We can actually see pits and gouges caused by the bronze bristle heads. If I see a customer doing this I'll run over and tell him to stop. If it's one of my competitors at a match, well I'm happy to see him short-stroking that barrel with a phosphor brush--it's just a matter of time before the scoring will reduce the barrel's accuracy". OK, how about sending the bronze brush all the way out the end of the muzzle and then drawing it back in. Greg adds, "the problem there is the bristles will take a set in one direction on the out-stroke, leaning back toward the breech. When you reverse the brush you will be driving the sharp bristle tips right into the most delicate part of your crown". If you do choose to run a brush both ways, Greg recommends using a nylon brush, such as those sold by Iosso. Greg advises you limit short-stroking to the throat area, when needed to remove stubborn carbon.
BEST BUY--Tipton/Caldwell BR Front Rest for $109.74: Most of you know by now that MidwayUSA (Caldwell) has produced a slingshot-style front rest similar to the Bald Eagle. No it's not as good as the original. But is it decent? Yes. And now you can get one, including windage top, for just $110 from MidSouth Shooters Supply, item #094-440907. That's $40 less than MidwayUSA's regular price. We've used them and they work. The base is very solid. Ram and elevation controls function well. There were some problems with the windage top early on, but these have been corrected with a spring upgrade. Negatives? The windage top doesn't slide side-to-side like a Hoehn or Sinclair. Instead it rotates around the ram axis. This works OK for very fine movement, but when you need a large adjustment you really do need to move the rear bag. But the unit is cheap enough that you can sell off the top on eBay, and replace it with a Sinclair at some point and still have a solid unit for a very modest price.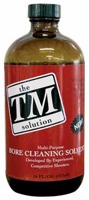 NEW PRODUCT--Meredith's TM Solution: While we recommend Wipe-Out for regular cleaning, if you need something that works faster and does a superior job on carbon, try Tom Meredith's TM Solution. Initial reports are very positive. Shooter of the Year Joel Kendrick tells us it works really fast, "cuts carbon better than anything I've ever seen", and has no annoying odor. The only negative we've heard is that the chemicals can harm wood finishes. So use something else (like MPro7) if you've got a fine walnut stock. Sinclair's price is $5.95 for 4 oz. (Item 100-404), or $16.95 for the 16 oz. version (Item 100-416). Sinclair International.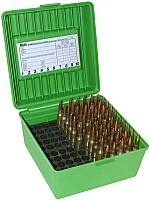 GEAR SPOTLIGHT--MTM R-100 case: When we go varminting or shoot varmint silhouette matches we need lots of ammo. The fancy BR ammo holders don't give us enough capacity. We've looked at the various plastic cases on the market, and the best we've found is the Case-Guard (MTM) R-100. This securely holds 100 rounds either nose-up or nose-down. The case works with everything from a 6PPC to a 45/70. It comes with a handy carrying handle, and interior height can be adjusted. Color choice is Green or Red, and a version for the large magnum calibers is sold as well. Price is $8-9 from most vendors.
CALIBER GURUS/EDITORS Wanted: At the request of both readers and potential sponsors, 6mmBR.com will be adding new calibers to our set of "Cartridge Guides" (currently 6BR, 6BR Improved, 22BR, 30BR, 6XC). We are seeking folks who would like to be a "Caliber Editor" in charge of a particular Cartridge Guide. Calibers we hope to add include .204 Ruger, 22 PPC, 6 PPC, .243 Win/.243 AI, 6.5-284, and .308 Winchester. As "Caliber Editor", your task would be to collect basic cartridge information, load data, and provide some photos of the round. Our Editors qualify for substantial discounts on reloading tools and components. Want to be a Caliber Guru? Then email us at Mailbox@6mmBR.com, stating the caliber in which you're interested.
June 11, 2005
LEGISLATIVE NEWS--California SB357 will Ban Bullets and Ammunition: All shooters should take notice of California Senate Bill 357. On June 2, SB357 passed out of the CA Senate and is now being considered by the CA Assembly. This bill would ban the sale, possession or use of any handgun bullets or cartridges that aren't etched with a unique serial number. This can impact rifle shooters because all bullets/ammo "capable of" being used in a handgun, such as a 22LR, .223 and .30 caliber, would be subject to the restrictions. All purchases of regulated bullets and ammunition would be recorded in a vast state database. The bill provides for fines up to $500 for every 50 unserialized bullets. In other words, for every 50 bullets, you can be charged with a separate offense. The penalty for possessing 500 un-numbered .22-caliber bullets, for example, would be $5000. There is no exemption for hand-loaders, youth training programs, or even for law enforcement use. Persons casting their own bullets would have to obtain a license from the State. SAMMI, which sets ammunition safety standards in the USA, has stated that it would be "impossible" to produce bullets and ammo that comply with SB357 given current technology. If the law passes, then, manufacturers would simply have to stop selling bullets or ammo in California. This bill may represent the most draconian piece of anti-gun legislation ever devised. It would devastate the shooting sports in California, home to 12% of the nation's population. The rest of the country can expect to pay more for bullets if bullet-makers are shut out of the important California market. What should you do? We suggest you contact CA Governor Arnold Schwarzenegger, and ask him to veto SB357 if it reaches his desk.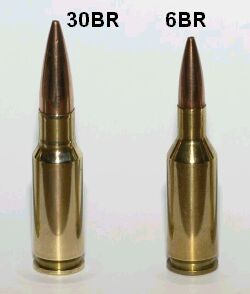 BR NEWS--30BR Sets New 600-yard Records:
It appears a 30BR has set a pair of new 600-yard NBRSA records. Randy Robinett reports: "Gene Solyntjes, [recorded] two NBRSA 600-yard (Heavy Gun) potential records over the weekend: one for group and one for score. Gene piloted his PacNor-barreled (1:18" twist) 30BR to a very nice 10-shot group measuring 2.28" (.38 MOA), all in the Ten-Ring, with five Xs." Solynytes used a stout charge of H4198 with 118gr BIB bullets. Randy adds: "These were the ten-ogive version. Gene's rig was built by Greg Tannel, using a reamer I loaned. The "throating" (ZERO free bore) is optimized for either my ten-ogive (1.00" long) bullets or, any 7- or 8-ogive based on a 0.925" jacket. Seated to just contact a 1.75° throat, the Zero Leade places the bullet base at mid-neck. In theory, at 3000 FPS, the ten-ogive 118 delivers a .35 BC--not bad for a 'light' bullet."
GEAR SPOTLIGHT--Ultra-Lightweight "Miracle" Mirage Band: Our very own 1000-yard Editor, Jason Baney, has invented a very slick new mirage band. Make of space-age heat-resistant materials, the 2"-wide mirage band weighs less than half an ounce (including Velcro mounts) and rolls up to fit inside a small pill case. The "Baney Band" is mylar on the bottom (reflective where you need it), laminated to nylon on the top (non-reflective to avoid added mirage from the sun). All orders are shipped in a pop-top pill bottle for easy, compact storage. For a typical 24" band, cost is less than $5 including ½" black Velcro dots. Order from Jason Baney, JPA Precision, PO Box 704, Lemont, PA 16851-0704. Cost: $1.20/foot or .10/inch cut to order, plus $0.50/set of Velcro (3 pairs of dots). Shipping: $1 minimum (under 3 oz.) or actual cost.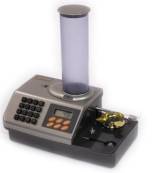 RELOADING TIP--Electronic Scales: We've received reports from users of certain brands of electronic scales complaining of fluctuating weight readouts. In some cases users have been able to isolate interference sources. One Lyman 1200 Digital Dispenser user found that his zero became unstable after adding a new cordless telephone in his house. Others have reported that having fluorescent lights on the same circuit can cause problems. If you have a stand-alone PACT scale with AC power, make sure to unwrap the power cord. If the cord is wrapped in a tight coil, this can cause magnetic interference. One user reported +/- 0.3 grain variance when he put his hand near the unit, but that this resolved itself just by straightening out the cord.
PRODUCT RECALL--Hodgdon H4227: June 7, 2005, WARNING: Hodgdon Powder Company, Inc. has determined that some one pound (1 lb.) containers of Hodgdon's H4227 smokeless powder canned on March 31, 2005 may contain Hodgdon H4198 powder instead of H4227 powder. LOT NUMBER: 10328054230. Hodgdon says "Use of this product when loaded in cartridges and/or shotshells using standard loading data can cause a low pressure, unsafe condition, which could cause a projectile to become lodged in a firearm barrel, which upon the firing of a subsequent load, may cause personal injury to the user and/or bystander and damage to the firearm". Users should immediately cease using this product and return it to Hodgdon will provide a prepaid shipping carton. Call 1-800-622-4366 for more info. Link: H4227 Recall Info.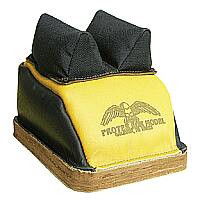 GEAR SPOTLIGHT--Protektor Deluxe Rear Bag: Protektor has released a new, upgraded rear bag that looks very promising. With a super-thick leather base, stiffer sidewalls, Cordura ears, and a triple-stitch central flat, the new Protektor offers many of the features of the superb Edgewood bags, but at a lower cost. Price for the new bag (unfilled) is $61.00 at Sinclair International, item Bag040.
CALIBER GURUS/EDITORS Wanted: At the request of both readers and potential sponsors, 6mmBR.com will be adding new calibers to our set of "Cartridge Guides" (currently 6BR, 6BR Improved, 22BR, 30BR, 6XC). We are seeking folks who would like to be a "Caliber Editor" in charge of a particular Cartridge Guide. Calibers we hope to add include .204 Ruger, 22 PPC, 6 PPC, .243 Win/.243 AI, 6.5-284, and .308 Winchester. As "Caliber Editor", your task would be to collect basic cartridge information, load data, and provide some photos of the round. Our Editors qualify for substantial discounts on reloading tools and components. Want to be a Caliber Guru? Then email us at Mailbox@6mmBR.com, stating the caliber in which you're interested.
June 3, 2005
MATCH NEWS--"Colonel Billy" Stevens Wins 2005 Super Shoot: Popular gunsmith Billy Stevens topped a field of over 300 shooters to win the 2005 Kelbly Super Shoot. Overcoming pretty challenging conditions, Col. Stevens was among the leaders after the first day. He then shot really well at 200 yards to take the overall title. We're pleased to see Billy win this match as he has smithed some of the best BR guns (and custom hunting rifles) around, including comp rifles for Bart Sauter, 2003 BR Shooter of the Year. Contact information for Stevens Accuracy is found on our "Top Gunsmiths" page. Just click the link on the left of this article.
FORSTER FL Die--Report on Neck Diameters: Last week we explained how Forster will ream their full-length 6BR sizing dies to your neck dimension for just $10 plus shipping. Steve Rasmussen of IowaHighPower.com gave this a try. Here's his report: "I just got my dies from Forster today. Time from mailing my die to today was 9 days. The original die sized the necks down a lot, less than 0.260", .256" if I recall correctly. I sent my die in and asked if they could supply two more FL dies (for three total) to have the necks honed to 0.265", 0.266", and 0.267". The cost was $10 on my supplied die and $38.50 plus $10.00 for each additional die, return shipping $11.00 via USPS Priority Mail. Below shows the neck diameter range of 10 sized cases using each die. Brass springback after sizing is running 1 to 1.3 thousandths. My loaded rounds are running 0.2697-0.2699 using Lapua I bought last year. So far the dies are working well. I sized 80 cases with the 0.266" necked die. The shoulder is running 0.4582" and 0.300" up from the base is 0.4684". I spun 20 of 'em and 16 had a runout of one thousandth (0.001") and the other 4 at 1.5 thousandths (0.0015").
| | | | |
| --- | --- | --- | --- |
| Die Diameter | Sized Brass | Springback | Neck Tension |
| 0.267 Die | 0.2683-0.2684 | 0.0013 | 0.0014 |
| 0.266 Die | 0.2672-0.2674 | 0.0013 | 0.0025 |
| 0.265 Die | 0.2659-0.2660 | 0.0010 | 0.0039 |
SCOPE ACCESSORY--Kenton Calibrated Windage Knob: This little $50 gizmo is great for Varmint Hunters and any one who needs to make a quick shot in shifty wind conditions. Kenton Industries' Tuned Windage Compensator (TWC) has built-in windage marks for 10 mph cross-winds at 100-1000 yards. How do they do that? Well the knobs are calibrated either for specific calibers/loads, or they can make custom knobs using your observed field data. The knobs can compensate for various wind speeds (2-20 mph) and angles (15°- 90°), by applying some simple conversion ratios. For example, this is how you'd set the knob for a 5 mph wind or a quartering wind: 5 mph crosswind at 400 yards = dial in 200 yards; 10 mph, 45° crosswind at 400 yards = dial in 300 yards.
COOL NEW RIG--6mmBR Tactical from GAP: We're starting to see some fine new tactical rigs chambered for our favorite little 6BR cartridge. Here is Lee M's handsome new rifle, just finished by George Gardner at GA Precision. It features a 28" 8-twist Kreiger barrel, with a no-turn .272" neck, .090" FB, 1° 30 leade. We've recommended that .090" Freebore based on measurements of Lapua factory ammo. It works great with the 105-107 grain bullets, but it also gives you a little more neck length for the shorter pills. George tell us: "I have a new .090 no-turn reamer now. Dave Kiff set up that reamer based on several of the 6mm guys' comments to him. Should be perfect. And that new camo pattern was my idea of the perfect all around scheme. McMillan has it on their color chart now. Just ask for 'GAP Camo'."
CALIBER COMPARISON--6mmBR vs 22-250: Many folks have been asking us "What's better, a 22-250 or 6BR, for long-range varminting and 500- to 600-yard matches?" Well, to give a meaningful answer to that question we need to compare components, barrel life, and accuracy.

Brass: Quite simply, there is no readily available 22-250 brass as good as Lapua 6mmBR brass. Norma does make some pretty good 22-250 brass, but it is expensive, hard to find, and it won't stand up to repeated high pressure loads as well as Lapua 6BR brass.
Bullets: 22s can be super-accurate, as James Phillips proved with his record-setting 22 Dasher. Still, the 60-70gr custom 6mm bullets produced by wizards like Euber and Sauter really are the most accurate projectiles ever crafted. And when you look at the heavy end of the spectrum, there are more high-BC bullet choices in 6mm than in .22 caliber. Berger 95s and 105s, Scenar 105s, Sierra 107s, and Clinch River 106s are all outstanding. The new .22-caliber Sierra 90gr MKs may be great, but you need a 1:6.5" twist barrel. For the time being, 6mm still offers a better selection of high-BC bullets.
Barrel Life: The efficient 6mmBR case is easier on barrels since it burns up to 10 grains less powder than a 22-250 (for the same bullet weight). With moderate loads, a 6BR will deliver up to 4000 rounds of accurate barrel life. Some 22-250s start to lose accuracy after just 1200 rounds.
Accuracy: 22-250s can be very accurate. However, in the real world, getting a 22-250 to shoot consistently in the Twos with long bullets is not easy. By contrast, we've seen that 6BRs readily deliver that accuracy level with 105gr Bergers or Scenars with very little load development.

So, these factors all favor the 6BR. What advantages does the 22-250 hold? First, the longer 22-250 round feeds better from conventional double-column magazines. If mag-feeding is very important to you, the 22-250 has the edge. Second, with varmint bullets the 22-250 has a slight velocity advantage--but not much. Lastly, if you want to buy a factory rifle for under $700 or so, you won't find any 6BRs. Keep in mind however, that you can buy a Savage for about $400 and add a pre-fit Pac-Nor SuperMatch 6BR barrel for another $300 or so.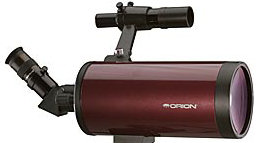 OPTICS--Orion Long-Range Spotting Scope: We've found that, at long-range varmint matches, where a friend is allowed to spot for you, a large, star-gazing type scope has many advantages over smaller scopes designed for field carry. First, the scope's bright image and generous eye-relief allows viewing for long periods of time without eye fatigue. (With the scope mounted on a tripod in front of a chair or camp stool, the spotter can comfortably watch a whole relay). Second the very large objective lets the viewer see both the target and wind flags a few feet away. At 600+ yards, with a conventional 60-65mm scope, you'll often have to move the scope back and forth between flags and target. For the kind of long-duration, "sit-behind" spotting we do at varmint matches, a very nice scope is the Orion Apex™ 102mm Maksutov-Cassegrain. Using a similar Meade-brand Cassegrain scope, I could easily spot flags and silhouettes at the same time, and the scope gave a spectacular view of trace. The Orion is quite a bargain at $279, including a 25mm eyepiece which delivers 52x power--enough to see 6mm bullet holes at 600 yards, in most conditions. While the budget-priced Orion won't rival a $1500 Zeiss for resolution, it is surprisingly sharp, and its big objective really makes the spotter's job easier. User reports have been very positive. (See Astromart Review and Anacortes Scopes Review). The Orion 102 is sold by a number of dealers including BuyTelescopes.com. While Orion also makes a 90mm scope ($220.00) and a larger 127mm version ($399.00), we think the 102mm Orion is the best bang for the buck. It's a great choice for all-day-long, sit-behind spotting duties.
RELOADING GEAR--Inexpensive UltraSonic Cleaner: Precision Shooters are notoriously obsessive about their brass. If you tumble your brass every time, but still aren't satisfied, consider the "Chicago Products" UltraSound cleaner from Harbor Frieght. Priced at just $29.99, the compact (8"x5") unit is also great for cleaning/degreasing action parts, trigger units, neck bushings, shell holders, and small tool components. Order from Harbor Freight, Item 3305-1VGA, $29.99 on sale. The unit has a convenient see-through lid, and it shuts off automatically after 3 minutes. Be sure to re-apply protective oil to any parts prone to rust.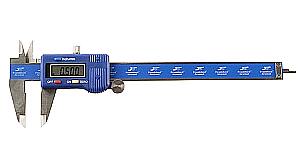 HOT DEAL--MidwayUSA $25 Digital Calipers: MidwayUSA.com has extended its sale on Frankford brand Digital Calipers. Price at just $24.99, these won't compare with a high-end set, but they are good enough for most reloading chores and make a great back-up set for the bench or range kit. User Reviews are consistently positive: "These stainless calipers are well designed, easy to read, and hold zero setting well".
UPCOMING ARTICLES--PPC Guide in the Works: As a complement to our Super Shoot feature, we will release a detailed PPC Cartridge Guide later this month. It will provide case-forming procedures, bullet recommendations, and load data for the 20 PPC, 22 PPC and 6 PPC. Hey guys, we need some more 20 PPC load data. If you've got a good recipe, please send it our way.
CALIBER GURUS/EDITORS Wanted: At the request of both readers and potential sponsors, 6mmBR.com will be adding new calibers to our set of "Cartridge Guides" (currently 6BR, 6BR Improved, 22BR, 30BR, 6XC). We are seeking folks who would like to be a "Caliber Editor" in charge of a particular Cartridge Guide. Calibers we hope to add include .204 Ruger, 22 PPC, 6 PPC, .243 Win/.243 AI, 6.5-284, and .308 Winchester. As "Caliber Editor", your task would be to collect basic cartridge information, load data, and provide some photos of the round. Our Editors qualify for substantial discounts on reloading tools and components. Want to be a Caliber Guru? Then email us at Mailbox@6mmBR.com, stating the caliber in which you're interested.
All content Copyright © 2005-2006, AccurateShooter.com | 6mmBR.com, All Rights Reserved. No reproduction without advanced permission in writing.