August 2005 Blog
BLOG Archives: START | Sept 2006 | Aug 2006 | July 2006 | June 2006 | May 2006 | Apr 2006 | Mar 2006 | Feb 2006 | Jan 2006 | Dec 2005 | Nov 2005 | Oct 2005 | Sept 2005 | Aug 2005 | July 2005 | June 2005 | May 2005 | Apr 2005
August 29, 2005-- NEWS, FEATURES, and PRODUCTS
MATCH NEWS--Piedmont Shooters Break 1" Mark at 600 Yards: It's not official yet, but it appears two shooters, Terry Brady and Wolf Beuhner, have shot sub-inch 5-Shot groups at 600 yards. Shooting a 6-5-284 with Clinch Rivers, Wolf Beuhner nailed a .960" group that earned him Piedmont's cash bounty for the first sub-inch group, a group that would set a new IBS World Record. Shortly thereafter, not to be outdone, Terry Brady eclipsed Wolf's mark with an amazing .860" group. Terry shot a .266"-neck standard 6BR with Berger 105gr moly-coated bullets pushed by VV N540. At the same match, Larry Isenhour set a pending new Heavy Gun score record with a 54 single-target score. Though the sub-inch groups were shot in Heavy Gun Class, Terry's 6BR and Wolf's 6.5-284 were both Light Guns smithed by Dave Tooley. Even with a 27.5" Krieger barrel and an 8-42x Nightforce, Terry's gun is only 15.5 pounds. Terry told us "Conditions were good--calm and clear--and I could see bullet holes at 42x. I just held on the 10-ring and let 'er go. Guess the wind gods were smiling on me." He says his 6BR, which has a Borden action and Borden BR stock, has grouped in the 1.4" range in 600-yard practice sessions. To put Terry's pending record in perspective, his .860" group is the equivalent of 0.1433" at 100 yards.
UPCOMING MATCH--Iowa Hosts IBS 1K Nat'ls this Weekend: The nation's top long-range benchresters will meet in Pella, Iowa on September 2nd & 3rd for the 2005 IBS 1000 Yard Benchrest Nationals to be held at the Iowa 1000-Yard Association Range. For more info go to: Iowa1000YdBenchrest.com or Contact Gordy Gritters, (641) 628-3044.
SUB-CALIBER NEWS--Lapua Tac-20 Brass In Production: This week we're featuring 20-Caliber cartridges. Fans of the "Twenties" will be pleased to note that Dakota Arms commissioned Lapua to produce 550,000 pieces of Tactical 20 brass. This brass is OEM Production (Dakota Arms exclusive) and is being put on ships right now in Finland. Hopefully it will be available from Dakota Arms by the end of October or early November. Dakota has also ordered large quantities of 20 Vartarg, 221 Fireball, 6PPC, 22PPC, and 20PPC Lapua brass--all of which are slated to arrive in January 2006. You heard that right--factory PPC brass out of the box. Don't bother to call Dakota until October. Dakota is not taking orders at this time, nor has Dakota lined up other distributors.
TECH UPDATE--Trouble-Shooting the RCBS ChargeMaster: Most people using the RCBS ChargeMaster digital powder dispenser have been very happy with the unit. However, we've heard some reports that, on completing a dispensing cycle, the display shows the load to be the correct target weight, when in fact the unit is off by a one or two tenths of a grain. Since the read-out appears "dead-on", the user doesn't know he has a high or low charge. This is why we advise all ChargeMaster owners to initially check their charge weights with a precision scale of known accuracy. If the unit does not meet spec, RCBS will replace it during the warranty period. However, keep in mind that the unit is rated ± 0.1 grain, which means you can't expect it to deliver the EXACT charge (to the tenth) every time--it may be a tenth high or a tenth low. A recent ChargeMaster evaluation we've done, with charges checked with a Denver Instruments laboratory scale, did show the unit to be within ± 0.1 grain 95% of the time, and, with most powders, it delivered the exact charge (to the tenth) over 2/3 of the time.
Still there are things that can improve the unit's consistency. 1) Make sure the unit is perfectly level front to rear. Some ChargeMasters, particularly the early-production units, are sensitive to front/rear leveling. 2) Don't leave the power cord coiled up in a loop; this can cause a magnetic field that can affect read-outs. 3) Use the hinged door that covers the dispensing tray. This will eliminate drafts. 4) IMPORTANT--after dispensing a load, pick up the plastic powder cup, swish it gently to distribute the kernels evenly, and place it back on the load cell. This "double-checks" the weight and will catch the vast majority of over-charges. 5) There is a high speed/low speed transition point at 25.0 grains of powder--if your load is right near this point you'll see some fluctuation. You can call RCBS and they can tell you how to modify the high speed/low speed parameters. 6) Use a good surge suppressor, or better yet, plug the ChargeMaster into a line conditioner that provides "clean", correct voltage. A few users told us all their problems disappeared when they plugged the power cord into a line conditioner or UPS (Uninterruptible Power Supply). Lastly, for those folks with some electronics expertise, MikeCR has developed an inexpensive upgrade that uses a resistor to control motor dispensing speed. Mike notes: "My approach was to install resistance in the motor feed, slowing the motor just enough for the controller (as programmed), and scale (with its sample/settle speed) to really work together well. For my system, 3.3 ohms in-line turned out to be the perfect value while dispensing IMR 4895. Speed reduction was not really noticeable except an added 5 seconds or so to lock in right near the setpoint." CLICK HERE for an illustrated guide to MikeCR's upgrade. CAUTION: Installing the MikeCR "Fix" will void the factory warranty.
RELOADING GEAR--High Precision Scales under $300: The RCBS Chargemaster, Lyman 1200 DPS, and PACT Dispenser are cost-effective units that speed up the reloading process dramatically. But some reloaders want a greater level of precision than these digital dispensers can provide, without sacrificing the speed of an automated dispenser. One solution is to set your Chargemaster to throw charges 0.1 grains or 0.2 grains low, and then trickle the last tenth or so kernel by kernel, measuring the charge with a laboratory-grade scale. This will give you assured load weight within .05 grains. While most big-name lab scales start at around $700, you can get a scale capable of milligram accuracy for around $300. One moderately priced scale that has been recommended by a number of users is the Acculab VIC-123 Milligram Scale. It will register individual kernels of Varget and has a settle time of about 3 seconds. Price is $280 from Balances.com. The same firm sells the $215 Tanita 1210. It has .05 grain readability (two kernels of Varget), but lacks a cover.
CHRONOGRAPHS--How to Avoid Misfires: There is nothing more frustrating (or embarassing) than sending a live round into your expensive new Chronograph. When setting up a chrono, we always first remove the bolt and bore-sight to ensure that the path of the bullet is not too low. When bore-sighting visually, set up the rifle securely on the sandbags and look through the bore. Then (during an appropriate cease-fire), walk behind the chronograph. Looking straight back through the "V" formed by the sky-screens, you should be able to see light at the end of the barrel if the gun is positioned correctly. We also put tape 5" up on the front sky-screen supports to make it easy to align the bore to the right height over the light sensors. When doing chrono work, we suggest you shoot at a single aiming point no more than 2" in diameter. That reduces the chance of a screen hit as you move between different points of aim. If you shoot at multiple target dots, place them in a vertical line. Prior to shooting, bore-sight and set your chron height to set safe clearance for the LOWEST target dot, and then work upwards only.
One of the most fool-proof ways to align your chronograph is to use a muzzle-seated laser unit. Hang a piece of white paper below the sky screen and the laser will show the bullet's flight path. Remove the paper and the laser will show the Point of Impact on the target, within an inch or two. If you use a muzzle-mounted bore-sighter like the brass Rec-T-Fire, we suggest you attach a large plastic or cardboard flag to the bore-sighter body so you remember to remove the bore-sighter before inserting your bolt and loading the rifle. Another shooter glues a 40" length of weed-wacker line on the end of his laser bore-sighter. This runs all the way into the loading port to prevent accidents.
NEW PRODUCT--Keep Ammo Cool with Quilted CryoPaks: We've found a versatile, inexpensive new product that will help keep your ammo cool in hot summer conditions. Kryo-Paks are only about 1/4" thick and come in pleated grids you can cut to fit your ammo box. We keep one in the bottom of a MTM-100 ammo holder and one on the underside of the box-lid. The 8"x8" CryoPak "Ice Blanket" costs less than $2 at outlet stores like K-Mart and Walmart.
BLOG Items Wanted: Do you have a great reloading tip to share, or news of a great special on gear? Have you learned some late-breaking report on a major match? Then contribute to our 6mmBR Blog. Just email your comment or news item to Mailbox@6mmBR.com. If you send photos, try to keep them under 600x400 pixels in size.
August 22, 2005
MATCH NEWS--Perry Winner Dennis DeMille praises 6XC:
We recently talked to 2005 National High-Power Champion Dennis DeMille. A humble winner, Dennis wanted to give credit to his Team Creedmoor team-mate Norm Houle and to David Tubb. Dennis won Perry with a 6XC-chambered Tubb 2000 rifle, using the DTAC 115gr bullets in Tubb brass. I asked about his loads, and he said, "David's the man to talk to on that. David actually loaded some ammo for me at his place. Whatever David is shooting is exactly what I shoot." Dennis shoots the 6XC at 200, 300, and 600 yards. He likes the fact that he can use one bullet/cartridge combination at all those distances. He thinks it's the best cross-the-course cartridge he's tried so far: "I think it's the perfect caliber for our discipline. It feeds perfectly, performs well in the wind, and the recoil is very manageable in rapid fire. I find the 6XC very comfortable to shoot." Stay tuned for an in-depth interview with Dennis.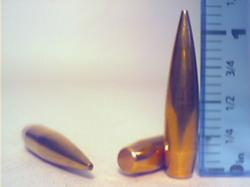 BALLISTIC BULLETIN--Berger 95gr VLDs run 3060 from standard 6BR case: We did some initial testing with the Berger 95gr VLD bullets. These have a very short bearing surface, and work best with a freebore of .040-.075". To our surprise, using Varget, we were able to drive the 95s to 3060 fps with no adverse pressure signs. (Barrel was a 27" PacNor 3-groove that is probably 20fps faster than most 27" tubes). That is about 150 fps faster than we can push the 105gr Lapua Scenars at similar pressures. Berger claims a .524 BC for the 95s but Don Clark suggested that a BC of .51 is more realistic, based on his observed trajectories at 500-600 yards. Even with the lesser .51 BC, the Berger 95 running 3060 fps shows less wind-drift at 600 yards than our Scenar 105s at 2910 fps. We'll be doing more testing soon. One thing we did discover with the 95s is that there are significant variations in bullet overall length and base to ogive measurement. You'll want to sort these bullets before using them in a match. 100-yard accuracy with sorted 95s was excellent--with five-shot groups in the low twos.
TRANSPORT--The Ultimate Match Gun Case: We've been looking for an airline-approved, ultra-rugged two-gun rifle case. After considering many options, the best we've found is Cabela's Safari Case, item XF-226585. Carrying two rifles side-by-side in vertical compartments, this unit is rugged yet user-friendly in the field. Sinclair Int'l sells a fine SKB two-gun case, but the guns stack on top of each other. To get to the bottom-gun in the SKB case, you first have to lift up the top gun, put it somewhere, then remove a layer of foam padding. If it's real windy, the foam can flop around in the breeze. With the Safari Case, one gun stays totally secure while you access the other. Unlike cases that open flat and sit about 2" high, you can place an open Safari Case on the ground and it still offers some protection from swirling wind and dust. The case is strong enough to sit on. Unlike most plastic two-gun cases, there is no chance of one gun sliding down on top of the lower one. Cabela's two-gun Safari case is expensive--$340 plus shipping. But when you consider that many people have $6000 or more invested in a pair of match rifles, the extra protection is worth it, particularly if you need an airline-approved case. The Safari Case has built-in wheels, 45° heli-arc welded corners, full-length piano hinges, and a stainless steel locking rod system. We would like to see Cabelas upgrade the Safari Case with flush-fit latches. The steel toggles do create snag points. However, a bit of duct-tape can cover the latches during airline travel.
TRAINING GEAR--ComboTarget Stand with "Miracle Polymer" : When practicing for our 500- and 600-yard varmint matches we like to use reactive targets at match distances. Steel poppers are great, but it's still nice to have a target stand to hold paper for sighting-in and shooting groups. We've found a versatile new product from Ballistictec that fits the bill. This combines a stable, ground-standing frame, with a raised paper-target holder. Instead of conventional heavy metal swingers, this combo rig uses bright orange "ballistic polymer" targets that withstand thousands of rifle shots. With a hit, the spinner rotates around the horizontal axle. The polymer closes up around the bullet holes so it can be used over and over again.
This $95 "Combo 5" target rack holds paper targets up to 24" x 24", and a "barbell" spinner with 6" diameter circles. There are many other Ballistictec target products, including a polymer prairie dog spinner, just $14.95.
TECH TIP--Sound Suppressor Noise Reduction Tests: Our current Gun of the Week, a suppressed 6BR from GA Precision, has created considerable interest in noise reduction technology. If you're in the market for a suppressor, check out SilencerTests.com. That site contains very detailed specifications of all the major silencer brands, including weights, dimensions, and decibel ratings. The suppressors were tested in accordance with MIL-STD-1474D using calibrated military-approved sound-measuring equipment. You'll find a wealth of information on virtually every brand of suppressor readily available for sale in the United States.
EAR GEAR--Great Deal on -33db Ear Plugs: Blue Lake Products offers quality Howard Leight earplugs at great prices. These plugs taper at the inboard end, and flare on the outside for better noise seal. Comfortable to wear, the Leight plugs offer an outstanding -33db sound reduction rating. We like the "Max 30" corded version because they stay around your neck when removed and they are much more difficult to misplace. The basic (uncorded) Max 1 plugs are on sale--just $17 for 200 pairs (Regular price $22.50 for 200 pairs). The corded (Max 30) plugs are just $8.50 for 25 pairs, or $25.50 for 100 pairs. That's still a great deal as most gunshops charge $1.00 per pair.
BEST of the CLASSIFIEDS--6BR Viper and Norma 6BR Brass: Two items caught our attention in the 6mmBR.com classifieds this week. Both represent outstanding values.
If you're looking for a sweet short-range rig, Eddie F has a .271" neck, 13.5-twist 6mm BR Benchrest rig for sale.It was smithed by Mike Bryant and features a Stiller Viper action, Krieger barrel, and McMillan Edge stock. The gun is essentially brand new, with just about 30 rounds through it. Price, without scope, is $2150.
Red Feather has 1500 pieces of Norma-brand 6BR brass for sale: "I am selling this below my FFL dealer cost. I will take $100 for 250 pieces and $200 for 500 pieces. I do not want to sell it in any quantity smaller than what I have listed. Please email me at 223@ev1.net if you are interested. Thanks." While many 6BR shooters favor Lapua Brass, Norma brass is really quite good, and the U.S. Army Marksmanship Unit has won many 300m matches with it. You might get a couple less reloads with it than Lapua, but this is a good deal, particularly for a Varminter who needs a large quantity of brass, and won't push loads to max pressures with heavy bullets.
BARGAIN BIN--MidwayUSA Steel Calipers just $15.99:
A good set of calipers is an absolute necessity for any hand-loader. This week MidwayUSA is offering its manual (dial) calipers for just $15.99. We've used a set of these calipers for over four years and they have performed very well. It is easy to set the zero and we've had no issues with rust or corrosion. Even if you have a set of digital calipers, it is good to have a manual unit as a back-up, or to keep in your range kit. Search for Product #: 119623. Sale ends 8/31/05.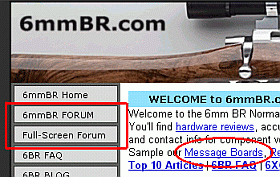 6mmBR.com MESSAGE BOARD--Have You Tried it Yet?: Over 1000 people visit 6mmBR.com every day, but most folks haven't yet posted in the Message Board. Here's how you get there. Just go to the left column, near the top, and click on "6mmBR Forum". If you'd prefer to browse the Message Board without the navigation tools (for less clutter on your screen), just click on "Full-Screen Forum". There's also a link for "Message Board" in the middle of our home page. It's easy to register for the Message Board, and Classified Ads are FREE! Got something to sell? The 6mmBR.com Forum is the place to go. It is easy to upload photos from your hard drive and put them in your listing--complete instructions are provided.
August 15, 2005
MATCH NEWS--6mm DTACs Prevail at Perry: The top three shooters at this year's Camp Perry High-Power Championships all used 6mm 115 DTACs. Californian Dennis de Mille took top honors with 2385-119X, followed by Norm Houle (Second, 2383-119X) and David Tubb (Third, 2376-123X). Obviously David's 6XC cartridge and 115gr bullet performed extremely well. George Gardner, GA Precision, reports that "The Long range Championships are this week and I bet the DTACs clean the top three there as well." We congratulate Dennis, a former Chief Warrant Officer and member of the Marine Corps Rifle team. Click Here for complete Camp Perry Results.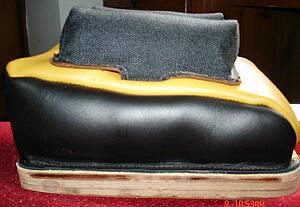 RECOMMENDED NEW PRODUCT--Protektor DR ("Doctor") Bag: The new top-of-the-line Protektor DR Rear Bag rivals the Edgewood for "best in class" honors. Gunsmith and top 1000-yard shooter Mark King has worked on the design of this bag, and it performs great. Jason Baney reports: "The bag is awesome. It works way better for me than the more expensive bag I used to have.

The bag holds its shape better and with the extra-long, low ears, the gun tracks incredibly well. Filled with Zircon sand, the DR Bag weighs about 15.5 lbs and is super-stable. You can get either leather or cordura ears. I recommend Cordura. Used with Sinclair's silicon spray, the Cordura is unbelieveable--super-smooth recoil with no grabbing or binding.Get this--when I dialed up the angle for the 300-yard stops (five degrees or so) the gun could slide by GRAVITY alone. Even when I clamped the ears tight it still slid. I got whacked in the forehead by the scope for the first time cause it was so slick." The DR bag costs about $80 and can be ordered filled (at extra cost). You have a choice of high or low ears, and any width of flat between the ears. For stocks with a half-inch flat on the bottom, Mark King recommends 3/8" spacing between the ears.
MINI-REVIEW--Lapua 105gr Loaded Ammo: Well we finally has a chance to try some of Lapua's 105gr loaded ammo in our converted Savage. Velocities were mild (2830 fps) but the accuracy was phenomenal, as you can see from the picture. A second group had four in one 0.38" (edge to edge) hole with a fifth shot about .25" out, and that could have been wind--it was gusty during our testing session. The Cartridge OAL is about 2.330" on average and this put the ogive about .008" from the lands on our gun, which has a .080" Freebore. Velocity was very consistent for factory ammo, with ES of 17.89 and SD of 7.93 (2840, 2822, 2833, 2822, 2823). We purchased all of the loaded ammo that Grafs.com had, and we don't know any other sources currently. If you want to try some, a two-box (40-round) minimum order is $50 delivered to the lower 48 states. Email us at mailbox@6mmBr.com. Keep in mind that the cost of components for a hand-loaded round is about $0.77, so the loaded ammo is not really that much more expensive. If you've got a new gun and your dies haven't arrived yet, this is a good way to get started with ammo that's good enough to win matches.
CARTRIDGE DEVELOPMENT-- New 6mm SPC Wildcat for SpaceGuns: Steve Rasmussen of HighPowerLinks tells us that John Holliger, of WhiteOakPrecision.com, has been working on a 6mm cartridge for AR15 spaceguns based on the Remington 6.8 SPC. Here's an initial report from Holliger: "Finally got the dies for the 6mm on the 6.8 case. I wanted to have some chrono figures for Perry so I got a barrel chambered up and did a little testing today. The only powder I tested was Varget, and the only bullet was the 107 Sierra. 27 grains gave an average of 2683 fps with what looked like moderate pressures. I was able to get up to 2837 FPS but this load was to hot with several leaky primers. It looks like we should be able to get a working velocity of 2700 fps with reasonable pressures. At 27.5 grainsr there was still room in the case for more powder so going to a slower powder may allow a little more velocity without excessive pressure. This load was of course too long for the magazine as it is the 600-yard only load. I was only shooting at 100 yards but accuracy was fine for initial testing. Case-forming was very simple, just run a 6.8 case into the 6mm die and load." Click here for the 6.8 SPC cartridge FAQ. TubeGun photo courtesy Satern Custom Machining.
BULLET PREVIEW--New 6mm 95gr Flat-Base from BIB Bullets: Randy Robinett, who makes incredibly successful BIB flat-based 30BR bullets, is starting to produce high-BC flat-based 6mm bullets. Based on our calculations and test results with 95gr Berger boat-tails, we think this bullet should run 3000+ fps with a standard 6BR case. Randy tells us: "The new Niemi 6mm point-die arrived last week. The BC calculates to 0.45, so it will likely be more in the .43-.44 area (slightly lower BC has been the experience with my other Niemi dies). For this bullet, the ideal twist-rate is 1:10". However, they should work well even with 7/8" twist tubes, so long as MVs are 3100 FPS or less--we have yet to test their max RPM tolerance. Tom Gollob and I will be testing the various lengths/weights in 8", 9", 10" and 12"-twist barrels over the next couple of months. We'll also obtain some 'real-world' BCs." Editor's Note: If Randy's new 6mm pills are half as good as his 30BR bullets, the new 95 BIB could be a real challenger at 600 yards.
GUN TECH--The CP Convertible MuzzleBrake:
CP Muzzlebrakes offers an exciting new product. We love the recoil reduction we get from muzzle brakes, but we don't like the added noise and blast. And it's bad manners to blow dust and dirt at your neighbors on the firing line. Chris Spera of CP (Cowpuncher) has the answer to that--a brake that can be "turned off" with a simple twist of the brake housing. When the ports on the sleeve are aligned with the ports on inner section tube it works like any other muzzle brake. When the outer sleeve is turned 36 deg it blocks the ports on the tube effectively shutting off the brake and the noise/blast it produces. Each brake is custom-fitted to the rifle, and Chris builds both straight and tapered versions. Jody Calhoun of SavageShooters.com tested one of the brakes, and gave it high marks: "The effect it had on recoil was very noticeable. [My 30-06] performed very much like a medium load .308. Needless to say, I was impressed. I also liked the way it has the detent ball that allows you to go from "ON" to "OFF" in a split second without even looking. The brake stayed in position until I moved it. Operation is smooth with no slack between parts. It does have that typical muzzle brake flash and noise. Fortunately, its ports are angled in a much better fashion than most other brakes, making it less offensive[.]"
SCOPE DOPE (Cont'd)--Parallax Explained: Thanks to the folks at U.S. Optics, we have a new article explaining the nature of parallax, and the various means by which designers can compensate for parallax in a rifle scope. You'll learn that while side-focus scopes are handy, this design has some drawbacks when it comes to parallax correction. Click here to read the full article.
PRODUCT REPORT--New Lot of Lapua 6.5-284 Brass: Our pal RUST just got a new shipment of Lapua 6.5-284 brass and it's looking good: "Well. sitting on the doorstep yesterday was a nice new box of Lapua 6.5 X 284 brass so today I decided to inspect and size the first 100. The first and most obvious thing was the annealing, the neck and shoulders are dead soft all the way annealed. While this is a nice feature for necking up or down, or for fire-forming and Ackley, the mouths were a little dinged up from shipping and required the chamfering to be touched up.
Weight was quite uniform from 196-198 grains, a little lighter than the Norma at 204-206. A slight charge adjustment may be indicated. The all important (to me at least) neck-thickness variation was much better, running around .002-.003" with the minimum neck-thickness hovering around .015". If I decide to neck turn it they should all clean up at or a hair under .015". Only had to discard one case out of the 1st 100 due to a split neck. There was an extra case in the box so I'm still starting off with an even 100. So in the initial analysis the dimensional tolerances are superior to the Norma, the weight uniformity is equal, the Lapua is annealed much softer, and the Lapua averages 7 grains lighter which should be the equivalent of about a 0.3 grain powder charge adjustment."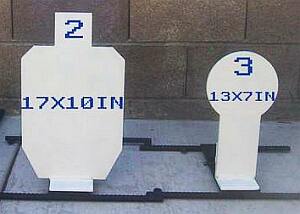 HOT DEAL on STEEL--LV SHooter's Reactive Steel Targets: One of our favorite forms of competition is Varmint silhouette (F-Class style) at 500m and 600 yards. It's difficult to see hits on paper at these distances, so we like to use a reactive target during practice sessions. Gongs are good but they're a bit oversized for this kind of work. A smaller-sized self-resetting "popper" target is ideal. LV Shooter offers a quality, durable unit that is just the right size and reasonably priced. Designed for hard use from centerfire rifles, these spring-loaded targets are made from rugged 1/2" thick Armorcoat 500 steel plate. Spring tension is adjustable and the targets break down for storage and transport. With a fresh coat of white or orange paint, you can see your hits several hundred yards away. LVShooter reports: "We use them in our local rifle matches and have shot thousands of rounds at them and never had one break. They have been tested with .300 Win Mags at 200 yards and did fine." Target #1 is $145.00, #2 is $135.00, and #3 is $120.00 + shipping. To order contact LVshooter at KTBV@cox.net. Our friend DesertFrog reports: "I've had a #2 target for the last 4 months and it has become the only target I take with me in the desert. On my 6.5x20 I could easily see the hits up to 747 yards. It's easy to take with you and install. A definite MUST if you go shooting outside a range. The quality is awesome."
August 8, 2005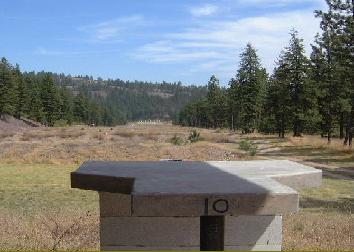 MATCH NEWS--Montana Gears for 1000-Yard Championship: Many of the nation's best 1K shooters will compete for honors in the NW 1000-Yard BR Club Champtionship Shoot held August 12-14 at the Deep Creek Range outside Missoula, Montana. Plenty of world records have been set at Deep Creek, and if conditions are good, we should see some outstanding scores from marksmen like Leo Anderson, Jim Barta, Duane Capehardt, Bill Martin, and Scott Nix. The competition will be conducted with Williamsport rules (16.5 lbs for Light Gun, unlimited for Heavy Gun), with the addition of the 11-lb Sporter class which has proved very popular with 6BR and Dasher shooters. One of the nation's leading long-range events, the Montana match will offer thousands of dollars worth of prizes, including NightForce scopes, custom actions, and premium barrels. Practice is on August 12, with competition on the 13th and 14th. Registration 8:00 AM, Match 9:00 AM, Entry Fee is $20 per gun, Championship - $30 per gun. Link for match rules and more information:NW 1000-yard Club Championship. And click here for a list of prizes. To learn more about the Deep Creek Range, read Duane Capehart's "Deep Creek Dasher" feature story.
GUN TECH--Suppressed 6BR,
the Sound of Silence: What's better than a 6BR? A 6BR that produces a LOT less noise and less than half the recoil of a bare-muzzled gun. Our friend USMA89 recently acquired a new 6BR featuring the superb new Robertson Composites F-Class stock. Smithed by GA Precision, it has delivered tiny groups at 200 yards with 107 Sierra MKs. With sound suppressor in place, USMA89 tells us, you'd think you're shooting a 22 mag: "Shooting with a suppressor or can is a great experience. In fact, once you start shooting with one, it is hard to go back to normal shooting. The recoil reduction is amazing, cutting perceived recoil by as much as 70%. Think of a suppressor as the ultimate muzzle break that reduces sound to boot. The cost of a good suppressor ranges from $600-$1000, and then there is the $200 to Uncle Sam for the tax stamp and the 3-6 month wait. The suppressor on this gun is considered one of the best, a SWR Omega. I also use a SRT suppressor and am very pleased with it as well. The SRT costs about $300-$400 less than the SWR and you get the same amount of sound reduction. With a quality suppressor you can get from 33 to 36 db worth of sound suppression. Once you have gone though the hoops the government has put in your way (check your state laws also!), mounting is easy. Get a good gunsmith to thread your barrel (5/8x24 is the normal class 3 thread) and screw it on. In general suppressed guns barrels are cut shorter for balance. I went with a 28" barrel and with the can it is a little front-heavy, but the stock's wide fore-end compensates for this. If this were a "tactical" weapon, I would have the barrel cut down to at least 22", maybe less. Most people that use suppressors will tell you that they shoot better groups with a can than without. This is because there is less recoil, less 'dirty air' behind the bullet, and (in many cases) you get improved barrel harmonics."
INDUSTRY NEWS--Graf & Son's Launches Upgraded Website: The new Grafs.com website is up and running! It looks better, runs much faster, and it is much easier to navigate. Buyers will appreciate the enhanced (and simpler) search function, and full-featured, secure shopping cart. From the home page, one click takes you to Close-out Items, discounted up to 75%. If you're looking for Lapua Brass, or Redding dies, just click on a tab for a complete list of vendors. Graf's offers competitive pricing, and the list price of most items includes free shipping.
COMING ATTRACTIONS--Reloading Guide and QuickLoad Review: Our friend GS from ShootersJournal.com is putting the finishing touches on a very complete article on reloading for the 6BR, with a focus on 300m competition. Here's a sample: "NECK SIZING: The diameter of the sized neck should be 0.002" smaller than the loaded round for bare bullets and 0.003" smaller for moly-coated bullets. Those figures are derived from my shooting tests and while your rifle may differ, it's unlikely that the differences will be meaningful. While we're really talking about an interference fit when we seat bullets in a case neck, we'll use the reloader's convention of calling this size difference between sized and loaded brass "neck tension" for simplicity's sake.
Getting the desired neck outside diameter for the neck tension we seek is not as simple as slipping the appropriately numbered bushing into the die and pulling the press handle. Anytime you use a bushing to reduce the neck diameter by more than about 0.002" from its current state, you will create some reduction in concentricity as well as well as a finished diameter that differs from the marked and expected value. Accordingly, since your fired brass will most likely measure 0.269" to 0.270" and you'll be trying to get it down to 0.264" or 0.265", you need to accept that it will take two operations to get there. I normally use a 0.267" bushing and then a 0.265" bushing to size necks. This gives me my desired 0.265" neck diameter and a reasonable degree of neck concentricity."
Later this summer we'll provide a "Power-Users" guide to QuickLOAD software that explains how to get the most out of this powerful reloading tool. QuickLOAD contains data for hundreds of bullets and propellants. You can do initial "guess-timating" by selecting a cartridge, bullet, and powder. Enter a charge weight and barrel length and QuickLOAD will predict pressure and velocity. Of course, this is only a computer model and you should ALWAYS adhere to the rule of starting 10% below powder-makers' recommended maximums. If you're just getting started with QuickLOAD here are some important tips: 1) Use QuickLOAD to compare similar powders such as IMR4895 and H4895--you will find they are NOT interchangeable, but have different pressure characteristics; 2) Always measure your bullet lengths--the numbers in the database may be off by quite a bit; 3) Always measure the actual H20 capacity of your fired and sized cases. A slight change in capacity (from the default number) can make a very big difference in capacity; 4) QuickLOAD has a little-known feature which lets you compensate for temperature. This is a very important tool for safe reloading. We found that pressures increased over 4,000 psi for 6BR rounds that sat in the sun for 15 minutes and were warm to the touch.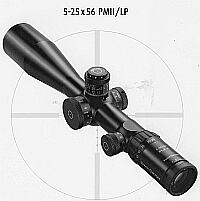 SCOPE DOPE--Lens Cleaning Procedures: We've received many questions about lens care for rifle-scopes and spotting scopes. As a general rule, always consult your scope-maker's specific instructions before cleaning a lens. Different coatings require different cleaning procedures. For example, Leupold advises: "Lenses: Leupold scope lenses are coated to reduce light reflection and light absorption. They should be cleaned as carefully as you would clean a camera lens. Use a lens brush to remove dust. If the lens is dirty, clean with pure alcohol, Windex, a grade of pharmaceutical acetone (keep it off of wood stocks), or pure water on a cotton swab." US Optics recommends: "Try to avoid cleaning as even the slightest abrasive scrubbing will ultimately scratch the surfaces to where the coatings are worn off or damaged. At this point the lens is left bare and actual glass degradation takes place. Here are a few tips to prevent ruining your favorite scope. 1) Keep the lenses covered with dust proof and waterproof caps. 2) If possible have clear optical glass covers made and put screw-on or flip-up covers over them. 3) If you absolutely have to clean dust off the lens surfaces, use an artists camel hair, or similar, brush with the handle cut off.
Do not put water on your scope lenses to 'wash off' the lens surfaces. Water will attack the lens coatings and the lenses. Lenses are hygroscopic and amorphic in nature, meaning they are composed of a certain percentage of water and the molecular structure is always moving. If you look at glass windows in ancient castle and buildings, you will notice the glass panes are sagging. Glass moves and therefore, gravity pulls the molecules of glass downward. If you have to clean your lenses, use lint-free surgical Q-Tips (not the plastic ones) or swabs and fresh filtered acetone. Pour a little acetone in a ceramic or clean metal cup (acetone will melt plastic). Dip the swab in the acetone and make a single clean circular pass starting at the center of the lens. Throw the swab away (don't dip back in the acetone because it will contaminate the acetone and the surface of the lens), and with another fresh swab, repeat the process until the lens is absolutely clean. Do not rub or scrub with a scrubbing motion, make a single pass with a clean acetone soaked swab and throw the swab away, repeat the operation". EDITORS' NOTE: While both Leupold and U.S. Optics say filtered acetone is OK, this chemical CAN harm the coatings on some other brands. Note that Leupold says "pure water" can be used, but U.S. Optics advises against this. Always check your manufacturer's instructions before applying any chemical to the lenses.

GUN PROJECTS: Poor Man's Hammer Part Deux, Another Savage-PacNor Winner: Our buddy SHCal just got his new PacNor 6BR barrel, and he's put together a handsome rig using the Stockade MBR-Tooley style stock. It looks like this formula is really delivering outstanding performance for less than half the cost of a full-custom rifle. The barrel is a stainless SuperMatch 8 twist, 3-groove, 28" 6mm BR with no turn neck and .085 freebore, reamer by PTG. The barrel is a 1.055" straight for use with the Savage barrel nut. Why the .085 Freebore?--Well we've found that this lets you get the 105s up out of the Neck-Shoulder Junction, but it still leaves enough neck to seat virtually all the shorter 6mm Bullets out to the lands. TenRing offers this tip for those installing their own "pre-fit" Savage barrels: "After my barrel installation is complete, I always run a stripe with black magic marker horizontally along the nut and barrel. If the barrel begins to unthread, it can be detected before there is a problem".
OPTICS--Leica GeoVid Range-Finding Binoculars: Leica's laser Range-Finders are hard to beat for intelligent design and optical excellence. Now Leica has built a range-finder into a set of 8x or 10x binoculars. For the varminter or big game hunter, this is a superbly versatile accessory. Our friend Ken Lunde just returned from a Varminting trip to South Dakota. He reports: "For determining ranges in the field, I used a new set of optics for this trip, Leica's new GeoVid 8x42 BRF range finder. It is an outstanding blend of superb optics in a binocular, but it also adds the capability of their Rangemaster 1200 Scan range finder. It was money well spent." The GeoVid is offered in an 10x42 or 8x42 version. Street Price for either 10x or 8x GeoVids is about $1750.00. Check with EuroOptic.com for good deals on the GeoVid and other Leica products.
ACKNOWLEDGEMENTS--Recent Donations: We would like to thank D. Apple, R.D. Berg, Bounty-Hunter, and G. Culpepper, for their generous donations to the 6mmBR.com site this month. When ace shooters like these show their support, it lets us know the effort is worth it. Here is one of Mr. Apple's rifles and the story behind it: "The range pictured is the storied Thurmont Conservation & Sportsman's Club in Thurmont, MD, of which I am a member. I am not a betting man but would wager that more world records have been set here than at any other one range. The home of the Bud Pryor Memorial match, Thurmont is the only [single-site] venue in the score-shooting universe where a 100-200-300 aggregate record can be set and the 'Bud' is the 2nd largest IBS score match. The "fire" gun is a former Tony Boyer, former Bill Goad gun. Supposedly Boyer won the world finals with it and sold it to Goad who in turn won the PA States, and the MD States with it. Goad sold it to me and it was my first benchrest rifle. I got lucky as a rookie and used it to win the long-distance Nationals. It is a RBRP, one of eight Farleys I have owned. I have trimmed my arsenal down to four Farleys...for now. It is a LV rig and the barrel is a 13-twist Kostyshyn. It is the only gun to ever shoot a clean score at 300 yards at Mainville, PA." " [Note: G. Palman reminded us: "The Maine Firecracker Shoot at Orrington Rod & Gun Club is also an opportunity to shoot a 3-yardage record. The shoot runs the last weekend in May (100 + 200 yards) and the 300-yard leg is shot at the Damariscotta Rifle club the following weekend as Orrington has no 300-yard range."]

MORE MATCH NEWS--Cooper One-Shot Event this Week: Cooper rifle owners will meet August 12th, at the Whittaker Range in Hamilton, MT for the 8th Annual Cooper Firearms "One-Shot" Competition. This unique contest has a distinctly European flair, using fine oil paintings of wildlife scenes as targets. Each painting will have each shooter's name painted on the target as well as a pointer indicating where their bullet struck. Winner takes the painting and permanent bragging rights. The top two shooters from each painting will be given the opportunity to compete in a shoot-off for a new Cooper Arms Model 21 Varminter in .204 Ruger. Rifles must be Cooper actions and stocks in a sporter or varmint configuration with a working safety. For more information call Cooper Arms at 406-777-0373.
August 1, 2005
FEATURE ARTICLE--Spotting Scopes: Over the past year, Danny Reever has peered though a wide assortment of spotting scopes in his quest to find a scope that will resolve 6mm bullet holes at 500 meters. In this new article, Danny runs through the list of top optics and picks his favorites from Zeiss, Swarovski, Pentax, and Nikon. Danny also offers advice on choosing the right eyepiece for your scope, and tips on tripod use. While the "Super Scopes" from Zeiss and Pentax cost well over $1000, Danny identifies some bargain-priced alternatives.

Resolving 6mm bullet holes at long distance is one of the supreme challenges for any spotting scope. For shooters, resolution, i.e. the ability to display very fine features at long distance, is critical. It's much easier to judge resolution quality with a standard optical test chart such as the USAF 1951 Test Chart. Click on the thumbnail to download 1951 Chart in an Adobe Acrobat .pdf format. You'll find other targets suitable for scope evaluation in our free Targets Collection.
BENCHREST NEWS--600-yard Records Fall; 1.070" group by 6BR AI:
North Carolina's David Stripling, a relative newcomer to the long-range BR game, posted a stunning 1.070" 5-shot group at 600 yards at the recent Piedmont IBS match in Rutherfordton, NC. If that record is approved, it will drop about .1" off the record set by James Phillips last year. And get this, David posted a 2.590" 20-shot Agg, despite having one mid-4" group. David's rifle, smithed by Doug Paschall, (336) 731-4618, features a 10-twist, 25" Krieger barrel, chambered for a 6BR Ackley Improved. Notably, David set the new mark using flat-based 88gr Berger bullets pushed by a hefty load of Reloader 15. We give credit to David and Doug for "pushing the envelope" at 600 yards--not just copying the same old 107 SMK + Varget formula. This is a cool new cartridge with lots of potential. The Ackleyized BR case, which Doug calls the 6BRDX, looks like a Dasher, but with a long neck. It has 40-degree shoulder and a bit less body taper. With the AI's extra boiler room, Dave can stuff 34+ grains of RL15 into the 6BRDX, even though the .283 neck is just .017" shorter than a standard BR. With the added capacity, David can launch the 88s at 3245 fps, or the 95gr Bergers at 3200 fps. And, in case you're wondering, at that speed, David says "the 95s stabilize just fine in the 1:10" Krieger 4-groove." Though he is "ecstatic" with the performance of the new cartridge with the 88s, when the barrel goes, he plans to try a 9-twist as well with some heavier bullets. We think we will be seeing more of this cartridge in the months ahead. Click link for a Super-Sized 6BRDX Photo.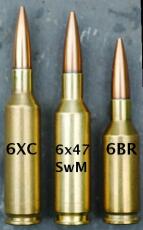 6mmBR.com contributor Mark Schronce racked up two pending 600-yard IBS world records at Piedmont as well. Pending final approval, Mark set a new IBS Heavy Gun 20-shot Score record of 208 (8x), shooting his BAT-actioned HG recently re-chambered in 6XC. Mark combined that with an excellent 199 Light Gun Score, shooting his 6BRX, for a combined Two-Gun Agg record of 407. Mark's record is pretty remarkable because his "Heavy" gun is actually only about 19 pounds--much less than most IBS Heavy Guns. Both of Mark's rifles were featured in a recent 6mmBR.com Gun of the Week story. Click the link to see the rifles and the nice stocks by Richard Franklin. When that story was written, however, both rifles were standard 6BRs. They shot well, but Mark "wanted a little more horsepower" for the Heavy Gun, so he went with a no-turn 6XC to drive Berger 105s about 3030 fps from the Lilja 3-groove 8-twist barrel. Brass is formed from Winchester 22-250 cases. Mark runs a pretty stout load in the 6XC, 40.3 grains of H4350. But he says, so far, the gun's been running well. In practice, it's produced 1" groups at 400 yards, and some seriously small 1000-yard groups. His 6BRX Light Gun also has a no-turn neck (for Lapua brass). Mark's 6BRX drives 105 Bergers about 2975 fps with Varget and Federal Primers. He could get 3000+ fps with CCI BR primers, but the ES was better with Federals. (Thanks to our friend VinceB in the UK for the photo of Tubb's 6XC along with a RUAG 6x47 Swiss Match and 6mm BR Norma for comparison).
GUN STOCKS--New "1M" Design: Kelbly's recently unveiled a new stock design for long-range competition. Jim Kelbly told us: "The 1M is a new long-range stock for 600 to 1000-yard and F-class competitors. It offers a long forearm for good tracking and balance, with a comfortable grip angle." The forearm is straight and flat. The pistol grip has a little more rake than on Richard Franklin's F-Class stock, and the wrist shape is somewhere between an MBR Tooley and a Shehane Tracker. The bottom of the stock has a 1/2" wide flat, with a slight bit of drop from grip to toe. Nothing too radical here, but we think the stock should be versatile, and well-suited to a variety of holding styles. The comb is high enough that you can shoot it with a cheek weld. Alternatively, you can move your head off the stock and use a light hold for the 6XCs, Dashers, and 6BRs. Molded-in coloring is available for all of the stocks. This can include a combination of your favorite colors or even metal-flake mixed into the epoxy resin. Minimum weight is about 3 pounds, but Kelbly's can finish it up to about 20 pounds. The bare stock costs $315, including basic inletting for Rem 700/40X, Stolle, and some custom actions. Add-on, extra-cost options include pillars, paint, butt-pads, custom inletting, and bedding.
RELOADING COMPONENTS--New Nosler Brass: There's a new player in the premium brass market--Nosler. Initial reports about the Nosler 22-250 and .243 Win brass have been very positive. Some top Cross-Course shooters have already started using the Nosler 22-250 brass to form 6XC and similar medium-capacity cartridges. We're told the brass is strong and consistent, and the accuracy, after fire-forming, compares favorably with the Tubb Brass in 6XC. Nosler brass is available directly from Nosler.com, but Sinclair Int'l sells it for less. Sinclair's price for Nosler 22-250 brass is $29.80 for a 50-count box (item 10065).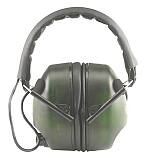 HOT DEAL--Caldwell $30 Electronic Muffs: If you need a set of sound-activated ear-muffs, MidwayUSA has a deal for you. Caldwell Sound-Right E-85 stereo muffs are marked down from $59.99 to $29.99 this week. Candidly, these aren't the best electronic muffs on the market, but they do the job, and at that price you can buy a spare set. These filter out high-decible gunshot noise, but still allow you to hear range instructions or conversations. A Midway customer writes: "[They] work excellent. No surprise deafening sounds from an unexpected shot. Can talk and hear other normal sounds with ease." The muffs run on two 'AA' batteries (not included) and a red LED shows "on-off" status. NOTE: Quality earplugs still provide the best sound protection while shooting. It's wise to use plugs under muffs.
Bloggers Wanted: Do you have a great reloading tip to share, or news of a great special on gear? Have you learned some late-breaking report on a major match? Then contribute to our 6mmBR Blog. Just email your comment or news item to Mailbox@6mmBR.com. If you send photos, try to keep them under 600x400 pixels in size.
Copyright © 2005-2006 AccurateShooter.com | 6mmBR.com, All Rights Reserved. No reproduction without advanced permission in writing.