Ground Hog Match

Editor Jason Baney Wins Big-Bucks Groundhog Shoot

Our illustrious 1000yd Editor, Jason Baney, just walked away $444 richer from the Shippensburg (PA) Fish & Game Assn. Annual Ground Hog Championship. Jason had dropped a few points at 200m and 300m, but he shot a truly spectacular 1.35" group at 500m (in gusty winds) to grab 1st place for custom class. He shot the match with his 6.5-284 1000yd rifle, running a Krieger barrel on a Stiller Viper action.

Jason tells us: "Saturday was my last match of the year and this group really made my day. Max spread was 1.35". I didn't measure vert/horiz, but I was happy."
6mmBr.com contributor Danny Reever (who was at the match) said that Jason was a popular winner, as JB had driven two hours to Shippensburg the previous weekend, only to find the match cancelled:

"But back he came and there was no fog this time, but cold temperatures and a wind gusting 15-20 mph all day, which made shooting conditions interesting to say the least. Jason trailed the pack going into the 500 meter phase due to a dropped point at 200M and six dropped points at 300M. Late in the day, on the last relay with the setting sun shining directly into his face, Jason shot the best 500M score of the day a blistering 48 out of 50 points and an honest 1.35 inch group at 500M with his 6.5-284 which skyrocketed him into first place with an overall score of 141 out of 150. Second and third place being a 137 and 128 respectfully. A fantastic score for the conditions at hand, shot by a very nice young man. Who said "good guys finish last"! His efforts earned Jason a nice trophy and a sizable purse of $444--to take his fiancee to dinner allegedly (LOL)."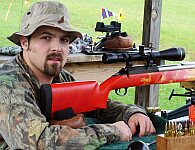 Jason reports:
"It was a nasty windy day at the range on saturday--near or exceeding 30mph gusts (enough to make me lose my balance several times). I couldn't believe what happened--it was windy as hell all day. On top of that, the benches were wobbly temporary jobs, and I shot at about 3:30 pm, so the sun was DIRECTLY in the scope--not good. The sighter bank was in shadow, and with the glare I couldn't see where my hits were.

I dialed 8 min on and my spotter said 4" low. So I dialed up 1 moa and went to the paper with my target number on (#19). The shot hit about 1 moa right so I corrected and hit 2" above POA--figured that was close enough and commenced to hammer 4 rounds in while holding low--the wind DIED as I was chambering my 5th round--so I waited about ten seconds for the wind to return--it never did, but i fired it anyway. (I fired the 5th round so it wouldn't cook in the chamber, and I didn't want to extract it either due to light neck tension.)


This barrel is behaving like a hummer. I had no wind dialed on at 200M with up to 30mph gusts, and my group was in the right side of the 10-ring (about 3/4" windage.) Also very minimal windage at 300m and only 1 MOA at 500M.

I found if I contorted my eye position to get round the glare I COULD see my holes in the white at 500M--I saw both shots on my number board and held where my last shot landed. All I saw when I looked at my target, was a cluster in the middle--and was hoping it actually looked that good.

The benches made things interesting...

By the time I was shooting at 500M (about 3:30) the sun was DIRECTLY in my scope--no sunshade would have helped unless it was about 18" long--I couldn't even block it with my hand. The bank (in the photo below) was in the shadow till I shot, so I couldn't see shots landing on the bank. Luckily I had a spotter, and after I put a couple sighter shots into my number board, I could actually see the shot-holes with my boosted Leupold LRT.

I saw my last sighter landed about 2" high so I just held and fired my string--luckily they all went in the center, and I walked away with a fistful of dollars--hopefully enough to just about cover the costs of bullets and powder for the year. Next year I hope to bring a 6BR to the Match, but I'm not sure it could outshoot the 6.5-284 in these kinds of wind conditions."

Match Load: 6.5-284 caliber. 51.6gr Hodgdon 4831SC, 142 Sierra MK in the lands, Lapua brass turned to .2912" loaded diameter for a .294"-neck chamber. Fed 210M primer.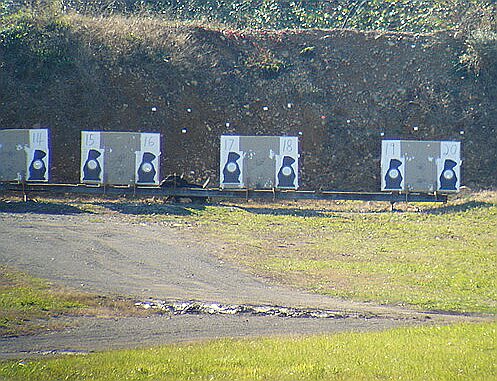 The picture above was taken through a 45x Swarovski spotter with no zoom on the camera, so it actually looks smaller than it is. The white/orange blocks on the bank are 1.5" square.